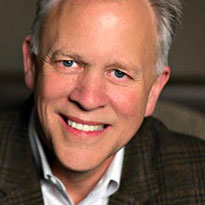 "In many parts of the church, it seems as Christians that we have lost our identity, we don't practice what we proclaim, and we think we live in Christendom when we now live in exile. This is the crisis as I see it." — Dr. Mark Labberton, President, Fuller Theological Seminary, and author, Called: The Crisis and Promise of Following Jesus Today
Welcome to the new Fuller Blog!  To launch our new blogging space — and on the occasion of the release of Dr. Mark Labberton's new book, Called: The Crisis and Promise of Following Jesus Today — Patheos' Director of Content Deborah Arca invited President Labberton to respond to a few questions about his book, why it's important to consider our "calling," and the future of theological education. For more conversation on Called, visit the the Patheos Book Club here.
You took positions at Fuller Theological Seminary — first as a Homiletics Professor, and then, most recently as the President — after 30 years of ministry in the Church. What inspired your move from pastoral ministry to seminary leadership?
The invitation came five years ago to join the faculty and to lead a new institute of preaching, named for Lloyd John Ogilvie. It was an intriguing and surprising invitation but one that my wife and I understood to be God's call. It was an opportunity to step into the academy again, and to join a seminary that I greatly admire, under the leadership of Richard Mouw, whom I greatly respect.
The move to be President occurred very unexpectedly a little more than a year ago. I am honored and thrilled by the challenge and urgency of such a role in such a time and very thankful for the chance to continue the legacy of Fuller as a seminary with deep roots in the orthodox faith and with exciting branches of innovation into the church and the world.
What is the "crisis" you speak of in the subtitle of your book?
The crisis is that in many parts of the church, it seems as Christians that we have lost our identity, we don't practice what we proclaim, and we think we live in Christendom when we now live in exile. This is the crisis as I see it.
Usually the term "calling" is reserved for vocational questions, but you've expanded and redefined the term. What is your definition of the word "called"? And why is it important to consider our 'calling'?
In the most basic sense, Jesus calls us to follow him. This is the calling that frames our daily being and tasks. My sense is that when the term is limited to a type of work or job, a form of ministry or engagement that is not first and foremost connected to being a follower of Jesus that we are prone to obsess and idolize and fixate on that in ways that undermine our capacity to be or do what God would most wish for us to know and express. Calling helps us recover the groundedness out of which our whole life and community emerges and develops.
You care greatly about living out our faith in more than just the church – but also in our workplace, in our relationships, in our conversations. Why is that important?
The gospels give us a picture of Jesus' life that is seamless, holistic, and integrated. Jesus is not a person with boxes for different parts of life. The separations that have emerged are the aberration, not the other way around. Otherwise, I don't know what being light and salt would be, or how it could be of any use. This is why Jesus warns of covering our light or losing our saltiness. It's the urgency of a community of faith that is living whole lives in, with, and for the world God loves.
You say that our call as followers of Jesus is to be "the tangible evidence of God's intent and pursuit of the world today." In a Christian religious culture that is so divisive and often combative, and where it's nearly impossible to agree on what "God's intent and pursuit of the world today" looks like, where's our starting point?
This is precisely the challenge. This is what I mean by saying that we must now live our lives as God's people in a context of exile—often the stranger, the counter-point, the one who now lives distinctively in the culture. Our starting point has to be facing this dramatically different cultural moment and living with a spiritual, personal, and communal support system that enables us to live vibrant, creative, servant lives in contexts where we often do not share the same beliefs or convictions but where we can serve the common good (Jeremiah 29) while we are faithful to the God we trust in Jesus Christ.
In Chapter Four, "The Primary Call," you hold up Pope Francis as a model for us of what true discipleship looks like. What can we (Protestants) glean and learn from this Pope about following Jesus?
Pope Francis is a humble, practical, truth-bearing, servant-acting disciple. He is surprised that people are surprised at this since, as he says, living this way is the baseline of belonging to and following Jesus Christ. That is an urgently needed clarity and consistency for all Christians – Protestant or Roman Catholic or Orthodox.
Theological education today is often criticized for being irrelevant and out of touch with the real needs of the Church. Why is theological education still necessary? In what key ways do you think it needs to change for the 21st century?
What is not needed is a church that is an "air-plant"—no long-lasting roots, just fast quick growth for today that bears fruit for a moment, but not fruit for a lifetime. God's people are meant to be those who display lives formed by God's wisdom. Living wisely involves many things and is a work that is shared by the whole church, grounded in the Scriptures, and formed in the past, present and future work of the Holy Spirit.
Theological education for the sake of the church needs to move in this direction and be guided by this purpose. Like any enterprise, it can lose track of its greater purpose. It can think it exists for its own purpose and guild, rather than for the work and mission of God's people in the world.
At Fuller, we believe the future of theological education is about forming leaders for global Kingdom vocations. Our enterprise needs to engage the rich complexities of that in order to equip men and women for such service inside and beyond the bounds of the church, in every area of work and service, and across all lines of ethnic and social context. To display this wisdom will manifest itself in lives that grow in the likeness, truth and grace of Jesus Christ, right in the vortex of the world's pain and vulnerability.
Similarly, the Church is criticized for being irrelevant and out of touch. What will it take to revitalize the church to be responsive for our time?
We have to recover our call. That is what this book is about. We have to live what we profess. That is the relevance we need to live, in order to be the relevance others long to see.
In a religiously pluralistic culture, how does following Jesus intersect with interfaith dialogue, respect and engagement? How do we practice following Jesus with religious tolerance?
Again, if we understand our lives are placed in exile, we move into difference with an acknowledgement that this is our home, and that we want to know and love our neighbors. They may not be like us. They may not even like us. But in the generous, humble, genuine love of God, we listen, we learn, we love our neighbors. Then we engage and acknowledge our differences with humility and compassion, not with demands and aggression. Light and salt were Jesus' images. I have found over the years this allows me to live in faithfulness and humility in a multi-religious world, and to gain a hearing and an opportunity for the faith of another to be respected, even as I hope they may do with mine. It is not about winning. It is about loving in ways that reflect Jesus.
In many Christian circles today, traditional ideas about core beliefs and doctrine have taken a back seat to a focus on orthopraxy. How do you see each of these—orthodoxy and orthopraxy—integrated in following Jesus?
They are never separated in the life and ministry of Jesus. We could never say he distinguishes them or prioritizes them since they are both of the essence of God whom Jesus reveals. So we must reject the dichotomy or pretend that one priority is more a mark of the gospel than the other. Jesus' example is coherence and consistency around both, and anything else is foreign to his ministry, and should be foreign to ours.
For more on Dr. Labberton's new book Called, visit the Patheos Book Club here.