by Reed Metcalf
I will never forget discovering that a dear friend of mine had walked away from the faith. Granted, there was still an intellectual assent to the claims of Christianity as true, a willingness to defend the Bible, Christ, and Church as weighty, relevant, and authoritative, but it was all just lip service. No more church attendance, no prayer life, no Bible study, no commitment to any sort of Christian ethic or activism. All the vital signs of a healthy connection to the Triune God vanished.
My heart breaks even now.
Did not—does not—Jesus say, "Whoever does not abide in me is thrown away like a branch and withers?" [1]
I am so scared, so sad.
But what are we supposed to do? How do you approach that fine line of calling a brother or sister back when you know one poorly chosen word could break the last vestiges of faith? I am haunted even yet by mistakes made when I was a youth leader at my church in Orange, and I still struggle to love others back into their commitments to Christ and neighbor. We all know that pain when a friend, a sibling, a hero leaves the church: it's like a sucker punch to the gut, like a wound that opens inside us. We have tasted and seen, and we know they leave behind the One who is the source of life itself.
And so we do what anyone does with a massive wound: triage. We try something to stop the bleeding in our hearts, and, when we are not careful, we turn to our own methods instead of God's. We amputate and cauterize in a desperate attempt to keep it all together. We say, "The road is narrow… and thus few take it." We sing, "Though none go with me, still I will follow." We write off our brothers and sisters. We cry over them. We pray for them. But slowly, we accept the fact that they are gone.
We mourn them and try to find closure, because to do anything less hurts far too much.
Seasons pass and the cauterization stops aching, though we still feel a twinge of pain now and then; we still look through a mist of sadness when we see them outside of church, and we wonder, "Can anything bring them back?"
Jesus once held a small child in his arms and asked his disciples, "What do you think?"
"If a shepherd has a hundred sheep, and one of them has gone astray, does he not leave the ninety-nine on the mountains and go in search of the one that went astray?" [2]
Jesus is on his way to Jerusalem and death. As they go, Jesus teaches his apostles what this church of his—what the Kingdom of Heaven—is to be like. How to reprove someone gently, how to forgive, how to treat children. And now this story of a shepherd that goes after one out of many. Here is a glimpse at the ruler of the Kingdom of Heaven: a God who chases us down. We stand among the murmuring apostles, looking at Jesus and the child he holds, and it slowly comes upon us all as a hearth pushes the chill from a room.
"Here is the Son of God," they say to each other. "Here, in our midst. Has he not already decried us as an 'evil and adulterous generation?' [3] Has he not displayed disappointment at our lack of faith? [4] Has God Himself not sent nation after nation to conquer us for our sins and failures? And yet he is here, telling us that he will not stop searching until the last one of us is found."
"Is this not Good News?"
Failure after failure, betrayal after betrayal, Israel always finds God still mercifully searching for her everywhere. Even in Hosea—one of the most judgment-heavy books of the Bible—God raises his hand to rain destruction from the heavens and stops himself at the thought of his beloved children:
How can I give you up, Ephraim?
  How can I hand you over, O Israel?…
My heart recoils within me;
   my compassion grows warm and tender.
I will not execute my fierce anger;
   I will not again destroy Ephraim;
for I am God and no mortal,
   the Holy One in your midst,
   and I will not come in wrath.  [5]
The God we see in Scripture, from Genesis to Revelation, is One who loves despite. Despite our sin, our waywardness, our piety, our efforts, our failures, despite everything. From the complaining under Moses to the rejection of God as King, from idolatry under the monarchs to the compromise under the Romans, God across thousands of years has pursued a stubborn people called Israel. When all else fails, He appears in the flesh to knock on their doors, to sleep in their gardens, to eat at their tables, to call them back to Him. God will not let them go.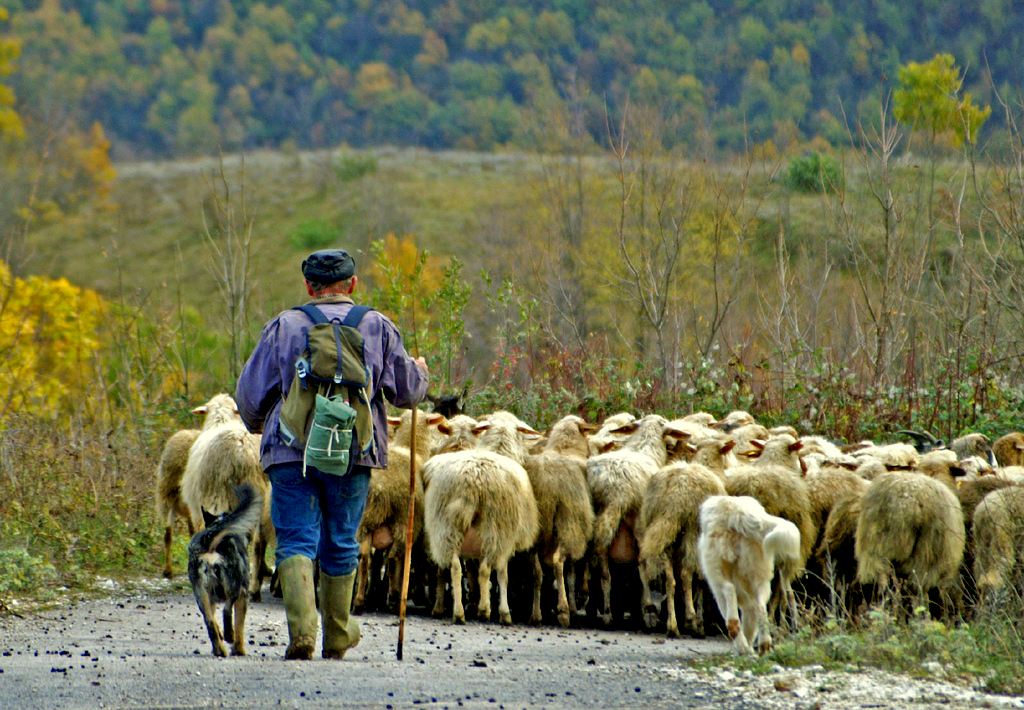 It is here that we find our hope. God's reckless devotion to his own people makes up the scraps we Gentiles hope to eat as they fall from Israel's table. [6] We hope to one day have the same devotion from the God of Israel: that even when it seems that we have crossed the final line, we see God, shepherd staff in hand, come rushing over the hill to bring us back. And how ecstatic are we when this becomes a reality, when God makes a way for us to become part of the chosen people through the death and resurrection of Christ? We are now part of the flock, part of the one hundred. Should even one of us—any one of us—go astray, the Shepherd will begin his searching again.
In this I take comfort. He is faithful even when we are not. When we walk away, the Shepherd follows us. But "follows" is really too weak a word to describe this. The Psalmist tells us that "Surely His goodness and steadfast love yirdĕpûnî all the days of my life." [7] We tend to translate yirdĕpûnî as "will follow me," but all other uses of the root rdp (רדף) have a connotation of hunting, pursuing, even persecuting.
"Surely His goodness and steadfast love will pursue me relentlessly all the days of my life."
God refuses to give up. Ever. On us, on those who leave the church, on those who have never been part of the community. He is the God Who Pursues Us Relentlessly. Until our last day, He will dog our steps with love.
I think of my friend, now living apart from the flock. I fight the temptation to stop the pain, to stop the feeling by writing her off, by saying that she has made her choice and that is that. Such thoughts are not from God. His thoughts are the ones I must grab. His thoughts are yet turned to her, despite the pain, despite the rebellion, despite the waywardness. He picks up his staff and begins his pursuit, over hill and across desert, until the one is brought back. I cry with joy at the thought that the Shepherd has still not given up on her. I wipe my tears and follow in his steps.
---
Reed Metcalf works as a Media Relations and Communications Specialist at Fuller Theological Seminary. He writes for and curates the Fuller Blog and contributes regularly to FULLER magazine.  He graduated with his MDiv from Fuller in 2014 and is an ordination candidate in the Free Methodist church. When not neck deep in biblical languages, theology, and writing, Reed is often surfing, skating, or hiking with his wife Monica. Follow him on Twitter and Instagram at @reedmetcalf.
Follow Fuller Seminary on Twitter at @fullerseminary.
---
 [1] John 15:6
[2] Matthew 18:12.
[3] Matthew 12:39; 16:4.
[4] Matthew 14:31.
[5] Hosea 11:8-9.
[6] Matthew 14:21-28.
[7] Psalm 23:6.