As we near Easter, we're excited to announce Liturgical Meditations, a series exploring the church calendar through film. Our first video, "Death and Resurrection," meditates on Christ's resurrection using the natural imagery of the California landscape, and we offer this as a free resource for you, your church, and your community. To watch "Death and Resurrection" visit here.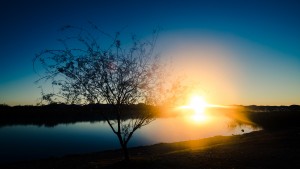 +
 "
Death and Resurrection
,"
 portraying the night before and the morning of the resurrection of Jesus, marks the beginning of the season of Eastertide. The scriptures are drawn from Matthew 27-28, John 19, and 1 Corinthians 15. It was filmed by
FULLER
studio at Paymaster Landing in Imperial County, California. For
FULLER
studio: Lauralee Farrer, director; Ron Allchin, producer; Nate Harrison, director of photography; Timothy Kay, cinematographer; Patrick O'Neil Duff, editor; Simon Castagna, narration; OX Creative, titles.