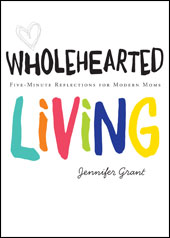 I received an early review copy of this book from Patheos Book Club in exchange for a review. Wholehearted Living is a daily devotional book with "five-minute reflections for modern moms" by Jennifer Grant. It's not a Hindu book, in fact it's a Christian book, but not obnoxiously so. It has a Catholic, rather than evangelical, tone. In March, for example, she reflects on Lent, while in December she writes about Advent, but most of the daily entries don't have any overtly religious content at all and the ones that do are gentle and don't have a tone of wanting to convert anyone.
A theme is chosen for each month and they are grouped into three categories. Reflect is the title for January through April and it starts with a quote by Rainer Maria Rilke, "And now let us believe in a long year that is given to us, new, untouched, full of things that have never been." Monthly themes include patience, connection, presence, and self-care. Risk is the theme for May through August and monthly topics include forgiveness, your principles, taking chances, and trust. Finishing the year, the theme is rest and the monthly topics for September through December are simplicity, playfulness, gratitude, and waiting on God.
The daily meditations are short. If you've read daily devotionals in the past, the format is familiar: title, quote, brief write-up, summary questions. For March 19, the title is "Presence in Nature," the quote is from Henri Matisse, the write-up is about how cold it is in Chicago in March and how different from a wildlife refuge her family visits in Florida each summer. The questions at the end ask, "Where do you feel most present? Take a moment to remember what it feels like to be there. What does it smell like? Look like? Feel like? Taste like?"
Just as most of the entries aren't stridently religious in tone, they also aren't centered only on parenting. An example of one that is parenting-centered talks about making time for our own interests. She says, "After the birth of my first child I aimed to be the quintessential Earth Mama with wooden toys, natural fibers, and organic foods." I saw myself in that and, like her, I didn't take great care of myself at that season of life. I remember my parents visiting one day. My mom stayed with my children, who were about five and two at the time, while my dad took me to a bookstore (my favorite places on earth are bookstores). I remember walking in, and, since I didn't need to go to the children's section, standing confused for a moment because I didn't remember what else I liked to do when I wasn't with my children (like the author's, my husband also traveled frequently when my kids were small). I'm not sure I would have heeded her advice to make more time for self-care because I'm a bit suspicious of our culture's idea that babies need to be pushed away at the first opportunity and that we need endless time for ourselves. Taking care of small children is only a season – a brief one – and I'm not sure I'd do it differently than I did. I do wish I'd relaxed a bit though instead of being such a perfectionist.
An example of one of her entries about spirituality is about spiritual ruts. She says, "Although I've had spiritual encounters that were so crystal clear, so visceral, I can't imagine ever giving up on my faith, I've been in spiritual ruts more often that I'd like to admit. I'm no expert for getting out of them, but I do think they aren't so very different from ruts we get into with the people we love: God and I need quality time together." Then she gives advice for how she's gotten out of them, such as "take a walk and notice the beauty of creation" or read the Psalms.
I've never used a daily devotional in the intended way; I have a habit of devouring books in one sitting if I can. This book, though, was particularly peaceful and I've picked it up at odd moments since receiving it several weeks ago. Each time I picked it up, I didn't expect much from it but once I started reading I always enjoyed it more than I thought I would. I'm actually considering using it on a daily basis, starting in January and reading it through in order. I've been dipping in and out of it but it seems worth going through each theme in the order she's laid out.
I don't agree with everything the author has to say, and I don't usually use books of this kind, but Wholehearted Living is an above-average devotional. It avoids the trap of reading like disjointed blog posts. Recommended for anyone who likes devotionals or wants a small reading each day with a topic to meditate on for a few minutes.