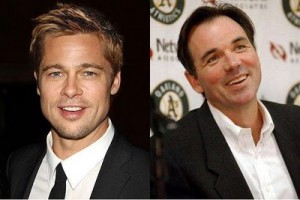 "How can you not be romantic about baseball?"
Truer words were never spoken by Oakland Athletics' GM Billy Beane…or at least, by Brad Pitt playing Billy Beane in 2011's Moneyball.
Here we sit, two weeks away from the end of another glorious baseball regular season, and for the second straight year, my dear Phillies will enjoy the postseason from the same vantage point that I will…the living room couch. After years of bloated contracts, huge trades that decimated the farm system, and of course, some big, big wins including a World Championship in 2008, an NL pennant the following year, and a couple more division titles, the past two years have consisted of steady monthly payments to the piper. I'm not mad about it though. All teams built to win go through such cycles. Or do they?
Since taking up the A's GM duties in 1997, Billy Beane has consistently produced numerous winning seasons despite always having one of baseball's lowest payrolls. In an era in which players have routinely flocked to the lure of Yankee and Red Sox dollars the way I tend to succumb to late night Tastykakes, Beane has always found ways to successfully plug the gaping shotgun wounds left in his teams every few seasons. From 2000-03, the A's reached the postseason despite losing superstars Jason Giambi, Miguel Tejada, and Johnny Damon during that stretch. And since then, the team has managed to remain competitive most years despite the odds.
Beane's strategy revolved then, as it does today, around filling glaring gaps not through big name power, but through close statistical analysis of the team's needs and figuring out exactly how many different types of players it will take to fill them. As Beane (okay, Brad Pitt) eloquently says in the film, "The problem we're trying to solve is that there are rich teams and there are poor teams. Then there's fifty feet of crap. And then there's us. It's an unfair game."
I've always thought of the A's as my "other team" because up until 1955, the team played in the City of Brotherly Love that I call home. At the time of the A's departure, the team had brought five championships to Philly, which stacked up like a lion to a mouse when compared to the Phillies' zero. As of today, the A's sit enthroned in first place, six and a half games ahead of the Texas Rangers with twelve games left to play. Why is this worth mentioning? Well, because any Philadelphian rooting for the 2013 A's with a rosin bag's worth of baseball knowledge knows about the "Phold" of 1964. With the same exact lead in the standings and same number of games remaining, the '64 Phillies lost ten games in a row and missed the playoffs by one game, cementing one of the most notable collapses in baseball history. My dad, the one who got me into baseball, was only nine at the time and didn't even live in Philly, yet talking about the Phold somehow makes me feel like I was actually there. Every generation of Philly fan has suffered like this in some way. Quite frankly, given the A's first home as a franchise, I don't think I'd be surprised if that kind of dreadful lightning struck twice because, well, baseball curses are not to be taken lightly.
For all of Beane's regular season success, the one thing that's always eluded him – that holy grail of baseball triumph – is a World Series ring. This year's team, a club full of discarded parts, has-beens, and young kids few have ever heard of, features five starting pitchers with at least ten wins apiece and a pesky lineup that continues, night after night, to eek out just enough runs to edge its opponents. So, why not this team? Why not this year?
To this day, regardless of age, there remains a soft spot for the A's in the hearts of most die hard baseball fans in Philadelphia. Philly, as has been widely publicized, is the city that loves an underdog. The blue collar town that values effort and hard work from its athletes and citizens. The home of Rocky Balboa.
Looking toward this October, instead of dwelling on a lack of postseason baseball in my hometown, I'm channelling all my fanpower toward the team in that California city by the bay not named San Francisco. And I'm pretty sure most of my Philadelphia brethren will be doing the same. After all, with Billy Beane continuing to run the show, how can we not be romantic about the A's?
Alan Atchison is a Contributing Writer to The Rogue. He is a Senior Publications Editor at the Center for the Advanced Study of India (University of Pennsylvania), where he also earned a Masters of Liberal Arts in Creative Writing. He lives in Philadelphia, PA with his wife and two daughters. Follow him on Twitter and Instagram.