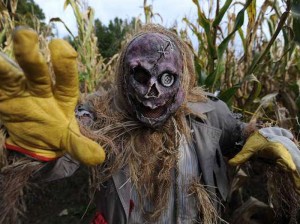 "Whatever you fear, it's here!"  That is NOT just a catchy slogan.  After personally participating in this event for three years, I can assure you that you will face everything you've ever been afraid of. It's all waiting for you amidst the secluded trees and over 5,500 feet of winding path that encompasses Hallowicked Haunted Woods, located at 1148 Cairns Road, in scenic Mansfield, Ohio.
Let me say it again, 5,500 feet.  For those geeks who have been paying attention, that is over 1,700 feet LONGER than The Factory of Terror, the current and two-time Guinness World Record holder for the longest haunted attraction.
Fifty five hundred feet equates to sixty thousand inches.  The average human stride is 22 inches.  That's three thousand steps, with a scare waiting approximately every fifteen seconds.  I'll leave the calculations up to those of you with more time on your hands.  The REAL question, how many of you will enter and leave the self-guided tour of the woods with dry pants and your dignity intact?
The odds are NOT in your favor.  Hallowicked features the original "Buried Alive" entrance.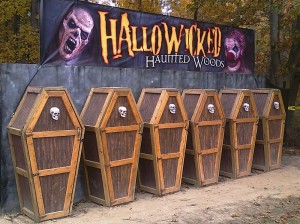 Six gothic coffins await, and everyone begins the journey completely alone.  Grown men have wept on their knees at the sight of this entrance.  Those who manage to make it through regret almost immediately refusing to accept the adult diaper "Big Girl/Boy Panties" that had been offered to them as they traverse 110 feet of pitch black.  In the darkness, isolated from your friends, are you truly alone?  Only if you're lucky!
"It's the only way to be reunited with your group," says master prop builder and co-owner Paul Bond about the unique entrance. "You hear all kinds of screaming coming from inside while you're waiting to go in. It really freaks people out!"
Maniacs with chainsaws, giant spiders, and demented dolls, oh my!  You've only just begun the journey into your worst nightmares.  Zombies lurk in the shadows and someone might have left the prison cells unlocked.  If you manage to survive long enough, our hospital staff eagerly awaits your visit; however, you will find they become less than hospitable when you try to depart.  Hopefully emerging with most of your body parts still attached in the correct places, take a moment to stop and smell the cotton candy.  But don't dawdle too long.  The horrors only become more monstrous, the terrors, more panic-inducing.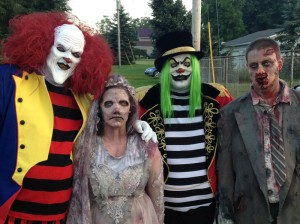 "From our Buried Alive entrance to our Nightmare Circus, Hallowicked Haunted Woods incorporates completely unique and terrifying scares that you just won't find anywhere else." contributes Rob Wynn, co-owner and creative mastermind.  "With over 45 minutes of entertainment we're not only one of the best values in Ohio but one of the best haunts, period!"
Hallowicked Haunted Woods is home to over sixty actors adorned in movie quality special effects makeup and costumes, all of whom are given free reign to get up close and
very
personal.  Meanwhile, custom built animatronics set to detect your slightest movement are placed strategically throughout the attraction.  It
will
be dark, there
will
be fog and the footing
will
be uneven.  Sensible footwear and a signed waiver to enter are mandatory for all participants.
Parents are strongly encouraged to use discretion when bringing children under age 13, and reminded that the actors are skilled in terrifying fully grown men to the point of tears, bladder, and bowel evacuation (and we keep a running total).  We also strongly advise against those with heart conditions, epilepsy, asthma, mobility issues or women who are pregnant from participating in this event.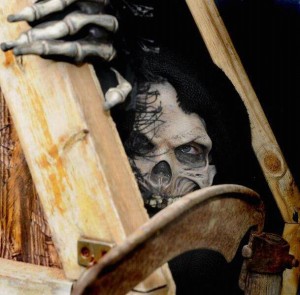 At $15 per person, Hallowicked Haunted Woods is the Mid-Ohio's best haunted attraction, for the best price.  Open Fridays and Saturdays now through November 2nd (CLOSED November 1st).  Parking is only $1.00 per vehicle, and proceeds benefit the Richland County Explorers Program.
Coming from out of town?  Make a weekend of it, and visit Mansfield's other haunted attractions while you're here, including the Haunted Reformatory and Robert Kurtzman's Mad FX Lab, then, spend your daylight hours visiting the Historic Carrousel District.
Coming just to see me?  My demented dolls and I will be happy to watch you try to escape our maniacal clutches with your dignity intact.  Tell them Melody from Geek Goes Rogue sent you.  It won't get you anything, but we'll be glad to know you're reading and we'll be waiting for you…
Visit Hallowicked Haunted Woods online, Like them on Facebook, or call 419-520-7110 for more information.
Melody Evans is a freelance book review blogger for Up All Night Novels.  When she's not  forgoing sleep in the endless pursuit of literary satisfaction, she can often be found diligently glued to her keyboard, seeking new outlets to express her love of all things geek chic.