From Geek Goes Rogue TV Editor Zach W. Lorton, as told to by the bag of Apple Cinnamon Chex that doubles as his pathetic dessert…
In 2003, Five Iron Frenzy put their clubs away for good. After performing 2 farewell concerts on the days immediately following Thanksgiving that year, and recording the final show for a live CD (and subsequent documentary DVD that featured the performance as an extra), the band called it quits. It was an emotional decision for everyone in the band, and the band's fans also took the breakup pretty hard.
Eight years later to the day, the band made the announcement that they had been in contact with each other, and that they were going to be reforming, recording a new album, and performing at some music festivals. The subsequent Kickstarter that was launched met its $30,000 in less than one hour, and by the end had collected over $200,00 for the new album and tour (a record on Kickstarter at the time).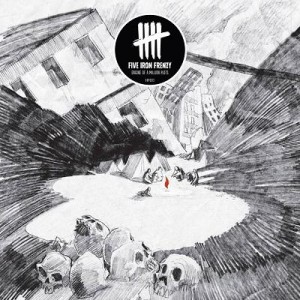 Exactly ten years after their breakup, the new FIF recording Engine of a Million Plots was released for streaming on Spotify. Yesterday, November 26th, 2013, Five Iron Frenzy's first album of original material in over 10 years was officially released. Engine of a Million Plots has finally been unleashed on the unsuspecting public.
I'm always excited about new music, so this review is going to be as unbiased as I can make it. That is to say, not at all. This album kicks several sizes of butt all at once.
Okay, my subjectivity is being put to rest for now, I promise.
The first thing to notice on this new record is the sound — this is the first mostly self-produced effort by the band, and to the credit of their ingenuity and experience, they have never sounded better. All the instruments are balanced yet powerful in their own right, yet each packs the punch necessary to give the album its heft. The horn section sounds tighter, richer, and fuller than ever before. The mixing and effects used are the most advanced that the band has used in their career to this point, and the songs themselves are some of the strongest material the band has ever created.
To be sure, you can tell the band has aged, but in this case, maturity is not a hindrance for Five Iron Frenzy. The most notable difference is Reese Roper's voice — he sounds a little weathered, but definitely not slowed down by time. As a vocalist myself, I understand what kinds of changes the human voice can go through as age wears on a person, so while Roper's vocals may not have the youthful sharpness they had back in 2003, they still maintain a solid consistency that anchors the band very well. Roper hasn't lost his edge, and his vocals can still soar as high as the material calls for them.
Speaking of which, the majority of the songs that FIF has been known for seem to center around five ideas: songs about geekdom, songs of silliness, songs of worship, songs attacking America's sense of superiority, and songs of hope. Of these, the silliness seems to be absent from the record, but the rest of the stock are represented very well. The first single from the album, "Into Your Veins," is a driving hard rocker with a relentless horn line and lyrics that draw on the promise of Psalms 147:3 ("He heals the broken hearted and binds up their wounds"). "So Far" is another soaring, fast-paced number that will be sure to be a concert favorite; Andrew Verdecchio's punk-influenced drum track reminds us that the FIF spirit is alive and well, and the songs itself gives us another personal glimpse into the lives of the band, giving God all the credit for what they've been able to accomplish ("So far, there's nothing that You and I can't do / So far, well mostly, so far it's all been You").
There are some dark places to be explored, as the band has not had a problem with sharing in the past, and Engine proves no different. The album's opener, "Against a Sea of Troubles", admits a need to call on God when circumstances are at their most dire and hope is unseen. One of the standout cuts, the reaggae/ska pounder "Someone Else's Problem" drops a fat two-tone beat while the hornline overlays a melody that sets up the verses and chorus. The sound is a classic Five Iron Frenzy-meets-what some suggest the band should have always sounded like, and the lyrics bemoan our willingness to ignore the pain and suffering of people all around us. This song deserves to be played on the radio.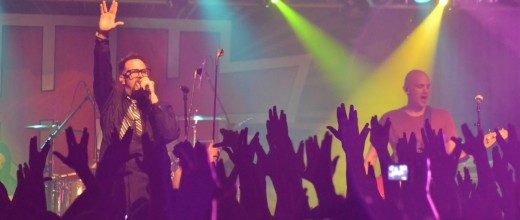 Some people will think this record, as a whole, doesn't sound like the Five Iron Frenzy of old. They would be wrong and right. First off, there's no denying that this is a FIF record — the horns are crisp and their melody lines inventive and infectious. The rhythm section is tight and the arrangements are intricately superb, and Reese Roper still sounds like Reese. The silly songs may be missing, although one song is dedicated to geekdom, "Battle Dancing Unicorns with Glitter" (which needs no explanation — just accept it). But their senses of humor, urgency, poignancy, and respect are completely intact, having grown only stronger in the last 10 years.
There, I believe, is the rub. It's like not having seen an old friend for 10 years and then expecting them to be exactly the same because of how you remembered them at your last encounter together. Of course they're going to have changed in that span of time, so why would anyone assume that FIF is the same band as they were in 2003? They're not. They're the same people, but with different perspectives, different goals, different ideas of what makes great music. And judging from the excellence put forth in this release, I would say they've pretty much got the last one down.
This is, by far, one of the most exciting musical releases I've heard in the last year, and I'm including the new Arcade Fire album in that cache of quality. The vocal melodies interweaving through every song are infectious, full of memorable hooks that sink into your brain and stay there long after the song is over. There is a darkness that flows through this record, and while it doesn't bring the energy or the mood of the album down, it's there in the back of the album's mind, always aware that we are finite, and that nothing lasts forever. While the album may lack its share of silliness and it doesn't contain any massive heart cry anthems a la "Every New Day" or "World Without End", this album doesn't need them. Ferocity and energy, a sense of being alive, permeate every second of Engine of a Million Plots, and Five Iron Frenzy are marching on like nothing in the world can stop them.
And if you want further proof of that, here's their video for the song "Zen and the Art of Xenophobia." They hope you hate it.
Rating: 4.5 Geeks out of 5
Engine of a Million Plots is available for purchase on the band's website, on Amazon, and on iTunes.
Zach W. Lorton is a media producer and professional DJ/MC by trade, and a comedian, actor, and musician by default. His debut music project is set to begin recording in 2014, and will likely take the world by storm, possibly in the form of a Sharknado.