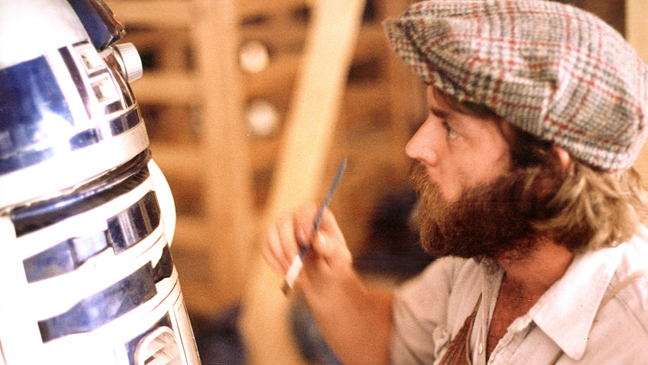 (As the next Star Wars Trilogy is being filmed, we here at Geek Goes Rogue are holding our breath. One of the things that made the original trilogy so great is that the worlds looked "lived in", unlike the shiny worlds of the new trilogy. Here is a tribute who made that look possible, Grant McCune written by our brand new writer, Jo Schaffer)
When my husband,Clark and I lived in LA he had the absolute dream job for two Star Wars geeks like us. Working as Art Director for a Visual Effects shop called, Grant McCune Design put us at the very epicenter of all things Star Wars (and I do mean the original canon not the shiny knock offs that came later.)
Even a lot of die hard fans have no idea who Grant McCune is. In the 1970s when George Lucas started ILM he hired Grant to make the models for A New Hope. Grant had previously been working as a lab technician at a hospital and at that point had only done models as a hobby. But when his buddy, John Dykstra landed his job with ILM he dragged Grant along.
Back then ILM was nothing more than a gang of hippies working their craft in a cloud of pot smoke. They were the unlikely rebel fleet up against the Hollywood Empire. Grant told stories about how their crazy way of doing things drove Studio Execs nuts. But it was a magical time that gave birth to a phenomenon. Maybe because George Lucas was hungry and had budget restraints to keep him authentic. Or because his philosophy of story telling was different at the time.
Grant once said, "Special effects shouldn't be outstanding. They shouldn't be something that knocks a person off his feet. They should be something people don't notice." Which is exactly the opposite approach of most movies these days with their cluttered, shiny FX distracting from and substituting for good story telling.
Despite the role Grant played in cinema history he was completely unpretentious. So unlike many of the droves of self important, lesser players that we encountered from job to job. The Visual Effects Oscar for the first Star Wars movie sat collecting dust on top of an old honky-tonk piano in his office. He was no glory hound. Often hiding away in his darkroom and encouraging Clark to take interviews for the shop and represent when a film crew came in. But he was very much involved behind the scenes. Grant was brilliant at designing and engineering visual effects. Despite his long and impressive list of credits, he was a humble man.
Much like the man himself, Grant McCune Design remained almost anonymous to the public. The FX shop operated from an unassuming warehouse in Van Nuys. The same building where it all started back with Lucas. All the model shots for the trench scene when Luke blows up the Death Star were filmed right in the parking lot. The attic full of treasures from Star Wars and countless other major films is enough to make any geek freak. Some of the biggest films of the 1990s were brought to GMD for their unparallelled traditional visual effects.
As a boss Grant was more Obi-Wan than Emperor. He had a fatherly way of sharing his genius and showing Clark the ways of the Force. He would often walk into his shop and raise both arms and announce, "I am a river to my people. Do you love your job?" And a shop full of artists and craftsmen would answer back, "We love our job!"  Grant wanted everyone to enjoy themselves. He often gave large Christmas bonuses and threw fantastic parties for the crew. He was approachable and affectionate. Pretty sure my only taste of alcohol was at one of his parties when he planted a wet and longer than necessary Christmas kiss right on my mouth while laughing. He was a man who loved life.
When he died, too young in December 2010, Hollywood lost an influential and talented player. The world lost one of the nicest guys who ever lived and Clark lost a father. Maybe Grant is somewhere still designing worlds and running things behind the curtain. We like to think of Grant as Gold Leader, somewhere up there chasing down Tie Fighters in his old VW van and making the galaxy a better place.