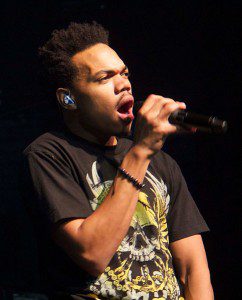 Major rappers like Grammy-winner Chance the Rapper and Kendrick Lamar are now rhyming about Jesus.  So are groups like indie-rockers Saintseneca and the post-punk Protomartyr.  So are singer-songwriters like Sufjan Stevens.
Marc Barnes says that "every genre of music is undergoing a religious revival." But music critics don't know what to do with it.   
I am way out of touch with what is going on in contemporary music.  Those of you who follow it, is there really, as Barnes says, a "spiritual revolution that has already changed the face of contemporary music"?
Read what Barnes says about this after the jump.
Photo of Chance the Rapper, Wikipedia, Creative Commons
From Marc Barnes, Faith Is Changing Music – RELEVANT Magazine
"We don't get religion." That masterful admission came from the executive editor of The New York Times, Dean Baquet, concerning journalists' inability to report on the effects of faith on the voters of the 2016 election.

     I'd add a sub-group to his claim: Music journalists don't get religion.

     It's not their fault. By and large, music journalists aren't religious people, and, if the philosopher Max Scheler is to be believed, the non-religious are as able to describe the psychology of religion "as a person totally blind is able to describe the sensation and mood produced by vivid colors." (On the Eternal in Man)

     I have no problem with softening the edges of this claim. The non-religious album reviewer could sympathize with the God-haunted songs that cross his desk. He could read up on eucharistic theology to understand the indie-rock sensation Saint Seneca's lyrics: "The flesh of God is flayed for you to eat." He could go to church with his grandmother to understand Chance the Rapper's "Sunday Candy," or brush up on the Lord's Prayer to get a handle on D'Angelo's Black Messiah. He could research Eastern Orthodoxy and medieval scholasticism to tell us why the punk band Protomartyr is called "protomartyr;" their latest record The Agent Intellect; its last song "Feast of Stephen."

     Instead, we get NPR's analysis. They neglect to mention the hermits, heretics and "sodden priests" that roam the lyrics of The Agent Intellect. They recognize that "the band subverts rock while rocking out, infusing angularity with an industrialized blur of motion," but they miss the fact that the band also subverts rock by framing their punk in and through religious experience.

     The bigger the review, the more likely it is to plant itself firmly on the level of aesthetic and political criticism—ignoring, mocking, or (worse) merely "noting" an album's religious content. This would be forgivable if not for the fact that almost every genre of music is undergoing a religious revival. The press is late to a spiritual revolution that has already changed the face of contemporary music.