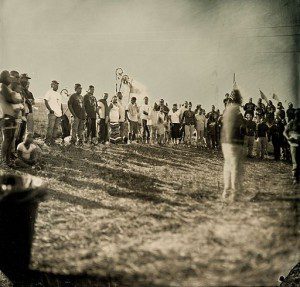 Thousands of protesters joined the Standing Rock Sioux to protest the Dakota Access Pipeline.  They were trying to stop an oil pipeline because it crossed sacred lands and for fear that it would pollute the Missouri River.  The protests led President Obama to stop the pipeline, but President Trump has approved it.
Now the protesters are gone.  But the environmentalists, so insistent on preserving a pristine natural environment, have left behind some 48 million tons of garbage.  They also abandoned some of their pets.
But the biggest urgency is that the amount of human waste and toxic material left behind threatens to pollute the Missouri River!
From Penny Starr, Taxpayers Foot $1M Bill to Clean Up Dakota Pipeline Protest Area:
The U.S. Army Corps will spend more than $1 million to clean up the mess left behind by the Standing Rock Sioux Tribe and others opposed to the Dakota Access Pipeline in North Dakota. The protesters — who succeeded in temporarily shutting down pipeline construction under orders from President Barack Obama — were evicted after President Donald Trump put the pipeline project back online. . . .

"About 240 rollout dumpsters have been hauled out, each brimming with debris of old food stores, structures, tents, building materials and personal belongings, much of it buried under winter blizzards or simply left behind," the Tribune reported. "Officials are estimating it will require another equal number of loads to get the job done.". . .

In January, Stand Rock Sioux Tribal Chairman Dave Archambault II spoke out about the clean up after the protest, which was staged because the tribe and others believed a pipeline spill could contaminate the Missouri River and a reservoir, the Tribune reported.

"Because of this risk of flood, we're worried about what's going to be left at the camp," Archambault said. "What we want to do is make sure none of that waste gets into the Missouri River .… We're water protectors, but we're the ones that are going to start contaminating the water.". . .

Other facts about the pipeline include:

The entire Dakota Access Pipeline is buried underground.
99.98% of the pipeline is installed on privately owned property in North Dakota, South Dakota, Iowa and Illinois. The remaining 0.02% is owned by the Federal Government.
The Dakota Access Pipeline can eliminate 500-740 rail cars, and/or 250+ trucks needed to transport crude oil every day.
The pipeline created 12,000 jobs during construction.
HT:  Mary Moerbe
Photo of "Elder Addressing Crowd," Dakota Pipeline Protest, by Shane Balkowitsch (Own work) [CC BY-SA 4.0 (http://creativecommons.org/licenses/by-sa/4.0)], via Wikimedia Commons