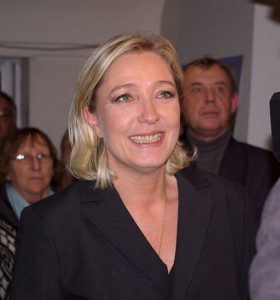 What with England's Brexit vote to leave the European Union and the election of Donald Trump, many observers have predicted that a new wave of Trump-like nationalism, rejection of immigration, and economic populism would dominate the global landscape.
Has that happened?  Well, no and yes. . . .
Photo of Marine Le Pen by Emmanuel d'Aubignosc (Emmanuel d'Aubignosc) [GFDL (http://www.gnu.org/copyleft/fdl.html) or CC BY 3.0 (http://creativecommons.org/licenses/by/3.0)], via Wikimedia Commons
Well, German chancellor Angela Merkel has roundly defeated her insurgents.