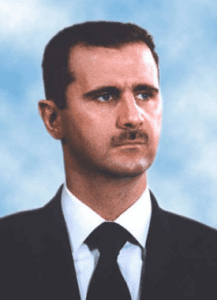 UPDATE: President Trump pulled the trigger on attacking Syria. Some 59 cruise missiles hit an airfield suspected of storing chemical weapons. The President called on "all civilized nations to join us in seeking to end the slaughter and bloodshed in Syria. And also to end terrorism of all kinds and all types."
"We ask for God's wisdom as we face the challenge of our very troubled world," he continued. "We pray for the lives of the wounded and for the souls of those who have passed and we hope that as long as America stands for justice then peace and harmony will in the end prevail."
OUR EARLIER POST:
Syrian dictator Bashar al-Assad launched chemical weapons on his rebellious citizens, killing 70 men, women, children, and babies. Now President Trump is considering an attack on Syria.
Would you consider this a violation of his campaign pledge to keep us out of foreign wars? Or does the heinous nature of Assad's atrocity justify an exception? A few air strikes would be short of a war. Would you support that response?
At any rate, Trump is now denouncing Assad and supporting regime change. That also has him opposing Vladimir Putin, the Russians being Assad's major ally.
Trump is also rattling the saber over North Korea, threatening to take action on our own in response to its ballistic missile testa, if China does not intervene. Other presidents have ignored Kim Jong-un's threats, saying he is a madman. As if it were some kind of consolation to consider that a dictator armed with nuclear weapons is insane.
Then again, Trump also campaigned that he would reverse American "weakness." Should America throw its weight around a little more overseas, assuming its traditional role as world leader and quasi-policeman? Or do you think Trump is starting to embrace neo-conservativism, which believes in promoting democracy around the world through American power?
President Donald Trump said Thursday that "something should happen" with regard to Syrian leader Bashar al-Assad in the wake of this week's chemical attack, which US officials say he perpetrated.

"I think what Assad did is terrible. I think what happened in Syria is one of the truly egregious crimes. It shouldn't have happened. It shouldn't be allowed to happen," Trump told reporters aboard Air Force One. "I think what happened in Syria is a disgrace to humanity. He's there, and I guess he's running things, so something should happen."

Defense Secretary James Mattis will lead Trump through his available options, including what the potential consequences for military action could be.

If the decision is made to strike, the US military has warships and aircraft in the area ready to go. . . .

Trump's comments came shortly after CNN learned that the President is considering military action in Syria in retaliation for the chemical attack. The US has led a coalition bombing campaign against ISIS targets in Syria and has special operations forces posted there, but has resisted any direct military action against the Assad regime.
Photo of Bashar al-Assad byy Syrian government (http://www.si-times.info/sitimes%20123/12.pdf) [Public domain], via Wikimedia Commons