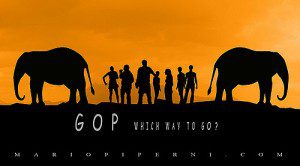 Republicans control the presidency, the House of Representatives, and the Senate.  And yet, in passing the spending bill to keep the government funded through September, Republicans gave away just about everything they stood for in order to get Democratic votes.
President Trump had proposed major cuts to make up for increased spending in defense and a few other areas.  The spending was increased, but the proposed cuts were dropped.
President Trump wanted to cut out funding for the arts and the Corporation for Public Broadcasting.  These survived.  So did funding for Planned Parenthood.
Some agencies that Trump wanted to cut actually had their funding increased.
Are Republicans incapable of governing?  Is their party effective only when it is in opposition?
From Stephan Dinan, House approves spending bill, rejects Trump budget cuts – Washington Times:
Republicans and Democrats have flatly rejected most of President Trump's 2017 budget cuts, instead linking arms Wednesday to vote for a $1 trillion spending package that spreads even more money across the vast federal bureaucracy.

The 309-118 vote in the House put Washington on track to finally have 2017 spending in place, avoiding an end-of-week government shutdown. The bill still needs final approval by the Senate and President Trump's signature by Friday.

Congressional leaders called it the first major bipartisan victory of the Trump era and said it was a model for future cooperation. But they got there by ignoring most of Mr. Trump's demands and instead doing what Congress does well: boosting funding for their favored programs. . . .

Republicans secured those wins by agreeing to tack the additional money onto the deficit rather than cutting elsewhere, as Mr. Trump had boldly proposed in releasing his budget plans this year.

The list of Mr. Trump's losses was extensive.

He called for canceling the Agriculture Department's rural business grant program. Instead, it will get a 33 percent increase, to $65 million. He proposed nixing the $65 million Pacific Coast salmon recovery project, but Congress kept all $65 million intact. He called for a $75 million cut in the Western Area Power Administration, but Congress preserved the money. Mr. Trump wanted to erase $82 million for training of migrant farmworkers, but all of the funds remained in the bill. And he asked to end a grant program that pays states to clean up abandoned mines. Instead, the program received a $15 million boost. . . .

Press secretary Sean Spicer predicted better results in the 2018 spending debate, which begins now.

Mr. Trump has called for even deeper cuts in that bill, saying federal programs such as the National Endowment for the Arts, the Corporation for Public Broadcasting, the Legal Services Corp. and the Woodrow Wilson International Center for Scholars should all be axed. . . .

Among problems Republicans cited were continued funding for Planned Parenthood and for sanctuary cities and the lack of money for Mr. Trump's border wall.
Illustration by Mario Piperni, Republican Party in Search of Itself, Flickr, Creative Commons License