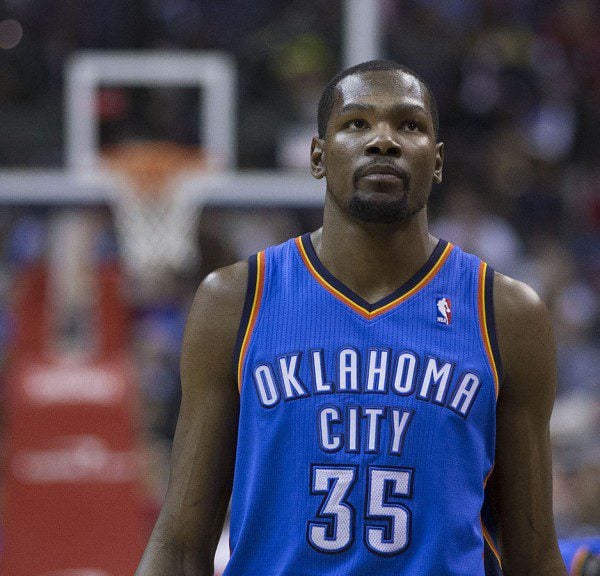 Last year the Oklahoma City came this close to beating the Golden State Warriors in the playoffs. Golden State then came this close beating the Cleveland Cavaliers, but failed.
Whereupon, on the 4th of July, the Thunder's superstar Kevin Durant signed with Golden State, putting an already super team into the realm of being virtually unbeatable.
So now Golden State has won the national championship. Of course they did. And they will probably keep winning them.
Here in Oklahoma, we're kind of bitter about this. We loved KD and put him in the Oklahoma Hall of Fame, but his jumping ship to our nemesis felt like a betrayal.
That our other superstar, Russell Westbrook, chose to stay with us made us feel better. His record-setting triple double season making him the top contender for the Most Valuable Player salvaged the season.
As I mentioned earlier, one Oklahoma fan got a petition going to change the name of Durant, Oklahoma (no relation), to Westbrook.
But now the season is over. KD earned his championship ring by being the MVP of the series. He has overshadowed the other Warriors, including Steph Curry, with his superpower of being able to sink three point shots from any place on the floor. Now the Warriors are being called KD's team. That should count as some kind of victory for Thunder fans, with our guy taking over the enemy team. But it doesn't quite work that way.
So is this superteam good for the NBA? People are debating that. But surely coming up with a really good team, ideally one that can hardly be beaten, and that wins championships is the goal of professional sports. It seems silly to blame a team for being so good. But having one team that other teams just can't compete with doesn't make for interesting games.
But my prediction is that the Warriors will NOT be totally dominant in the years ahead. Injuries happen. (KD gets injured quite a bit.) And free agents happen. And teams coming out of nowhere to be genuine contenders happen.
So that's my consolation.
From D. J. Gallo, Domination and no drama: how big a threat are the Warriors to the NBA? | Sport | The Guardian:
It's a waste of time to debate that the 2017 Warriors are anything but one of the greatest NBA teams of all-time, if not the greatest team ever. Last year, they added Kevin Durant, the second-best player in the world behind LeBron James, to a 73-9 team that was one win away from an NBA title, and then proceeded to go 67-15 in the 2016-17 regular season and 16-1 in the postseason, beating James and the Cavaliers by an average of 13 points in their 4-1 finals win. It was beautiful and artistic and dominant basketball from the season's opening tip through to the final minutes of their title-clinching win. Name the championship or dynasty team from the NBA's past, and these Warriors match up very favorably against them. Modern basketball has hit its zenith in Golden State.

The question for the NBA is: what now? What does the league do now that its champion for the next two, three, five (?) years is as much of a foregone conclusion as this whole season was? We all experienced basketball perfection, but how many fans will have the interest to watch it unfold again and again and again, all domination and no drama? One of the globe's most dynamic sports leagues reduced to a small, rotting marsupial carcass.

To be clear: the Warriors are indeed well set up to win a string of championships (while turning down White House visits long into an even two-term Trump presidency). The team's unmatched core of Durant, Steph Curry, Klay Thompson and Draymond Green are all 29 or younger. Golden State's window of title contention is not closing. In fact, it's not even a window. It's a massive bay door on an airplane hangar that they can, and likely will, stuff full of trophies. No NBA team, at least not as currently constructed, is within sniffing distance of the Warriors for 2018 or beyond. Vegas has the Warriors as early 4-6 favorites to repeat, with LeBron's Cavaliers next at a generous 3-1. No other team is better than 12-1.
Photo by Keith Allison – Flickr: Kevin Durant, CC BY-SA 2.0, https://commons.wikimedia.org/w/index.php?curid=30951663