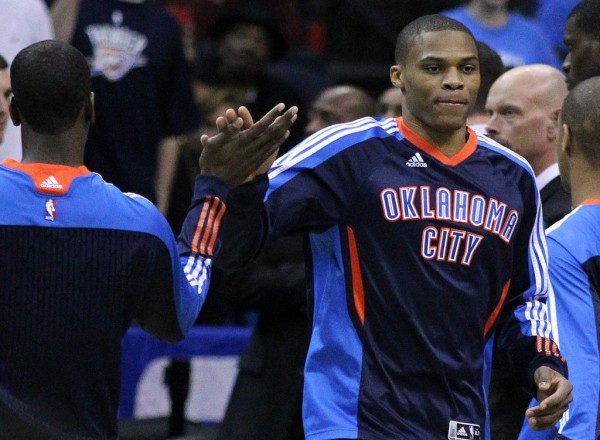 Russell Westbrook of the Oklahoma City Thunder won this year's NBA Most Valuable Player award.
The vote wasn't even close. He received 69 of 101 votes, with James Harden coming in second with 22.
Now if Oklahoma City can just keep him. Lots of other teams are trying to put together a superteam, the only hope to defeat the Golden State Warriors.
On July 1, the Thunder can offer him a newly-possible "super-max" contract that will make him the highest paid player in the NBA. No other team can pay him more. But he could turn it down in hopes of winning a championship with some new team.
But no! That will never happen. Westbrook, unlike another MVP that I won't mention, he being dead to me, is loyal to Oklahoma! I hope.
From Royce Young, Russell Westbrook of Oklahoma City Thunder awarded MVP after historic season, ESPN:
The final chapter of Russell Westbrook's historic season was written Monday at the NBA's inaugural awards show, as the Oklahoma City Thunder point guard was named the 2016-17 Most Valuable Player.

Westbrook, 28, topped a group featuring former teammate James Harden, Kawhi Leonard and LeBron James.

But it was not close, with Westbrook receiving 69 of 101 first-place votes, Harden 22, Leonard nine and James one.

Westbrook began his acceptance speech by thanking God and those close to him and the Thunder.

"Everybody in Oklahoma City that let me go out and compete at a high level every night," Westbrook said.

Saying he told himself he wouldn't cry, Westbrook became tearful and emotional as he thanked his family, including his mother, brother and wife, each of whom was in attendance.

"I couldn't thank everybody, but thanks, you guys, to everybody who helped me along the way," he said.

Westbrook made the 2016-17 season a memorable one, putting his name in NBA record books as only the second player ever, and first since Oscar Robertson in 1962, to average a triple-double. Westbrook also broke Robertson's record for most triple-doubles in a season with 42.

"I remember growing up just being home, playing the video games and stuff with my pops, and my mom sitting there and my brother and just talking about maybe one day I could be the MVP. Obviously I was joking at the time," Westbrook said.

"But now to be standing here with this trophy next to me is a true blessing, man, and it's an unbelievable feeling, something that I can never imagine."