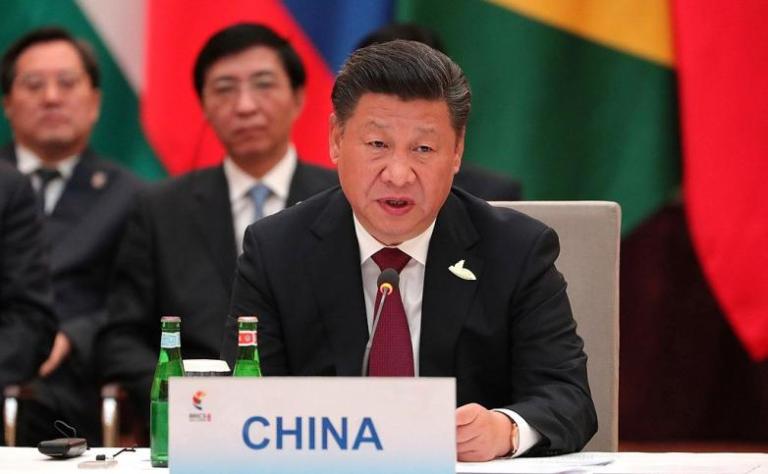 We have our national elections every two years, with our presidential election every four years. China has just had its equivalent. Not elections–China is opposed to democracy–but the every-five-year congress of the Chinese Communist Party, which rules the country.
The 19th National Congress of the Communist Party of China ended last week. It elected new members of the Politburo, the Central Committee, and the Secretariat. But its major achievement was not only to re-elect President Xi Jinping but to vastly increase his power. Xi was elevated to the level of Mao Tse Tung, with his theory of "socialism with Chinese characteristics" enshrined in the nation's constitution.
Xi also outlined plans to turn China into a superpower that leads the world, implictly–according to observers–taking the role currently held by the United States.
Here is an account with a few soundbites from Xi's three-and-a-half hour speech. From Debra Killalea, China's 30-year deadline to rule the world:
Opening a five-yearly national congress, Chinese President Xi Jinping set out his time frame for the country to become a "global leader" with international influence.

In his 3 ½ hour speech, Mr Xi urged a reinvigorated Communist Party to take a stronger role in society and economic development to better address the nation's "grim" challenges.

Speaking in the massive Great Hall of the People near Tiananmen Square, Mr Xi laid out his vision of a ruling party that served as the vanguard for everything from defending national security to providing moral guidance.

He also called for the party not only to safeguard China's sovereignty but also to revitalise Chinese culture, oppose "erroneous" ideology and promote religion that is "Chinese in orientation".

He said "it was time for his nation to transform itself into a mighty force" that could lead the entire world on political, economic, military and environmental issues, The Guardian reported.

"The Chinese nation … has stood up, grown rich, and become strong — and it now embraces the brilliant prospects of rejuvenation … It will be an era that sees China moving closer to centre stage and making greater contributions to mankind," Mr Xi said.
President Xi also laid down some principles about religion. He said that religions not sufficiently in line with Communist ideals are a threat. Religions, he said, must become more "Chinese-oriented." (See the report from the
Catholic News Agency
.)
That is being interpreted as a shot at Tibetan Buddhism, but it also applies to Chinese Catholicism and to the evangelical house churches. Currently, the only "church" officially allowed is the
Three-Self-Patriotic Movement
, which fits the criteria of being "Chinese-oriented" and pro-Communist.
Americans, many of whom assume that China is a commercial powerhouse that is communist in name only, would do well to study Xi's "socialism with Chinese characteristics." China seems "capitalist" to Westerners, but private property and money-making is understood as a necessary phase in the evolution of socialism. China is still communist. It is still totalitarian. It is still hostile to religion. It is still anti-democratic, opposed to civil liberties, and convinced that it will bury us.
HT: George Strieter
Photo of Xi Jinping from Kremlin.ru [CC BY 4.0 (http://creativecommons.org/licenses/by/4.0)], via Wikimedia Commons