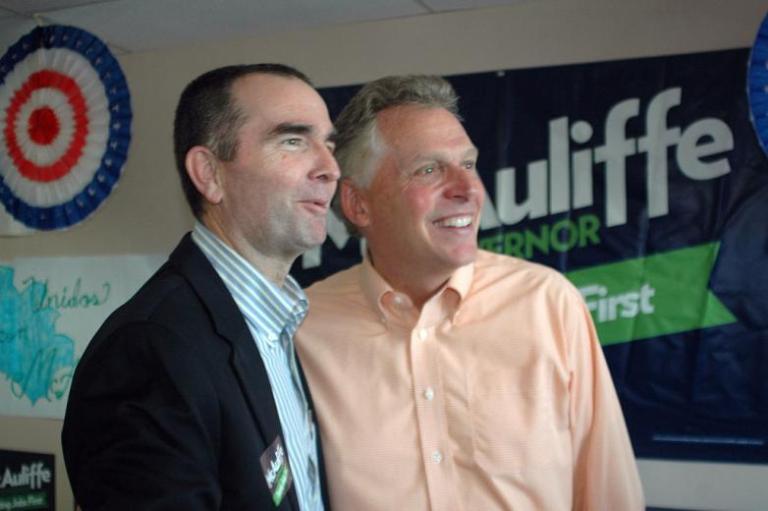 November 7 was Election Day in several states, and the Democrats won big.  Now some Democrats are predicting that Tuesday's vote is a foretaste of the midterm elections to come next year.  They believe that they will win control of Congress.
The major election news came from Virginia.  The Democrat Ralph Northam beat Republican Ed Gillespie, who was running on President Trump's issues and who had his support.
Democrats also took the offices of Lieutenant Governor and Attorney General.  They also picked up seats in the Virginia House of Delegates.  A transgender candidate defeated a long-time incumbent to be the first person of that orientation in the state legislature.
Democrats also won the governor's race in New Jersey, replacing Republican Chris Christie.  They also picked up seats in New York, where New York City mayor Bill Blasio was re-elected.  Democrats also did well in other big city mayoral races.
Democrats are said to be "
euphoric"
 with the election results, as donors and potential candidates are filled with new confidence.  Democratic operatives are saying that a majority in the House and Senate are in reach.
But this is only a tiny number of elections.  And these victories are in states that are already heavily Democratic!
True, Virginia used to be Republican, but then it was "purple" and in the presidential election it went for Hillary Clinton.  New Jersey is Democratic, Gov. Christie being the anomaly, as is New York, along with most big cities.
True, Tuesday elections are much better news for Democrats than the four special congressional elections they lost a few months ago.  And polls showed that President Trump's unpopularity was a factor with those who cast their ballots.  So Republicans should pay attention.
But in order for Democrats to take over the legislative branch, they will have to take away 24 seats from Republicans in the House.  And they will have to defend 10 seats in the Senate in states that voted for Trump.
And the conflict between the Democratic establishment and the Bernie Sanders insurgents–with leftists planning to run primary challenges against Clinton supporters–has yet to manifest itself in political races.  But it will.
To jump from victories in Virginia and a few other Democratic states to an expectation of a national takeover is optimistic to the point of delusion.
That could happen, but it would depend more on the state of the union next year than anything that inspires "euphoria" in Democrats today.
Photo of Ralph Northam and current Virginia governor and former Democratic operative Terry McAuliffe by Edward Kimmel from Takoma Park, MD [CC BY-SA 2.0 (https://creativecommons.org/licenses/by-sa/2.0)], via Wikimedia Commons