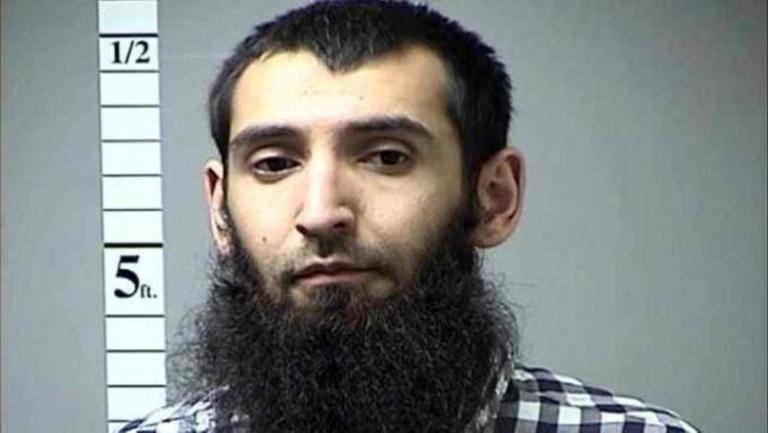 An ISIS supporter drove a pickup truck into a bicycle lane in New York City, killing 8 and wounding 12.
The terrorist was Sayfullo Habibullaevic Saipov, a 29-year-old native of Uzbekistan who was a legal resident in the United States since 2010.  He was wounded by police, but not fatally, and he was taken into custody.
Saipov had pledged his allegiance to ISIS and screamed "Allahu Akbar" after driving into the crowd.
A former truck driver, Saipov has been working as an Uber driver.  The pickup he used was rented from Home Depot.  He had a previous arrest in Missouri for failing to respond to a traffic citation.
Now that ISIS has lost its territory, it has become a global terrorist organization.
Driving automobiles into crowds has become a common terrorist tactic.  There have been 15 such attacks over the last three years, with 142 people killed.
ISIS has put out the following directive:
"If you are not able to find an IED or a bullet, then single out the disbelieving American, Frenchman or any of their allies. Smash his head with a rock or slaughter him with a knife or run him over with your car or throw him down from a high place or choke him or poison him."
Notice too that this particular terrorist is not from an illegal immigrant.  Rather, he is an American Moslem.  Also, he is not Arabic or Iranian or Middle Eastern at all.  Rather, he is from Uzbekistan, part of the former Soviet Union.  Which means that ISIS has a global reach.
But New York governor Andrew Cuomo said that Saipov was "radicalized domestically" in the United States. "The evidence shows — and again, it's only several hours, and the investigation is ongoing — but that after he came to the United States is when he started to become informed about ISIS and radical Islamic tactics."
For details, read Nicole Chavez and Holly Yan, New York terror suspect was radicalized domestically, governor says – CNN.
Photograph of Sayfullo Habibullaevic Saipov, a mugshot from a previous arrest, via St. Charles County Department of Corrections