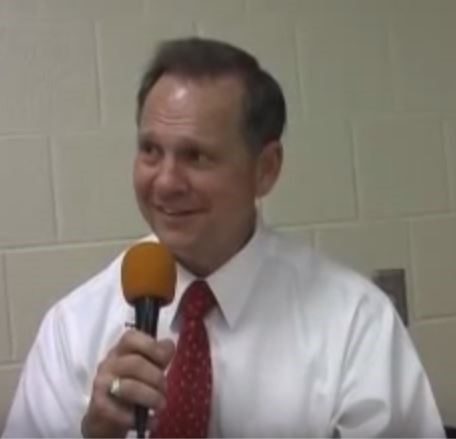 Roy Moore, the judge who refused to remove the Ten Commandments, is the Republican nominee for Senator from Alabama.  And, as you have probably heard, he has been accused of child molestation.  Some supporters don't believe the charges, but some evangelical Christians are defending him even if the charges are true!
I won't go into the details here, but a woman says that Moore molested her when he was in his 30's and she was 14.  Now another woman tells about Moore assaulting her when she was 16.  Four other women say that Moore "dated" them when they were teenagers.
Now certainly such an allegation would be an effective way of destroying a candidate.  The question is, are the allegations true?  I can see a supporter believing that Moore is innocent and was falsely accused.
This second assault charge, though, seems particularly well-attested–she told her mother, her sister, and later her husband, all of whom back her up.  Judge Moore says that he never met the girl and that he doesn't know where the restaurant is where she worked and where the alleged incident took place.  But the woman has shown her high school yearbook, which Moore signed, including his title as District Attorney, with a reference to the restaurant!  Also, townspeople are coming forward describing the "well-known secret" about Moore's interest in teenaged girls.
But
some evangelical Christians are saying that there is nothing wrong with what Judge Moore is accused of doing! 
Older men liking under-aged girls?  That's all right, they are saying, as long as no actual sex took place.  Just kissing.  But how is it all right for a man in his 30's to kiss a 14-year-old?  And how could undressing and touching the child be OK?  One defender said, "Take Joseph and Mary. Mary was a teenager and Joseph was an adult carpenter. They became the parents of Jesus… There's just nothing immoral or illegal here. Maybe just a little bit unusual."
First, the Bible doesn't say there was a large age difference between Joseph and Mary.  And even if there were, in accord with ancient customs, they were married.  This was not a case of molestation!  To say there is an equivalence between the earthly parents of our Lord and what Judge Moore did is to slander Jesus' family (which He isn't going to approve of) and to blasphemously misuse God's Word.
The Christian right used to go by the name of the "moral majority."  Now some Christian conservatives flagrantly approve of immorality in order to advance their political agenda.
I can see Christians supporting a morally flawed candidate, as happened with Donald Trump, as the better of a bad option and as the best chance to further a pro-life agenda, all in the name of real politik.  I recall Christians lamenting Trump's boasts of groping women, while saying they would support him anyway.  I don't remember them defending the groping boasts.  But that seems to be what some Christians are doing with Judge Moore!
Photo of Judge Roy Moore by BibleWizard (https://www.youtube.com/watch?v=OEsVodF9sHE) [CC BY 3.0 (http://creativecommons.org/licenses/by/3.0)], via Wikimedia Commons