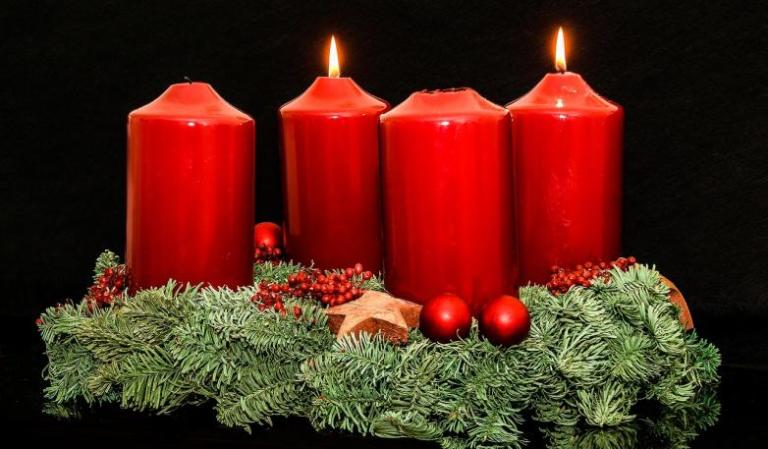 In our midweek Advent service, my son-in-law the pastor–who is doing a series on the Catechism–worked in a discussion of an advent hymn we also sung that night.  It is by the incomparable hymn writer Paul Gerhardt, whom we've blogged about recently.  It is entitled "O Lord, How Shall I Meet You."
We often think of God as an abstract idea, as an impersonal force, or as a passive being far, far away whom we must ascend to reach.  But God in light of the Gospel of Christ is active, near, and takes the initiative in our relationship with Him.  Again, in this Advent hymn, we see His personality.
Here are the lyrics to the hymn. Read Rev. Ned Moerbe's reflections on these stanzas.  I bolded the stanza that most stood out for me.  And because the music goes so perfectly with the words, I'll make it possible for you to hear it.
O Lord, How Shall I Meet You (1653)
by Paul Gerhardt
1 O Lord, how shall I meet You,
How welcome You aright?
Your people long to greet You,
My hope, my heart's delight!
O kindle, Lord most holy,
Your lamp within my breast
To do in spirit lowly
All that may please You best.
2 Your Zion strews before You
Green boughs and fairest palms;
And I too will adore You
With joyous songs and psalms.
My heart shall bloom forever
For You with praises new
And from Your name shall never
Withhold the honor due.
3 I lay in fetters, groaning;
You came to set me free.
I stood, my shame bemoaning;
You came to honor me.
A glorious crown You give me,
A treasure safe on high
That will not fail or leave me
As earthly riches fly.
4 Love caused Your incarnation;
Love brought You down to me.
Your thirst for my salvation
Procured my liberty.
Oh, love beyond all telling,
That led You to embrace
In love, all love excelling,
Our lost and fallen race.
5 Sin's debt, that fearful burden,
Cannot His love erase;
Your guilt the Lord will pardon
And cover by His grace
He comes, for you procuring
The peace of sin forgiv'n,
His children thus securing
Eternal life in heav'n.
6 He comes to judge the nations,
A terror to His foes,
A light of consolations
And blessèd hope to those
Who love the Lord's appearing.
O glorious Sun, now come,
Send forth Your beams so cheering,
And guide us safely home.
We thirst for God.  "My soul thirsts for God/for the living God" (Psalm 42:2).  Now we hear about God's "thirst for "my salvation."
Our thirst for God is satisfied by Christ:  " Jesus said to them, "I am the bread of life; whoever comes to me shall not hunger, and whoever believes in me shall never thirst (John 6:35).  And God's thirst for our salvation is recalled in Christ's thirstinesson the Cross:  "I thirst" (John 19:28).

Photo via Max Pixel, CC0, Creative Commons