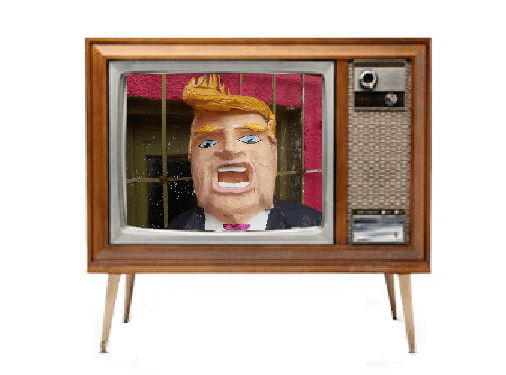 Get ready to fall through the postmodernist looking glass, in which all distinctions between fiction and reality, entertainment and politics, and celebrity and history disappear.
Michael Wolff's depiction of the Trump White House–an "inside story" that the author admits is also an imaginative construction–is going to be made into a television series!
Television rights to his book Fire and Fury:  Inside the Trump White House have  been sold to a major Hollywood developer.
From Michael Wolff's 'Fire and Fury' to Become TV Series (Exclusive) | Hollywood Reporter:
Michael Wolff's controversial Fire and Fury: Inside the Trump White House is coming to television.

Endeavor Content — the financing and sales arm formed in October between sister companies William Morris Endeavor and IMG — has purchased film and television rights to the No. 1 best-selling book. The massive deal is said to be in the seven-figure range. Endeavor Content plans to adapt the book as a TV series. A network is not yet attached, as Endeavor will now begin shopping the project.
Wolff will executive produce the series, with veteran Channel 4 and BBC executive Michael Jackson — now CEO of indie producer Two Cities Television — also on board to produce.
The author of the supposedly non-fiction exposé will be the executive producer of the fictional TV version.
The public will read about President Trump and his staff in the news, while also watching a television show with the same "characters" presented presumably as a comedy.
Viewers will discuss the goings-on of the Executive Branch while being confused about what is actually happening and what they saw on television.  And when the two conflict, which one do you think most people will believe?
Admittedly, this is already happening, to a certain extent.  Some will say that this is what we get when we have a reality TV star as president.  Others will say that the news media has already been fictionalizing its coverage, creating contradictory narratives that present the president as both a sinister Manchurian candidate for the Russians or as a comical stereotype from a Saturday Night skit.
But if Hollywood makes a "massive deal" for a TV series based on 
Fire and Fury, 
entertainment will have swallowed up reality, doing great harm to our body politic.  We will have reached as a nation that point predicted by media ecologist Neil Postman of
Amusing Ourselves to Death.
Illustration:  Trump [pinata] on TV by Mike Licht, via Flickr, Creative Commons License