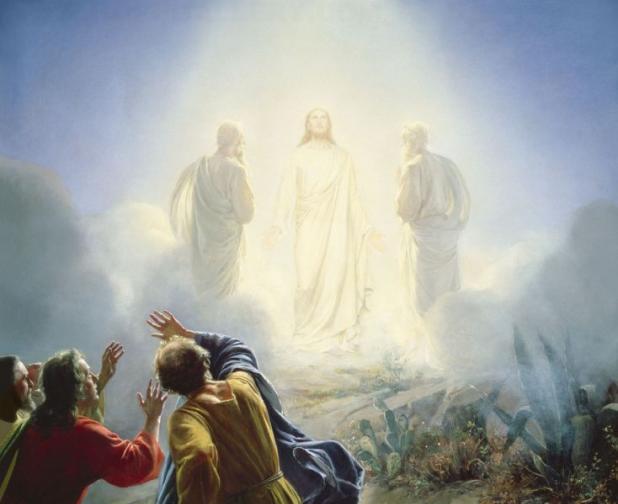 Yesterday was the last and climactic Sunday of Epiphany, in which we contemplate the ultimate light-dawning revelation of Christ:  His transfiguration.  The veil was lifted for just a moment, and Peter, James, and John were given a glimpse of Jesus in the glory of His Godhood.  After this high point, He descends the mountain and sets His face to the humiliation of the Cross, as the church also moves from the celebrations of Epiphany into the Lent.
God's presence in its fullness was manifest in Christ.  But there are other examples of God's presence that is veiled behind ordinary-seeming appearances.  What if they could be transfigured?
Consider what happened to Jesus:
17 And after six days Jesus took with him Peter and James, and John his brother, and led them up a high mountain by themselves. 2 And he was transfigured before them, and his face shone like the sun, and his clothes became white as light. 3 And behold, there appeared to them Moses and Elijah, talking with him. 4 And Peter said to Jesus, "Lord, it is good that we are here. If you wish, I will make three tents here, one for you and one for Moses and one for Elijah." 5 He was still speaking when, behold, a bright cloud overshadowed them, and a voice from the cloud said, "This is my beloved Son,[a] with whom I am well pleased; listen to him." 6 When the disciples heard this, they fell on their faces and were terrified. 7 But Jesus came and touched them, saying, "Rise, and have no fear."8 And when they lifted up their eyes, they saw no one but Jesus only.  (Matthew 17:1-8)
Where else is God present in the ordinary realm?
God's Word.  What if your Bible were transfigured so as to reveal its true nature?  What if you opened your Bible and the pages suddenly started to shine, flooding the darkness of your room–as with your heart–with light?
Church.  What if, in the course of an ordinary church service, the church's true nature as the Body of Christ were suddenly manifest.  The pastor started to glow from the light of preaching God's Word.  The ushers started to shine.  Everyone in the pews would be suffused with light.  And what if we could suddenly perceive our own true status as temples of the Holy Spirit, in whom Christ dwells?
Vocation.  God is present in the vocations of everyday life, giving daily bread, conveying His blessings, and caring for His creation by means of ordinary human beings carrying on the work that He has given them.  What if we could glimpse Him–in the fields, the workshop, the office–as we carry out our callings?  The transfigured factory shone like the sun.  The market became white as light.
What if we saw our marriages as God sees them, as manifestations of Christ and His church?  Or if we could glimpse the light of God's love and authority in that of parents?
In a sense, all of these can be transfigured in the eyes of faith, as we consider them in light of God's Word.  But we are not yet in the realm of glory.  We are in the realm of the cross.  So the spiritual reality that permeates our everyday lives and the presence of God that is all around us are all hidden, right now, making them easy to forget and to ignore.
Perhaps these epiphanies will be part of what we will experience in eternity.  The Apostle Paul speaks of the difference between our limited perceptions now and the complete perception that awaits us after our own transfigurations at our own resurrections:  "For now we see in a mirror dimly, but then face to face. Now I know in part; then I shall know fully, even as I have been fully known" (1 Corinthians 13:2).
Painting:  "Transfiguration" [cropped] by the Danish Lutheran artist Carl Bloch [Public domain], via Wikimedia Commons