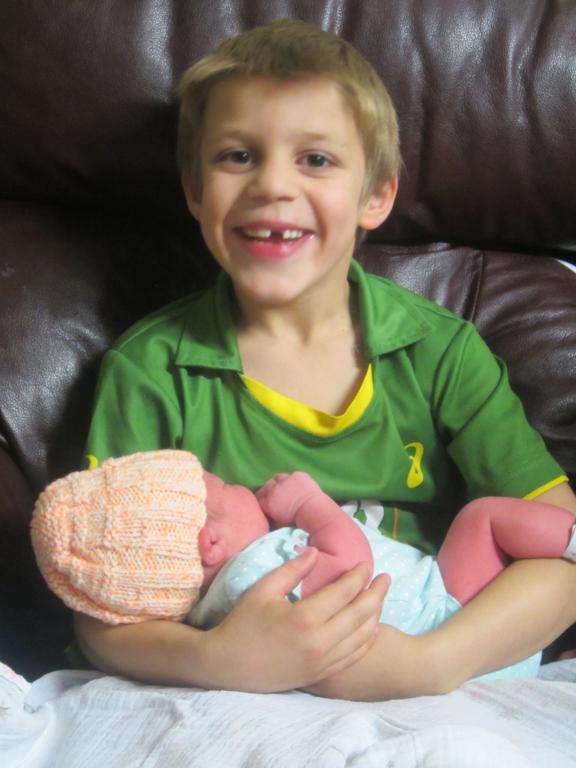 Our daughter here in Australia had her baby! In the photo you can see John, in his cricket uniform, holding Hannah, happy to have another sister. She was born on Saturday afternoon at 2:20 p.m., and at 7:30 p.m. of that same day–a mere 5 hours later–mother and child came home. (I don't know if such a short time under medical care represents cutting-edged obstetric practice, since having a baby is not a disease and so isn't a matter for hospitals, or if it's a symptom of socialized medicine.)
So now we have an even dozen grandchildren! If the Darwinists are correct, which they are not, I have lived a successful life because I have achieved "genetic survival," having transmitted my genes to future generations and thus to the larger human gene pool.
Less reductively, I have received the blessings of the Psalmist: "May you see your children's children!" (Psalm 128:6). And I have received the "crown" that honors us old people. "Grandchildren are the crown of the aged" (Proverbs 17:6).
I am well aware that my own iniquities can have had their effect on my children, grandchildren, great-grandchildren, and great-great grandchildren (Exodus 34:7). But, at the same time, I know that my Redeemer and God's covenant with me also can affect them through the generations:
"And a Redeemer will come to Zion,
to those in Jacob who turn from transgression," declares the Lord.
21 "And as for me, this is my covenant with them," says the Lord: "My Spirit that is upon you, and my words that I have put in your mouth, shall not depart out of your mouth, or out of the mouth of your offspring, or out of the mouth of your children's offspring," says the Lord, "from this time forth and forevermore." (Isaiah 59:20-21)
One of the greatest texts of praise in the Bible, Psalm 103, among the multitude of reasons it gives to bless the Lord, includes a promise to one's grandchildren.
15 As for man, his days are like grass;
he flourishes like a flower of the field;
16 for the wind passes over it, and it is gone,
and its place knows it no more.
17 But the steadfast love of the Lord is from everlasting to everlasting on those who fear him,
and his righteousness to children's children,
18 to those who keep his covenant
and remember to do his commandments. (Psalm 103:15-18)
Notice how this promise comes in the context of a passage about how life passes so quickly, how we flourish for a while and then our lives come to an end. But the "steadfast love of the Lord" is forever, as is the gift of "his righteousness," which extends beyond the brief life of those who have faith in Him, extending to their "children's children."
UPDATE: I put up this post to appear on Monday, but I forgot to factor in that Monday here in Australia is Sunday back in the United States. I really am keeping my traditional blog sabbath. I'll probably let these posts ride for (your) Monday. Sorry for getting crossed up! Too much excitement over here.