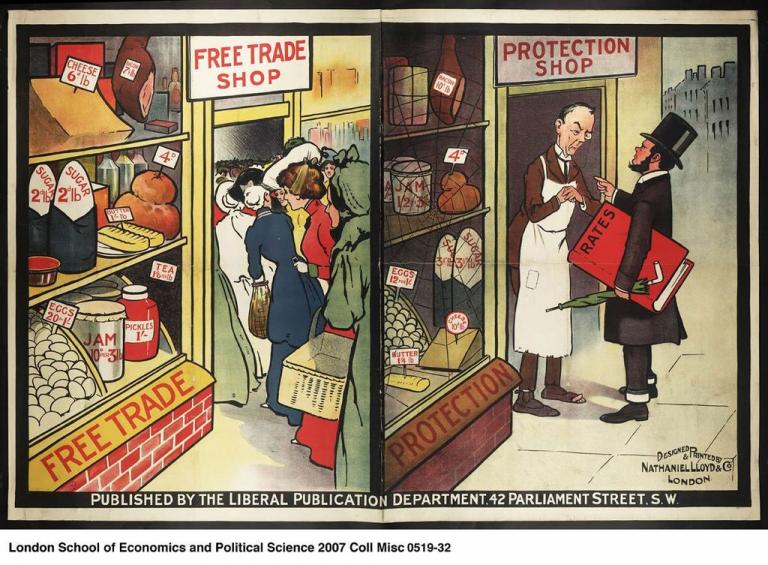 President Trump announced that he will impose tariffs on steel and aluminum, sending the stock market plummeting.  Next week, steel imported from other countries will be assessed a tax of 25%.  Foreign-produced aluminum will be assessed 10%.
Here are some details from Dow closes more than 400 points lower after Trump says steel and aluminum tariffs coming:
Stocks fell on Thursday after President Donald Trump said the U.S. will implement tariffs on steel and aluminum imports next week.

The Dow Jones industrial average closed 420.22 points lower at 24,608.98 after rising more than 150 points earlier in the day. The 30-stock index fell as much as 586 points.

The S&P 500 declined 1.4 percent to end at 2,677.67 — erasing its year-to-date gains — with industrials as the worst-performing sector. It also briefly broke below its 100-day moving average, a key technical level. The Nasdaq composite fell 1.3 percent to 7,180.56 and dipped below its 50-day moving average.

The U.S. will set tariffs of 25 percent for steel and 10 percent for aluminum, the president said. It is unclear whether they will apply to all imports or only metals from certain countries.

"That could really spook the market," said Marc Chaikin, CEO of Chaikin Analytics. "The biggest wildcard would be a trade war and nobody should be excited for that."
Protectionist trade policies, as well as gun control proposals, are usually the platform of Democrats and liberals.  Republicans and conservatives in the U.S. generally follow free market principles.
The reasoning is that if another country can produce steel or aluminum more cheaply, that country should do so.  That saves money for the consumers.
Artificially forcing consumers to buy American at inflated prices interferes with market pricing, which never turns out well, sending up the price of not only the commodity but everything built from that commodity.
This tariff could immediately send up steel prices–and possibly the price of automobiles, construction material, and other metal products–by 25%.  That rate is no doubt set as the price of making foreign steel competitive with domestic steel.  So even American-produced steel is likely to go up as much as 25% or more, since competitive pricing will be reduced.
The counter-argument is that this helps American workers and keeps jobs in this country.  But does it really help them in the long run if it sends up the costs of what they buy and potentially cuts demand for their companies' products?
The other fear is that Trump's action could spark a trade war, with other countries retaliating by slapping tariffs on products they import from the United States, which will mean even higher prices for consumers here, as well as layoffs for workers as American companies lose their foreign markets.  (UPDATE:  The European Union, China, Japan, and Canada are threatening retaliation.)
In what sense is President Trump actually a conservative?  Is he really a middle-of-the-road conservative who is willing to sacrifice ideology on some issues for what he considers to be the public good (gun control, protecting American industry)?  Or is he mainly just a populist, sounding patriotic notes and opposing immigration, while pursuing policies that could just as well be from liberals?
And, again, as it becomes clearer what the president's actual policies are to be, are those of you who have supported him still with him?  And are those of you who have opposed him still against him?
Illustration from Library of the London School of Economics and Political Science (Free Trade and Protection Uploaded by Fæ) [No restrictions], via Wikimedia Commons.  [Note:  "Liberal" in the 19th century and in Europe today means "freedom," with special reference to "free trade."]