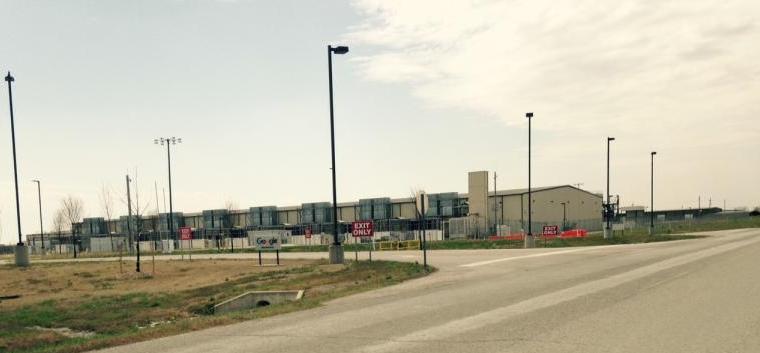 Since retiring to a small Oklahoma town, such as the one I grew up in, I've been interested in the fate of small town rural America.  Why is it that once-prosperous communities–where we live now used to have 4 movie theaters, a barber shop on every corner, and restaurants galore (now we have no theaters, one barber, and a handful of places to eat)–now have boarded-up downtowns, a mostly geriatric population, and an opioid problem.  I'm visiting my mother this week in the town I grew up in, which is struggling, though it is in better shape than most.
But in nearby Pryor, about 30 miles away, Google in 2011 built a data center, one of 13 in the world and the second-largest.  Housing the company's servers and computers, the center cost $2.5 billion and currently has about 400 employees.  Google reportedly likes Pryor and has started a $600 million expansion.
I wanted to see the "campus" for myself and get a sense of its impact on Pryor, a town of some 9500 residents.  So my mother and I went for a drive.
It was not easy finding the place.  Google Mayes County has a web site, but no address is listed.  I learned that "we take security very seriously" so that the data centers "have access controls, guards, video surveillance, and perimeter fencing to physically protect the sites at all times."  A little sleuthing, though, found it.
It was quite a place, though unassuming, until you looked closer, with its massive electronics and the cables from Oklahoma's extensive wind farms, which give Google cut-rate energy.
As for Google's impact on Pryor, the company has given tons of money to the school system, including state-of-the-arts computer equipment, and gives generously to other community causes.
I'm not sure where the employees come from, how many are locals, computer science graduates of Oklahoma colleges, or immigrants from the west coast.  The
website
says the data center hires from all over the world, though gives priority to local residents when possible.
While driving around Pryor, I didn't see any trendy coffee houses or anything trendy, for that matter.  There seemed to be more good restaurants than there used to be.  The downtown was bustling.  More strip malls had sprung up, with bigger brands than are common in small town Oklahoma.  But it's still a cowboy hat and Indian smoke shop kind of place.
I would think that residents of Silicon Valley would experience some culture shock finding themselves in Pryor.  But the place would grow on them.  I'm glad to see that Google doesn't seem to have changed the local culture much.
Except that the town seems to be flourishing economically more than its neighbors.  Google wasn't the only big employer I saw.  There were a number of other large factories, warehouses, machinist companies, and other industries in Google's vicinity.  Prosperity attracts prosperity.
What small towns need to lift them out of their death spiral is industry.  Specifically, jobs to keep young adults in the community, so that they can raise a family there–instead of having to leave home to find work–thus preserving the generational dynamics of a living community.
But bringing in that kind of industry is not easy.  Most big firms, particularly high-tech companies, prefer an urban culture.  Amazon is planning a second headquarters, but a priority for the location is good education , so Oklahoma–whose teachers are currently in a walk-out because of years of education cuts–doesn't have a chance with its application.  The front-runners are urban areas  like Austin and Northern Virginia that already have lots of high tech industries.
I don't know the answers for small towns.  Any ideas?
Photo of Google Mayes County by G. E. Veith