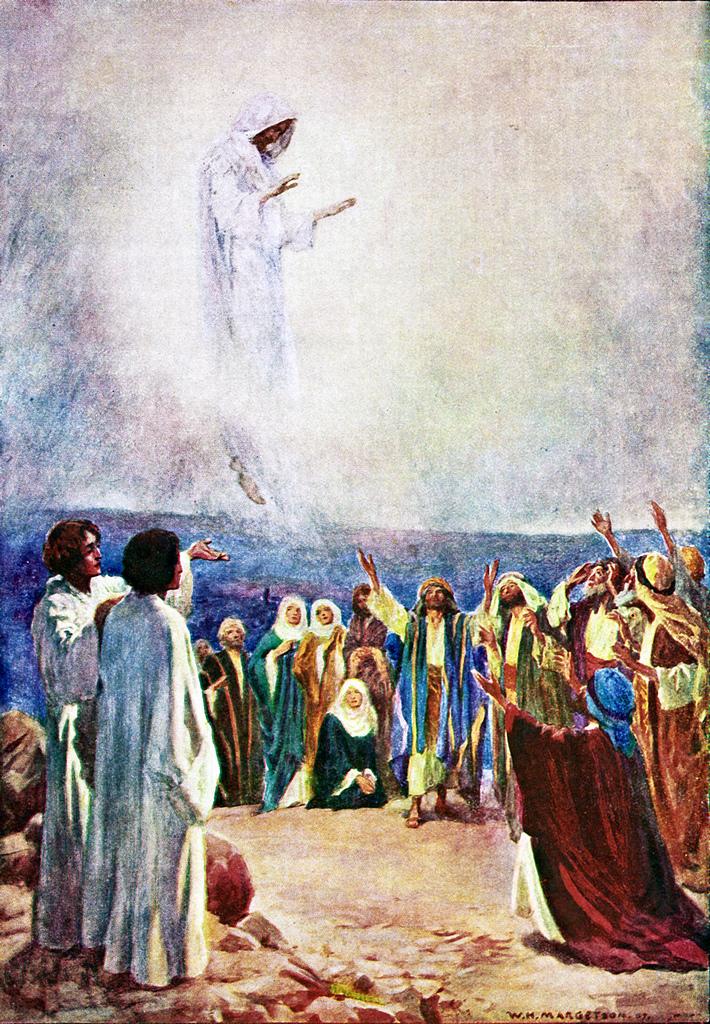 More on the Ascension of Christ. . . .I keep reading on evangelical sites that with His Ascension, Jesus says goodbye, that He left at the most inopportune time, that the disciples now must carry on after Jesus is gone, that Jesus isn't with us anymore until He returns. Such laments about the absence of Jesus completely miss the point about the true meaning of His Ascension.
As an antidote to these misunderstandings and to further celebrate Ascension Day and Ascension Sunday, I urge you to read this sermon by Martin Luther.
From "A sermon by Dr. Martin Luther on the last chapter of St. Mark. While the eleven were sitting at meat Christ manifested himself and reproved them for their unbelief and hardness of heart, 1523." German text: Erlangen Edition, 12:169; Walch Edition, 11:1256; St. Louis Walch, 11:931. Via Godrules.net
24. We must, therefore, conceive of his ascension and Lordship as something active, energetic and continuous, and must not imagine that he sits above while we hold the reins of government down here. Nay, he ascended up thither for the reason that there he can best do his work and exercisedominion. Had he remained upon earth in visible form, before the people, he could not have wrought so effectually, for all the people could not have been with him and heard him. Therefore, he inaugurated an expedient which made it possible for him to be in touch with all and reign in all, to preach to all and be heard by all, and to be with all. Therefore, beware lest you imagine within yourself that he has gone, and now is, far away from us. The very opposite is true: While he was on earth, he was far away from us; now he is very near. . . .

26. In the first place, Psalm 8:4-6 says of Christ: "What is man, that thou visitest him? For thou hast made him but little lower than God, and crownest him with glory and honor. Thou makest him to have dominion over the works of thy hands; thou hast put all things under his feet." Here the prophet speaks to God concerning a man and marvels that God humbled, for a time, that man, when he suffered him to die, humbled him to the extent that it seemed as if God were not with him. But after a little while God exalted him, so that all things must obey him, both in heaven and on earth. To these words we must hold, to these words we must cling, in these words we must believe; for reason will not submit nor adapt itself to them, but says they are lies. Now, if all things are to be subject to this being and to fall at his feet, he must sit where he can look into the whole world, into heaven and hell and every heart; where he can see all sin and all righteousness, and can not only see all things, But can rule accordingly.

27. Hence, these are majestic and powerful words. They afford the heart great comfort, so that they who believe this are filled with joy and courage and defiantly say: My LordJesusChrist is Lord over death, Satan, sin, righteousness, body, life, foes and friends. What shall I fear? For while my enemies stand before my very doorand plan to slay me, my faith reasons thus: Christ is ascended into heaven and become Lord over all creatures, hence my enemies, too, must be subject to him and thus it is not in their power to do me harm. I challenge them to raise a finger against me or to injure a hair of my head against the will of my LordJesusChrist. When faith grasps and stands upon this article, it stands firm and waxes bold and defiant, so as even to say: If my Lord so wills that they, mine enemies, slay me, blessed am I; I gladly depart. Thus you will see that he is ascended into heaven, not to remain in indifference, but to exercisedominion; and all for our good, to afford us comfort and joy. . . .

30. Again in still another Psalm, David says ( Psalm 68:18): "Thou hast ascended on high, thou hast led away captives; thou hast received gifts among men, yea among the rebellious also, that JehovahGod might dwell with them." And all the prophets took great pains to describe Christ's ascension and his kingdom. For, as his sufferings and death are deeply founded in the Scriptures, so are also his kingdom, his resurrection and ascension. In this manner we must view the ascension of Christ. Otherwise it will afford us neither pleasure nor profit. For what good will it do you if you merely preach that he ascended up to heaven and sits there with folded hands? This is what the prophet would say in the Psalm Christ is ascended on high and has led captivity captive. That is to say, not only does he sit up there but he is also down here. And for this purpose did he ascend up thither, that he might be down here, that he might fill all things and be everywhere present; which thing he could not do had he remained on earth, for here in the body he could not have been present with all. He ascended to heaven, where all hearts can see him, where he can deal with all men, that he might fill all creation. He is present everywhere and all things are filled with his fullness. Nothing is so great, be it in heaven or on earth, but he has power over it, and it must be in perfect obedience to him. He not only governs and fills all creation (that would not help my faith any nor take away my sins), but also has led captivity captive. . . .

32. From this captivity no one can free himself, save only that one man Christ. What did he do? He made sin, death, and Satan his debtors. Sin fell upon him as though it would vanquish him, but it lost the day; he devouredsin. And Satan, death, and hell fared the same way. But we are unable to do this unless he be present to aid us. Alone, we must needs perish, But he, since he had done no sin and was full of righteousness, trod under footSatan, death and hell, and devoured them, and took everything captive that fain would capture us, so that sin and death no longer can do harm.

33. This, then, is the power he causes to be preached, that all who believe in him are released from captivity. I believe in him by whom sin, death, and all things that afflict us, were led captive. It is a pleasing discourse, and full of comfort, when we are told that death is taken away and slain, so that it is no longer felt. However, it affords pleasure and comfort only to those who believe it. You will not find release from captivity in your works, fastings, prayers, castigations, tonsures, and gowns, and whatever more things you may do; but only in the place where Christ sits, whither he ascended and whither he led captivity with him. Hence, he who would be freed from sin and delivered from Satan and death, must come thither where Christ is. Now, where is he? He is here with us, and for this purpose did he sit down in heaven, that he might be near unto us. Thus, we are with him up there and he is with us down here. Through the word he comes down and through faith we ascend up.
Painting by William Henry Margetson via Flickr, Creative Commons License