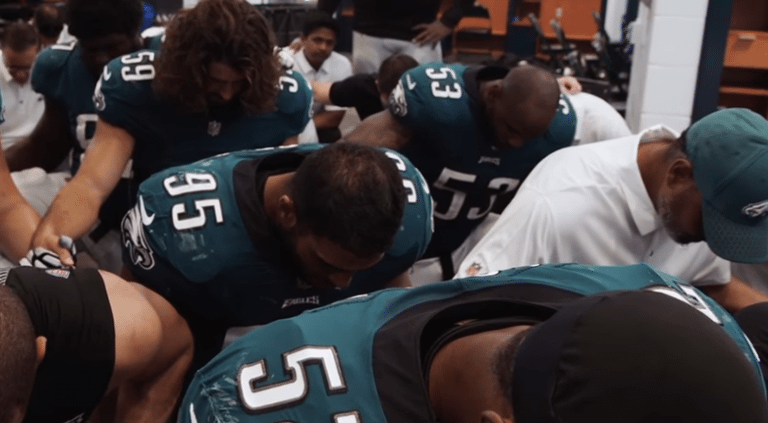 President Trump disinvited the Philadelphia Eagles from the traditional White House reception for SuperBowl champions. The president castigated NFL players for protesting America by taking a knee during the National Anthem. But the Philadelphia Eagles were one of eight NFL teams whose players always stood for the National Anthem!
What created the contrary perception is that Fox News showed video of Eagles players kneeling. But that was for a pre-game prayer meeting! The Eagles, who have an unusually strong Christian presence on their team, regularly kneel for prayer, but they made a point of not kneeling during the Anthem.
It is true, though, that only 10 of the players planned to go to the White House. The president no doubt found that insulting, so he cancelled the whole reception. That's fine. The players may have respected the Anthem, but they should also respect the White House and the office of the Presidency.
But the president was still wrong to say that much of the team wouldn't show up, in the words of a White House statement, "because he insists they proudly stand for the National Anthem." They already do that.
From Alex Raskin, The New York Daily Mail:
Several Philadelphia Eagles players lashed out at Fox News on Tuesday morning after the network pictured them and teammates kneeling in prayer for a segment about President Donald Trump's decision to disinvite the reigning Super Bowl champions from a scheduled visit to the White House.

Trump has been at odds with the NFL over players raising awareness about inequality and police brutality against minorities by refusing to stand during the national anthem. A large contingent of Eagles players planned on skipping the scheduled visit to the White House, prompting Trump to rescind the invitation altogether.

Fox News could not find any footage of Eagles players kneeling in protest because Philadelphia was one of eight NFL teams that saw its entire roster stand for the national anthem throughout the 2018 regular season.

'Imagine wanting to please the boss so very badly that you run stills of guys knelt down PRAYING during pregame,' Eagles defensive end Chris Long wrote on Twitter. 'Not one Eagles player knelt for the anthem this yr. Keep carrying [Trump's] water to sow division while misrepresenting Christian men.
Photo of Philadelphia Eagles praying, from Patheos.