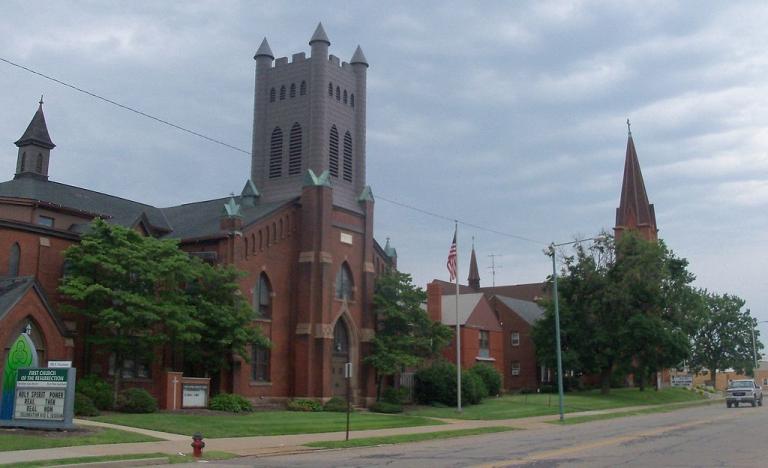 What would make a member leave a congregation?  How committed are churchgoers to their congregation and to its beliefs?  New research from LifeWay delves into such questions and comes up with some answers that one might not expect.
Read the report from Bob Sietana, in Christianity Today:
Most churchgoers will put up with a change in music style or a different preacher.

But don't mess with a church's beliefs or there may be an exodus, according to a new study from Nashville-based LifeWay Research.

The study of Protestant churchgoers found most are committed to staying at their church over the long haul. But more than half say they would strongly consider leaving if the church's beliefs changed.

Pastors often worry about changing church music and setting off a "worship war," said Scott McConnell, executive director of LifeWay Research. But few say they would leave over music.

Churchgoers are much more concerned about their church's beliefs.

"Mess with the music and people may grumble," he said. "Mess with theology and they're out the door."
On the whole, most church members are committed to their congregations.  The study found that 85% of those polled have not considered changing churches over the last six months, with 15% thinking about it.
Of the top reasons given that would make a parishioner leave, 54% said they would leave if the church changed its theology.  That was even greater than moving (48%).  In far-distant third place is if the pastor changed preaching styles (19%), followed by the current pastor leaving (a mere 12%).
What pastors often assume are major factors actually bother a relatively small number of their people.  Only 9% would leave over politics.  Only 5% would leave over music.  Only 4% would leave because of a relationship conflict.
Most members are quite satisfied with their churches.  Only 1% say their church has not been helpful to their spiritual growth, while 36% say that it has been "extremely helpful" and 40% say that it has been "very helpful."
The study asked the degree to which members were aligned with their church's theology, breaking it down by denomination.  Nondenominational churchgoers were the most likely to be "completely aligned" at 61%, which makes sense, given the open-ended nature of  non-denominationalism.  Next came Baptists at 57%.   But less than half of Lutherans (43%) completely agreed with their church's teachings.  Methodists came in at 25%.
Of members of churches with over 1000 attendees, 60% report being "completely aligned" with their church's theology, whereas that is true of only 46% of churches with 50 attendees or less.
Lutherans did lead the pack at longevity, with 52% being at their churches for 25 years or more, followed by Methodists at 40%.  of Assemblies of God/Pentecostal members, only 13% have been members that long.  But nondenominational Christians had the smallest share of long-term members with 11%.
Lutherans (52 percent), Methodists (40 percent) and Baptists (31 percent) are most likely to have been at their church for 25 years or more. Fewer nondenominational (11 percent) or Assemblies of God/Pentecostal churchgoers (13 percent) have such long tenure.
Once again, though, the researchers aren't distinguishing between conservative, confessional Lutherans–such as members of the LCMS, WELS, and ELS–and the mainstream liberal variety (ELCA).
I have the feeling this study is using "Lutherans" as a stalking horse for mainline liberal, along with the Methodists.  Since a third of American Lutherans are conservative, the results are going to be skewed.
Consider this finding of the study:  "Churchgoers with evangelical beliefs are more likely to be completely committed (67 percent) than those who don't have evangelical beliefs (45 percent). Baptists (60 percent) are more likely to be completely committed than Lutherans (47 percent)."
But LifeWay's definition of "evangelical" is those who hold the following beliefs:
The Bible is the highest authority for what I believe.
It is very important for me personally to encourage non-Christians to trust Jesus Christ as their Savior.
Jesus Christ's death on the cross is the only sacrifice that could remove the penalty of my sin.
Only those who trust in Jesus Christ alone as their Savior receive God's free gift of eternal salvation.
Confessional Lutherans would agree to all four of those points, and so would be categorized as "evangelical."
Do LifeWay and other researchers lump the liberal American Baptists in with Southern Baptists, or PCA presbyterians in with PCUSA presbyterians?
At any rate, the research has some other eye-opening findings.  To download the full study, Churchgoers' Views:  Strength of Ties to the Church, click here.
Photo:  First Reformed & First Lutheran churches, Canton, Ohio by Roseohioresident [CC0], from Wikimedia Commons