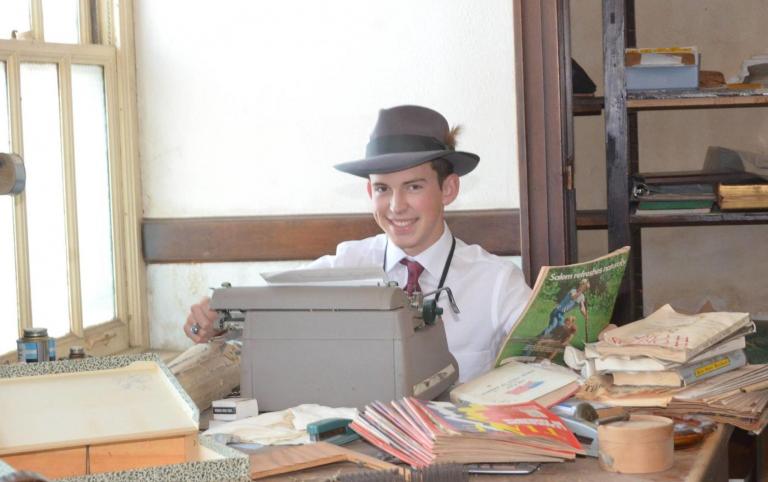 When we retired a few years ago, we moved back to Oklahoma, where our roots are, living in a small, rural town like the one I grew up in. Though greatly in decline, the town has a bi-weekly newspaper. I found one columnist particularly useful in orienting me to local issues and state politics.
This Jordan Green–who also writes features and newstories–writes with clarity, liveliness, and insight. A real pro, I thought. And yet he is free of the progressive bias that seems to dominate his profession. At the same time, he can be critical of the state legislature, which is dominated by self-described conservatives who somehow can almost never get anything done, conservative or otherwise. I was proud that our little town had a journalist of Mr. Green's stature.
And then I met him. He showed up at the Fourth of July post-parade picnic, which we hosted at our church. I had seen his picture in the paper that showed him wearing a fedora like reporters wore in movies from the 1950's. He looked young, but then again at my age almost everyone looks young. So, recognizing his hat, I went up to him and told him how much I appreciated his columns.
I soon learned that he hadn't graduated from college yet. In fact, he hadn't graduated from high school yet! This fall he will be a high school senior!
He has been an intern for the newspaper, getting experience, he said, that he hoped would be helpful when he starts a career in journalism someday.
I certainly hope that comes to pass. It looks like a true vocation to me. And he strikes me as the kind of new journalist who could help to restore what has become a dysfunctional and little-trusted profession.
Here is a sample of his writing from a recent column, one which, as it happens, is about the trivialization of journalism. From Jordan Green, Reporting on Tweets and Twitter Makes a Terrible Tale:
In the era of the Trump Tweet, news reporting has devolved into a mere aggregator of social media posts.

A few weeks ago, Sarah Huckabee Sanders, the White House press secretary, was kicked out of a restaurant in Virginia. The reason? The restaurant hates Republicans and anyone loosely affiliated with Trump. It's what we call a cognitive bias, something we should all try to fight.

Once Huckabee was kicked out, social media erupted with posts both for and against the actions of the restaurant. Facebook users, which are not always known for their wise sayings and intelligent insight, prated on endlessly about what they thought about the move. But, as usual, Twitter took the limelight.

All the celebrities were opining on the matter, because, you know, they just HAD to. And, to the surprise of literally no one, President Trump later took to Twitter to talk about it.

Now, I'm not going to tell you what he said in the tweet because I don't believe reporting on tweets and social media posts is journalism. And that's exactly what I'm here to talk about today: The media needs to stop the pointless practice of writing stories based on tweets, of all things. . . .

Right now, across the globe, nations are committing unspeakable horrors against their own people.

In China, the communist government bars certain religions, limits what its people can say and do, and executes them for political purposes.

In South Africa, a bloody and vicious civil war rages on. Apartheid, the practice of segregation, has been resurrected – but it has been reversed. White South African farmers are being killed and having their land robbed of them, and the government bars them from leaving the country to escape torture.

Those are harming and killing millions of people. But the mainstream media doesn't cover them very much, if at all. They're busy writing about tweets.