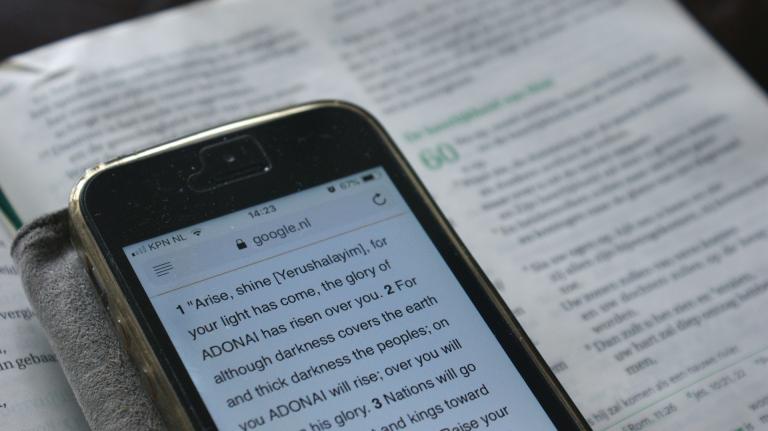 The Bible has always worked well with new information technology, from the printing press–which took off with Gutenberg's Bible, Luther's German translation, and the host of vernacular translations he inspired–to cell phones and the internet.
YouVersion, one of the first apps for the iPhone, was started by a techie pastor in Edmond, Oklahoma, and his congregation took it on as a mission project.  Ten years later, it has been downloaded 350 million times, from people all across the world.  The app now includes over 1,800 versions of the Bible in some 1,250 languages.
The most popular online Bible, out of many, is BibleGateway, now celebrating its 25th anniversary.  It is now the world's most visited website, serving some 140 million people from over 200 countries every day.  BibleGateway offers over 200 Bible versions in over 70 languages.  Its search functions make it an excellent Bible study resource.  And pastors, scholars, students, and writers like me find its copy-and-paste capabilities invaluable.
Such wide usage of both applications also gives us other kinds of interesting information.
Griffin Paul Jackson of Christianity Today reports on the year's most popular verse from each platform.
On YouVersion, the most popular verse for 2018–that is, the one that was shared, high-lighted, and bookmarked more than any other–was this Isaiah 41:10:
Fear not, for I am with you; be not dismayed, for I am your God; I will strengthen you, I will help you, I will uphold you with my righteous right hand.
Which tells us that the hundreds of millions of people from around the world who turned to this verse are afraid.  But they are turning to God's Word for strength.
On BibleGateway, the most popular verse for the year is Jeremiah 29:11:
For I know the plans I have for you, declares the 

Lord

, plans for welfare and not for evil, to give you a future and a hope.
Which tells us that people are struggling with vocation.  And God's Word assures them that He is in control.
Read the article
for other top searches, for the changes over the years, and for the favorite verses in different countries.
Also interesting is the data provided on world-wide Bible reading.  Overall, use of the YouVersion app to read the Bible is up 27%.  The biggest jump was in Japan, which doubled its Bible-reading, due mainly to a new Japanese translation.  Nepal (a Hindu nation) was up 69%, Indonesia (the world's biggest Muslim nation) was up 69%, Vietnam (a Communist nation) was up 59%.
In Europe, Romania's use of the app increased 100%; Spain, 67%; the Netherlands, 60%; Portugal, 57%; and Italy, 53%.  In Latin America, Chile surged 79% and Argentina increased 60%.
Both digital Bibles are free.  The technology solves the distribution problem.  Bibles don't have to be smuggled into hostile countries; they can just be discreetly downloaded.
But this depends on high technology, you might say.  What good does this do poor people in poor, low tech countries?  Well, it turns out cell phone ownership has hit 98.7% in the developing world.
Photo by Riala via Pixabay, CC0, Creative Commons