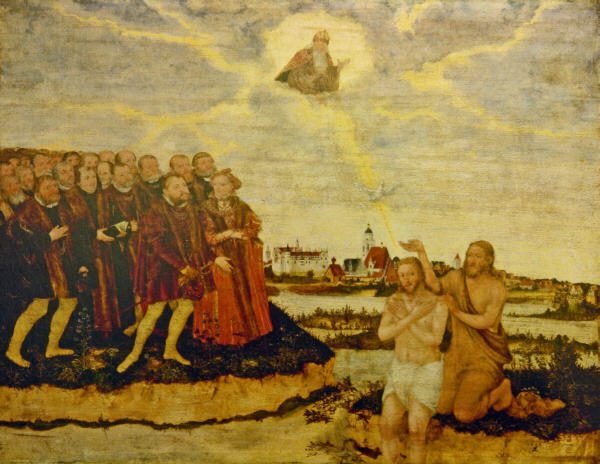 The events commemorated in Holy Week, which began yesterday, are not just ancient history. We need to take them personally because, by virtue of our baptism and faith in Christ, we are connected to those events.
The words of the old spiritual ask, "Were you there when they crucified my Lord? . . .Were you there when they nailed Him to the tree?. . . Were you there when they laid Him in the tomb? . . .Were you there when God raised Him from the tomb?" The answer for the baptized is an emphatic "yes!"
So says the Bible:
8 See to it that no one takes you captive by philosophy and empty deceit, according to human tradition, according to the elemental spirits of the world, and not according to Christ. 9 For in him the whole fullness of deity dwells bodily,10 and you have been filled in him, who is the head of all rule and authority.

11 In him also you were circumcised with a circumcision made without hands, by putting off the body of the flesh, by the circumcision of Christ, 12 having been buried with him in baptism, in which you were also raised with him through faith in the powerful working of God, who raised him from the dead.

13 And you, who were dead in your trespasses and the uncircumcision of your flesh, God made alive together with him, having forgiven us all our trespasses, 14 by canceling the record of debt that stood against us with its legal demands. This he set aside, nailing it to the cross. 15 He disarmed the rulers and authorities and put them to open shame, by triumphing over them in him. (Colossians 2:8-15)
When we receive Holy Communion, we are not only participating in Christ's meal with His disciples on Maundy Thursday, we are receiving His Body that was broken and His blood that was shed on Calvary. On Good Friday our personal sins were laid on Jesus. On Easter morning, we rose with Christ.
Lucas Cranach and other Christian artists depict this truth when they show contemporary figures of their time as if they were present at Christ's baptism, the Last Supper, Christ's crucifixion, and other Biblical scenes.
Painting, "The Baptism of Christ" by Lucas Cranach the Younger [Public domain] via Wikimedia Commons.