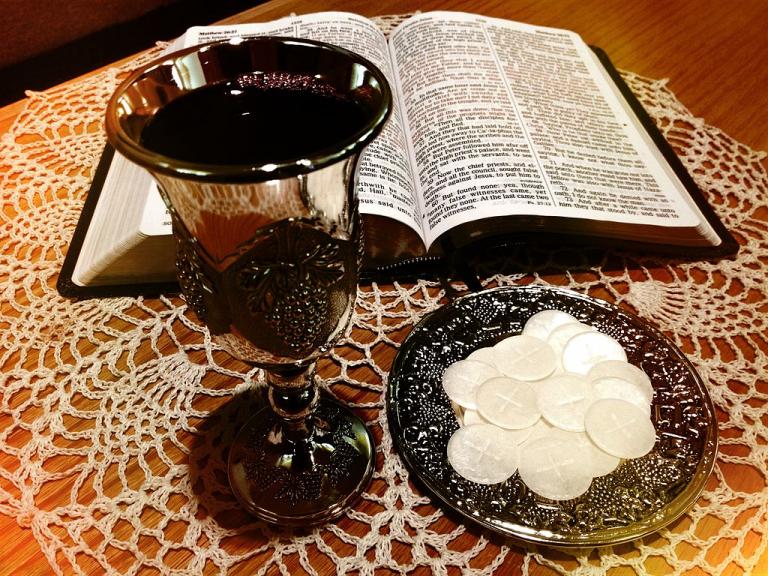 Visiting South Australia often entails visiting lots of wineries.  We stopped at Sevenhill winery in the Clare Valley, which is owned by the Jesuits and which produces all of the sacramental wine for the Catholic church of Australia.  I learned some things about communion wine that I never realized before, making me curious about Lutheran and other churches' practices.
Sevenhill sacramental wine, I was told, is made according to the exacting standards and requirements of canon law.  So its characteristics will apply to most wine used in the Roman Catholic Church.
First of all, this wine used for Holy Communion has twice the alcohol content (18%) of ordinary wine (9%).  It is, in fact, a fortified wine.  That is, a distilled spirit is added to the wine.  In this case, the spirit must also be made from the "fruit of the vine"; in other words, brandy is added.  Thus, the type of wine, in this case, is a sherry, the brandy being added at the end of the fermentation process, making for a dryer flavor.  Other sacramental wine, I have learned, is port, with the brandy added in the middle of the fermentation process, making for a sweeter taste.  (Both "sherry" and "port" are terms that are now reserved for the products of regions in Spain and Portugal, respectively.  So wineries elsewhere are just using the term "fortified wine."  Australian sherry is called "aspera," and port is called "tawny.")
Why the high alcohol?  I was told that the higher alcohol kills germs in the common cup and preserves the wine longer after it is opened.  (Once you open a bottle of table wine, you usually need to drink it up.  Churches use a relatively small amount of wine in their communion rites, so a fortified wine can last from week to week.)  Of course, the tiny sip taken by communicants is not going to impair anyone.
I was told that Lutheran churches in Australia do not typically use this "Catholic" wine, though they could; rather, they tend to use "Lutheran" wines produced in the Barossa Valley, where Lutheran immigrants started the Australian wine industry and where Lutherans are still heavily involved, particularly in the small family-run wineries, which often contribute wine gratis for their congregations.
In my experience looking into Lutheran sacristies, many Lutheran congregations do use port.  Often, Lutherans will buy their wine from a supplier of sacramental bread and wine, which will also do business with Catholic churches, which means the wine, following canon law, will be fortified, in one way or another, with brandy.  Other congregations I have been associated with use Mogen-David kosher wine, an inexpensive sweet wine you can buy by the jug, whose Jewish origins call to mind (though probably not historically) the wine of our Lord.  Some Lutheran churches I have attended make a point of using white wine, so as to emphasize that Christ's blood is not merely represented–an impression made possible by red wine–but truly present in the fruit of the vine.  (Sevenhill also makes both white and red sacramental wine, both fortified.)
Anglican services often include a "presentation of gifts" in which church members, on a rotating basis, walk up the altar to contribute the bread–usually homemade and yeasty, not the unleavened wafers used by Catholics and Lutherans–and a bottle of wine.  Some families make a point of contributing good, rather expensive wine, as being especially fitting to use in the Lord's Supper.  (The problem here is that we must not think of the Sacrament in terms of the gifts
we
present to God; rather, God is presenting His gifts to us, with the Body and Blood of Christ "given for you.")
Surely the kind of wine used in Holy Communion does not matter, though it does need to be actual wine, according to Christ's institution.  Despite the strict requirements of canon law, Catholics are taught that they are not actually receiving wine at all, only Christ's transubstantiated blood, with only the "accidents"–the illusory sensory appearance of wine–left behind to experience.
And I don't think that the Sacrament should be an occasion for wine snobbery.  And yet, when Jesus turned the water into wine at Cana, we are told distinctly that He made "good wine" as opposed to "poor wine" (John 2:10).  Should we attend more to the quality of the wine we use in the Sacrament?
I suspect that what the congregation is used to carries the most weight, and that is probably as it should be.  I bought some of that Sevenhill sacramental wine for our congregation in Oklahoma.  I'll leave it to our pastor, whether or not people would find it too distracting to use.
I'd like to hear from pastors–from my fellow Lutherans, but also from Catholics, Anglicans, Orthodox, Presbyterians, and other traditions that use wine in Holy Communion.  Do you have any considerations about the wine that you use for the Sacrament?
Again, I emphasize, this does not matter.  But I still find it interesting.
Photo:  "Communion Table," by John Snyder [CC BY-SA 3.0 (https://creativecommons.org/licenses/by-sa/3.0)] via Wikimedia Commons