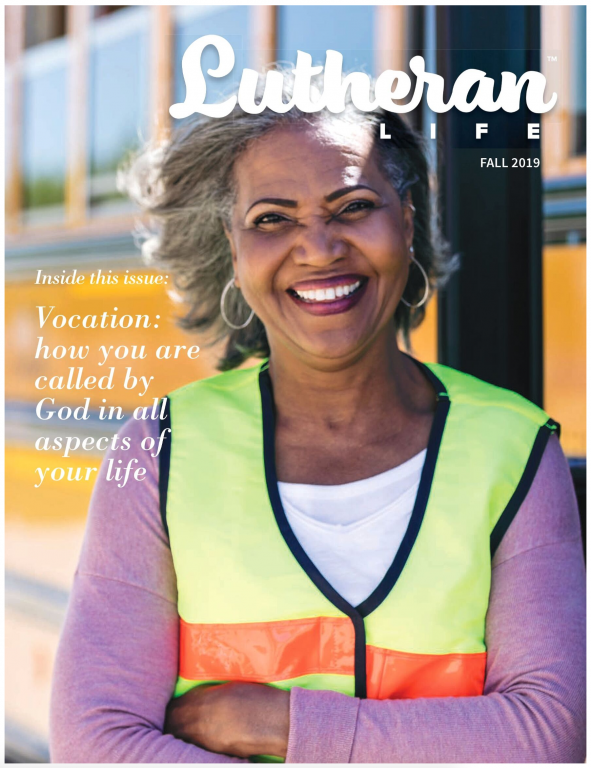 Concordia Publishing House has launched a free new digital magazine, as of this time last year, entitled Lutheran Life. Previous issues, available at the archive, were on living the Christian life, reading the Bible, building one's faith, and Christian community. The latest issue is all about vocation, and it's an excellent resource for individuals wanting to understand their callings and for pastors wanting to teach this transformative doctrine to their congregation.
So many treatments reduce "vocation" to the secular definition of that word, namely, how we make a living. In doing so, they generate principles about how to serve God in the workplace, but they neglect our vocations in the family, the church, and the state. They also tend to distort the purpose of all vocations, often suggesting that our callings are all about our self-fulfillment rather than loving and serving our neighbors.
This Lutheran Life issue–with the description "how you are called by God in all aspects of your life"–does not make those mistakes. Rather, in a mere 15 pages, we have a rich, comprehensive treatment of the topic.
I love this brief explanation of what vocation is in the introductory article:
Considering how we can love our neighbor is the basis for the term vocation. Vocation, or calling, is doing the work God has put in front of us to do for the benefit of our neighbor in every station and place we find ourselves throughout our lives.
The article on "How Do I Find My Vocations?" answers that question not with a self-assessment inventory but by inviting readers to consider who their neighbors are. It even has a fill-in chart, in which readers think about the four categories of vocation–I like the succinct titles of "home," "church," "work," and "world." Readers then are asked to write down the actual names of the neighbors they have in each category. Readers are then asked to fill in answers to the question "how can I serve him or her?" That is how you can find your vocations, or, what amounts to the same thing, become aware of the vocations you already have and your duties to the neighbors your callings have brought into your life (your spouse, your children, your customers, your fellow church members, your fellow citizens, etc.).
Then follow articles on the family vocation ("It Starts at Home"), church vocation ("Many parts, One Body"), work vocation ("Caring for Co-Workers"), and citizenship vocation ("Citizen & Saint").
And lest we make that other misconception about vocation that reduces the teaching to a work ethic and that has produced Christian workaholics, the issue ends with an article on not working ("Rest, Reset, Connect"). This applies the principle behind the Bible's teachings about the Sabbath, that we need rest and leisure, which are also part of our various callings.
Lutheran Life has an attractive design with lots of graphics and is suitable for downloading and printing. (You can sign up for a notification when a new quarterly issue comes out by going here.)
This would make for a good Bible study, Christian education class, and confirmation curriculum, as would the other issues of Lutheran Life that treat other topics.
Lutheran Life cover, Concordia Publishing House. Used by permission.