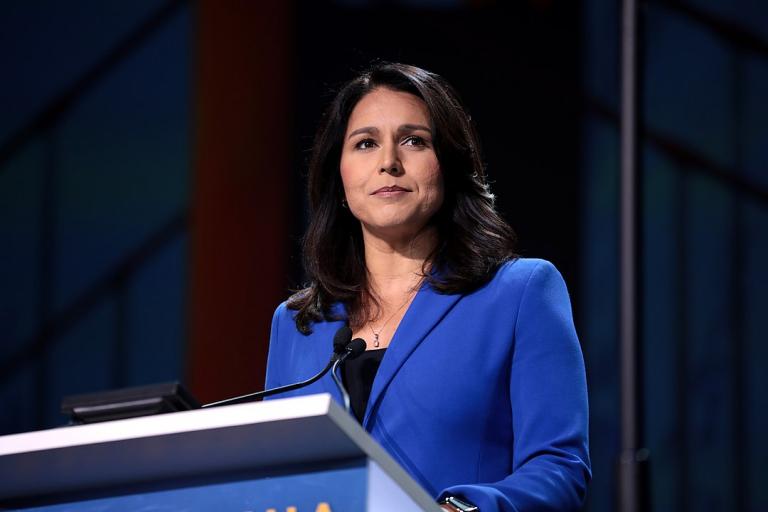 As President Trump deals with all of his political troubles, Democratic candidates who seek to replace him are having troubles of their own. And it's all getting very strange. I've posted about some of President Trump's challenges (here and here and here and here). Today I'd like to highlight some difficulties on the other side.
Hillary Clinton's "Russian Asset" Accusations
Hillary Clinton has accused Hawaii Congresswoman Tulsi Gabbard of being a "Russian asset." She says the Russians will run her as a third party candidate to split the Democratic vote so as to throw the election to Donald Trump. Clinton said that Green Party candidate Jill Stein, whom she blames for siphoning off votes from her in 2016, is also a Russian plant.
Gabbard is probably the most conservative, or, rather, most moderate of the Democratic candidates. Though being "pro-choice," she has qualms about abortion and opposes it in the third trimester. She also cares about religious liberty and chastised her fellow Democrats, including fellow candidate Kamala Harris, for "religious bigotry" for saying a judicial nominee should be disqualified for belonging to an extremist organization, namely, the Knights of Columbus. Gabbard is a member of the National Guard and was deployed in Iraq as a combat medic, receiving commendations for her service. Her main issue in her campaign is opposing American involvement in "needless wars."
Gabbard fired back at Clinton for accusing her of being a Russian plant, calling her "the queen of warmongers, embodiment of corruption, and personification of the rot that has sickened the Democratic Party for so long."
Cold War-type conspiracy theories about Russian agents infiltrating American institutions to seize control of the country used to be associated with conservatives. It's odd to hear them coming from a liberal standard bearer.
The Appeal of Warren's Rhetoric
To hear the Democratic candidates, Americans are mired in third-world poverty, with no access to health care and no hope for the future. And yet the economy is booming, with record low unemployment and rising wages across the board. Elizabeth Warren says that only the very wealthy are benefiting from the current economy. Not only is this not true, the public doesn't believe it. From Marc Thiessen:
A Marist poll asked voters whether "the economy is working well for you personally." Nearly two-thirds of Americans said yes. This includes large majorities in almost every demographic group. Sixty-seven percent of college graduates and 64% of those without a college education say the economy is working for them. So do 68% of whites, and 61% of nonwhite people. So do Americans of every generation: 63% of Generation Z and millennials; 69% of Generation X; 63% of baby boomers; and 69% of Greatest Generation and Silent Generation voters. So do supermajorities in every region in the country: 60% in the West, 65% in the Northeast, 67% in the Midwest, and 68% in the South. So do most voters in every type of American community: 63% of both big and small city voters; 64% of small-town voters; 66% of rural voters; and 72% of suburban voters. Most everyone, it seems, says the economy is working for them.

The only groups who disagree, Marist found, are progressives (59%), Democratic women (55%) and those who are liberal or very liberal (55%). So, when Warren declares that President Trump is "part of a corrupt, rigged system that has helped the wealthy and the well-connected and kicked dirt in the faces of everyone else," it resonates with almost no one except those on the political left.
Ignoring Anti-Trump Conservatives and Moderates
There are lots of conservative and moderate voters who do not approve of Trump. But Democrats are doing virtually nothing to attract their votes, which could prove decisive in the national election. Instead, they are veering so hard to the left that they are scaring off those alienated conservatives and moderates, likely making them feel that they have no choice but to vote for Trump after all.
The National Review's Jim Geraghty discusses this seemingly counterproductive approach. But he argues that today's Democrats, for various reasons, cannot so much as throw a bone to anti-Trump conservatives. For one thing, Democrats are used to demonizing all Republicans. "To many progressives, Trump is just a foul-mouthed Mitt Romney or a John McCain with bone spurs — a different version of the same villain they perceive every four years."
Also, while the Democrats absolutely hate Trump as a person and as a symbol of everything they stand for in the culture wars, his actual economic and foreign policies are not that different from what Democrats have been promoting for years. Says Geraghty,
Another big complication for the Democratic argument against Trump is that he has adopted a slew of their traditional positions. Democrats are usually the protectionist force in our politics, usually the side more reluctant to use military force, and traditionally the one more enthusiastic about meeting without preconditions with hostile states and dictators. The Democrats are half of our new bipartisan consensus that the deficits and the debt no longer matter, and that entitlement reform is unthinkable. President Trump created a new entitlement program, giving taxpayer-funded relief to farmers hit hard by his trade wars, which has so far cost twice as much as the 2009 bailout of the auto industry. A Republican president embraced big government, and now the party of big government has to figure out how to persuade people that Trump is wrong.
Biden Is Still Ahead, After All
For all of the media reports that Biden is fading, that he did poorly at the last debate, that Elizabeth Warren is now the front runner (which some polls supported), the first major poll after the last debate showed Biden still leading the field. From Alexandra DeSanctis:
In the first poll taken of the Democratic presidential primary since Tuesday night's debate, former vice president Joe Biden has a substantial lead over the rest of the field. According to the new survey, conducted by Morning Consult yesterday, Biden has the support of 31 percent of Democratic primary voters, and Massachusetts senator Elizabeth Warren falls ten points behind at 21 percent.

Vermont senator Bernie Sanders, who was considered to have a successful performance in the debate, comes in third at 18 percent, trailed quite a bit by California senator Kamala Harris at 7 percent and South Bend, Ind., mayor Pete Buttigieg at 6 percent.
The word is that Biden is running out of money, and he may well fade. The more extreme progressives, though, may find a way to thwart him. And other candidates have caught up with him in the early primaries. But the polls show that lots of ordinary, rank-and-file Democrats are still relatively moderate. But, again, that's a demographic that the new Democratic establishment–including Biden himself–is running away from.
Photo: Tulsi Gabbard by Gage Skidmore from Peoria, AZ, United States of America – Tulsi Gabbard, CC BY-SA 2.0, https://commons.wikimedia.org/w/index.php?curid=79497229 via Wikimedia Commons