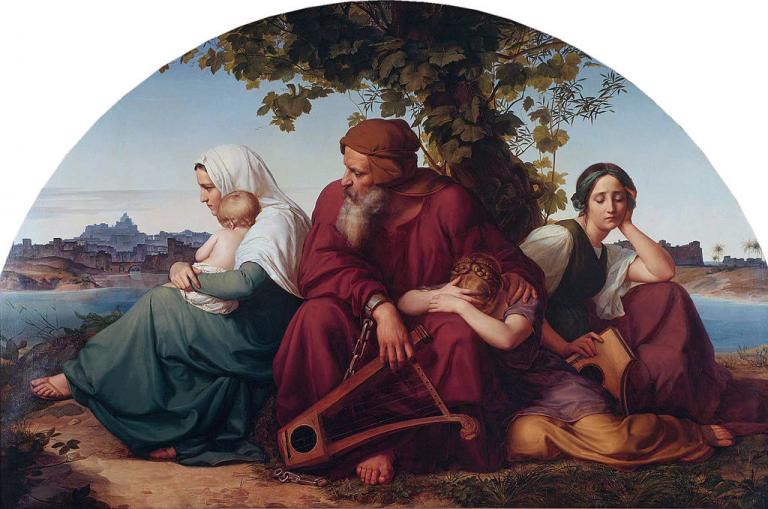 The coronavirus shelter-in-place rules are preventing us from going to church, even on Good Friday, even on Easter, the most joyous day of the church year when even infrequent worshippers crowd into the pews! And while we can watch worship services and listen to sermons online, we are cut off from Holy Communion, which entails a tangible presence!
But just as today's Christians can't go to church and receive the sacraments, God's people during the Babylonian exile had to live without the Temple and without the sacrifices. While our exile from our churches will probably be just for a few months at most, the Israelites in Babylon were without the Temple and the Levitical sacrifices for sin for 70 years. And yet those years were times of refining for God's people, when they learned to turn to God's Word and to put away the idolatries and sins that led to their exile.
So observes Pastor William Cwirla in a message to his congregation entitled Exiled in Babylon. Our temporary exile from our churches can likewise be a time of refining and growth.
In another message, entitled Word and Prayer, Pastor Cwirla says,
When the church is gathered as a body, we speak of "Word and Sacrament." This is what the gathered church is gathered around – the preaching of the Word, the Breaking of the Bread, and the communal prayers of the church (Acts 2:42). This is the church's koinonia, her common life together. But what happens when the church is scattered, for whatever reason, be it persecution or pestilence? What then?

For the church scattered, "Word and Sacrament" becomes "Word and Prayer."
The exiled Hebrews, in the absence of the Temple and its sacrificial offerings, did devote themselves to study of the Scriptures and to prayer, as we see in the development of the synagogue and the rabbinic schools, which came into being during this traumatic time. Christians today, as we said yesterday, can keep their faith strong by reading God's Word and praying, including hearing the Word and praying corporately in online worship.
In the meantime, quarantined at home, we are being "winnowed"–our wheat separated from our chaff (Matt 3:12)–as our complacency and our lives are turned upside down. Pastor Cwirla notes that idols that have been distracting us from attending to our spiritual needs–whether sports, our work, politics, consumerism–have been taken away. We now have to face the fragility of our lives. We have to face up to death.
So how can we celebrate Good Friday in our coronavirus "exile"? Well, we are certainly bearing crosses of our own in all of this. Our complacency, security, and our sense that we are in control of our own lives have been overturned, and that is spiritually salutary. Our crosses, such as they are, can help us find fellowship with and turn to the One who takes all of our crosses into His. Realizing our diseases and our infirmities can help us to appreciate what Jesus did for us and what He accomplished in His cross on the first Good Friday:
[Jesus] cast out the spirits with a word and healed all who were sick. This was to fulfill what was spoken by the prophet Isaiah: "He took our illnesses and bore our diseases" (Matt. 8: 16-17).
St. Matthew's Greek translation of Isaiah 53:4, which I assume is from the Septuagint, reminds us that sin too is a disease. The larger context of that passage beautifully lays out the way the Messiah would atone for our "iniquities," with verse 4 underscoring what we often forget, that Jesus on Good Friday bore not only our sins but our "griefs" and "sorrows." Meditate on this Word of God for Good Friday:
Surely he has borne our griefs
and carried our sorrows;
yet we esteemed him stricken,
smitten by God, and afflicted.
But he was pierced for our transgressions;
he was crushed for our iniquities;
upon him was the chastisement that brought us peace,
and with his wounds we are healed.
All we like sheep have gone astray;
we have turned—every one—to his own way;
and the Lord has laid on him
the iniquity of us all. (Isaiah 53: 4-6)
So, yes, we can have a meaningful Good Friday, even in our exile from corporate worship. In fact, it might seem especially meaningful this year. After all, as Hans Boersma has said, "only by meditating on Jesus's passion are we united to his meditation on our passion."
As for Easter. . . .Having to reflect on death–our possible death, the death perhaps of people we know, the death of thousands we don't know from this epidemic, the precautions we have to take to try to fend off death–is something that we don't usually do. But it surely makes Easter come alive. Easter is about everything coming alive–Jesus, our loved ones, the Church, and ourselves–since, united to Christ by faith and by baptism, we were with Him in the tomb and share in His triumph over death:
We were buried therefore with him by baptism into death, in order that, just as Christ was raised from the dead by the glory of the Father, we too might walk in newness of life. (Romans 6:4)
So in this time of our exile have a glorious Easter !
HT: Todd Peperkorn
Image: "The Mourning Jews in Exile," by Eduard Bendemann (1811–1889) / Public domain via Wikimedia Commons