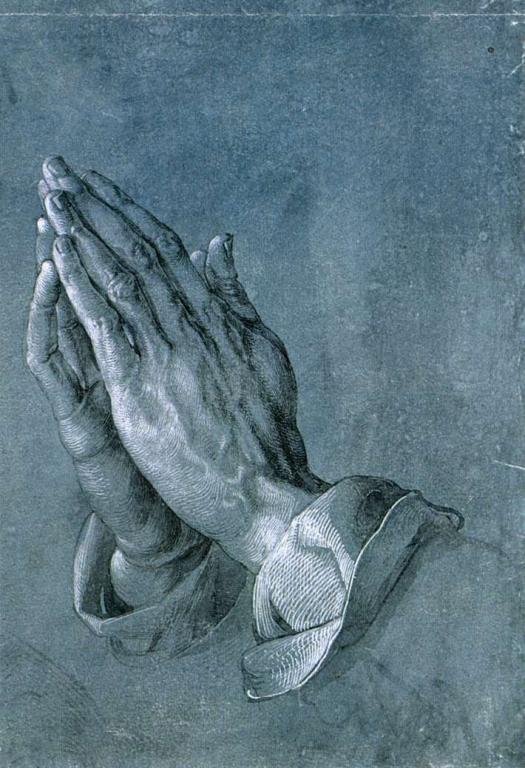 Here it is Maundy Thursday and we can't go to church for Communion! But we can still celebrate this holiday, this holy day.
The church gathers around Word and Sacrament, Pastor William Cwirla has observed, and the individual Christian has recourse to the Word and Prayer. Even when the churches are closed due to the coronavirus, we have access to the Word of God through Bible reading, and we can pray any time we want. Online worship lets us hear the Word of God in preaching and lets us join with our fellow church members in prayer.
And there is another facet of Maundy Thursday that we often overlook, but that we can now dwell on. The word "Maundy" comes from the Latin mandatum, meaning "command," as in "mandate." On the Thursday before His death, Jesus not only instituted the Lord's Supper, He washed His disciples' feet and gave His followers a new mandate:
A new commandment I give to you, that you love one another: just as I have loved you, you also are to love one another. By this all people will know that you are my disciples, if you have love for one another." (John 13:34-35)
We can do that even while we are quarantined. In fact, I am seeing it more and more, as Christians connect with their neighbors and members of their congregation, check on each other, offer to get supplies for those most at risk for the virus, and in other ways follow Christ's new commandment despite their forced isolation. The "mutual consolation" of fellow Christians goes on. We may not be able to have Communion on Maundy Thursday, but we can still have the Communion of the Saints. Both of which have to do with Christ's Body.
We can see some of that even on this blog. Last week I posted a prayer "In Time of Pestilence" from the 1860 Lutheran Prayer Book by Benjamin Kurtz, which had been forwarded to me by a friend. In the comments, Setapart shared a prayer on the same subject by C. F. W. Walther, no less, the key founder of the Lutheran Church Missouri Synod. Then I heard from a reader named Ziggy Rein who went to the trouble of translating a "Prayer in pandemics, plagues, and fear of death" from a German book published by Concordia Publishing House in 1895. And also in the comments P. T. McCain recommended a collection of classic Lutheran prayers published by CPH, which I subsequently ordered and am finding to be wonderful.
So, honoring Maundy Thursday as a time of prayer and joining together in Christian love in the shadow of the pestilence, let us pray. . . .
C. F. W. Walther, "Time of Epidemic," General Prayers #101, in For the Life of the Church — A Practical Edition of Pastor Walther's Prayers and Addresses," trans. Rudolph Prange (St. Louis: Concordia Publishing House, 2011), p. 126:
There are also prayers for extraordinary situations that most of us hopefully will ever experience but which are fascinating and edifying to read nonetheless. For example, "Prayer against the fear of strange apparitions" and others involving spiritual warfare against the demonic realm. And at least five prayers for the use of those who are about to be executed.
Illustration: "Praying Hands" (1508), by Albrecht Dürer / Public domain via Wikimedia Commons