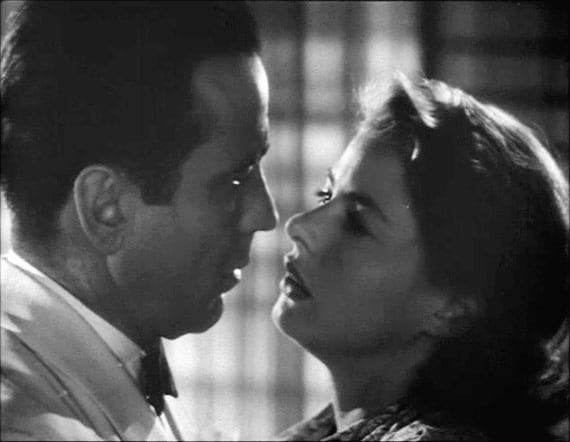 The obligatory sex scene–long a staple of R-rated movies–has been made problematic by the #Me-Too Movement. Now the coronavirus might finish them off.
Professional organizations in the film industry have been trying to develop guidelines for staging sex scenes so that they do not constitute sexual assault or exploitation. Now additional guidelines are being developed to ensure social distancing on the film set.
Though non-touch sex and fake nudity can be put into a scene via special effects, the best solution, according to a British directors' organization, is to suggest the relationship instead of showing it, in the manner of the classic films of Hollywood's Golden Age.
British film and TV directors are being encouraged to seek inspiration from classic romances such as Casablanca and ditch depictions of sex altogether when planning intimate scenes under new guidelines for directing during the Covid-19 crisis.

Directors UK, the professional association for screen directors in Britain, suggested some creative alternatives to avoid sex scenes with physical interaction while social distancing is required, in an update to its Directing Nudity and Simulated Sex guidelines, which are focused on safe working during the pandemic.

The guidelines suggest that characters "could be shown fixing their own clothes/re-dressing after the event" or limbs could be depicted "moving under bedclothes", while another option is to show "the closing of a bedroom door and leave the action to the viewer's imagination."

Directors are encouraged to find inspiration by revisiting classic films such as It Happened One Night or Casablanca, which were made under the Hays Code that was introduced in the 1930s and prohibited the depiction of sex on screen in Hollywood.
Filmmakers and movie fans complain about the Hays Code. And yet, under its restrictions, some of the greatest movies ever made were produced. And, indeed, some of the most romantic movies ever made. And some of the movies that dealt most frankly and effectively with the topic of sex.
A new Hays-like Code, formulated around medical and legal issues instead of morality, would be unlikely to impact the pornography industry, which has itself done much to make sex scenes in mainstream films irrelevant. And there is much more in the culture of the 1930s-1950's that made for good movies–such as a strong view of marriage, the recent memory of fighting for a cause greater than oneself, the remnants of a Biblical worldview–that we no longer have today.
But maybe the end of the sex scene in mainstream movies would be an example of a positive cultural benefit of our COVID-19 pandemic, in addition to all of its negative effects. Can you think of others?
Photo: Humphrey Bogart and Ingrid Bergman in Casablanca (1942), Trailer screenshot / Public domain via Wikimedia Commons