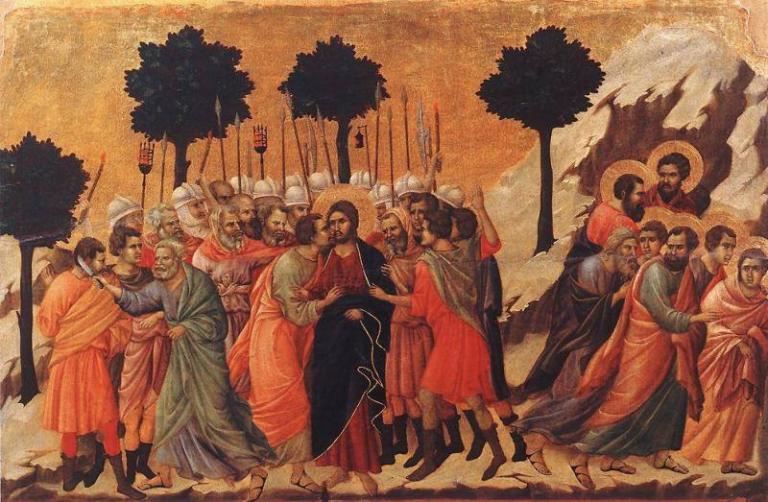 The Swedish Lutheran bishop and novelist Bo Giertz cites three things that help us to have faith in the work of Christ for our salvation: the Word of God, the Holy Spirit, and our personal failure.
In the collection of his sermons, A Year of Grace, Vol. 1, translated by long-time commenter at this blog Bror Erickson, Giertz preaches on the Sunday before Lent on Luke 18:31-43, the account of Jesus explaining to his disciples, drawing on Scripture, that He must go to Jerusalem, where he will be killed but will rise again. But the disciples don't understand, whereupon Jesus heals a blind man.
Giertz says that it is little wonder that the disciples did not understand this Gospel. Nor can any of us by our reason alone. Giertz then explores the three ways "how my heart learns to comprehend this mystery that my Savior has suffered in my place."
The Word of God
First, the Disciples and all of us, need the Word of God. Jesus expounded "everything that is written about the Son of Man" (18:31).
Today at the beginning of this period of fast, this mystery lies hidden before us in this book. What was already written is still clearly described for us. And it is described anew when the word is proclaimed and Christ is painted before our eyes as crucified, like Paul says. It is this that happens perpetually anew in our church. . . .It does not happen for a person in dreams or visions, not with the imagination or the help of mood alterations. One does it by listening to this word, reading this word, anchoring it in the heart. It can never be said too often that this is the basis for all faith, the premise for all Christendom. Wherever one stands, however one believes or doubts, so this is the condition for moving forward: one must use God's word. It is the first means of help.
The Holy Spirit
But the Disciples didn't understand the Word, even when Jesus Himself was proclaiming it. They–and we–need the Holy Spirit that is brought with the Word. Just as Jesus opened the eyes of the blind man–who could not see Jesus–He opens our eyes, through the power of the Holy Spirit, who works on us through the Word.
God's Spirit dwells in the word, He who is sent into the world to witness about Jesus and glorify Jesus. Therefore the same power lives in the word, a power that can judge and expose and penetrate so that all is revealed. A power that can make the blind see so that they see Jesus and comprehend the blessed mystery that Jesus is their Savior who suffers in their place.
Failure
But even then, the Disciples did not fully and personally grasp what Jesus was doing for them. Other times when Jesus talked about His death and resurrection, Peter rebuked Him, insisting that he would never let this happen (Matthew 16:21-23) and that he would follow Jesus to the very end (Luke 22:33).
When He asked them if they could really drink His cup, they boldly answered, We can.

But they could not. It did not go as they thought.
When Jesus drank the cup at Gethsemane, they slept. When He was arrested, they ran away. When He was judged and flogged and mocked, they denied Him.
So came the great failure, the great distress: the distress of Good Friday and the bitter tears over the burial and betrayal. But strangely enough, through this failure, their eyes were opened. When Jesus was then victorious, when He forgave and built them up again, then they did not doubt for a moment that He bore our sins on the tree of the cross.
Until we are convicted by our failure to keep the Law, we will not cling to the Gospel. "When you feel unworthy and a failure, thank your God, for this is the Spirit's work: that you see your sin," concludes Giertz. "And now you belong to those who are grasped by the Spirit."
AN ADDITIONAL THOUGHT: I am not talking about Ravi Zacharias or others like him who failed to live according to his faith by persistently abusing others, sexually or otherwise. From what I've read, they tend to justify themselves, which means they are not personally acknowledging their failure. But this too proves Giertz's point. So many of the prominent ministers who have fallen into these sins were extremely successful in their ministries. The Hollywood moguls, corporation executives, and politicians exposed for their sexual crimes were also at the top of their fields. That mindset of knowing total success can breed pride, with the sense that moral laws that pertain to everyone else do not pertain to me, so high and lifted up have I become. Experiencing other kinds of failure might have humbled them and kept them from doing what they did. Once exposed and ruined, perhaps their failures can be turned by God's Law into genuine repentance.
Illustration: "The Betrayal of Christ" by Duccio (1255-1319)