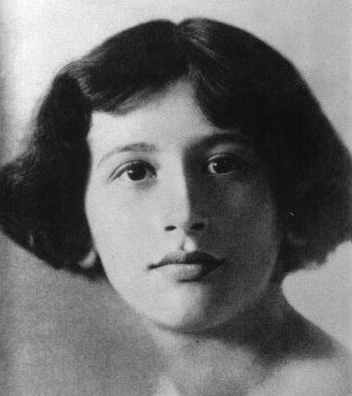 I've been working on a research project about the 17th century Christian poet George Herbert–whom I wrote my dissertation and my first book about–and how he has influenced readers with his Reformation-informed faith.
The French Jewish philosopher, social justice activist, and member of the anti-Nazi resistance Simone Weil, credits him directly for bringing about her conversion to Christianity. In digging into this incident, I discovered something more, which I'll post about tomorrow.
Weil (pronounced "Veyh") lived from 1909 to 1943, dying at the age of 34. She was a peer of the French existentialists and a star of the European intellectual scene before and during World War II. She said that she became a Christian through meditating on "Love" (III), a poem by Herbert about sin and grace, guilt overwhelmed by the love of God.
Here is her account of her conversion, from a letter to a priest, published in her book Waiting for God:
There was a young English Catholic there from whom I gained my first idea of the supernatural power of the sacraments because of the truly angelic radiance with which he seemed to be clothed after going to communion. Chance—for I always prefer saying chance rather than Providence—made of him a messenger to me. For he told me of the existence of those English poets of the seventeenth century who are named metaphysical. In reading them later on, I discovered the poem of which I read you what is unfortunately a very inadequate translation. It is called "Love." I learned it by heart. Often, at the culminating point of a violent headache, I make myself say it over, concentrating all my attention upon it and clinging with all my soul to the tenderness it enshrines. I used to think I was merely reciting it as a beautiful poem, but without my knowing it the recitation had the virtue of a prayer. It was during one of these recitations that, as I told you, Christ himself came down and took possession of me.
Here is the poem:
Love bade me welcome. Yet my soul drew back

Guilty of dust and sin.

But quick-eyed Love, observing me grow

slack

From my first entrance in,

Drew nearer to me, sweetly questioning,

A guest, I answered, worthy to be here:

Love said, You shall be he.

I the

unkind

, ungrateful?

Ah my dear

,

I cannot look on thee.

Love took my hand, and smiling did reply,

Who made the eyes but I?

Truth Lord, but I have

marred

them: let my shame

Go where it doth deserve.

And know you not, says Love, who bore the blame?

My dear, then

I will serve

.

You must sit down, says Love, and taste my meat:
This comes as the final poem in "The Church," Herbertg's carefully sequenced series on the Christian life, right after "Death," "Dooms-day," "Judgement," and "Heaven." As such, it is about the soul's reception into everlasting life, using the figure of a simple country inn. The poem's central conceit—of the servant being served by the master—derives from a comment of Jesus: Blessed are those servants, whom the lord when he cometh shall find watching: verily I say unto you, that he shall gird himself, and make them to sit down to meat, and will come forth and serve them" (Luke 12:37).
The traveller is dusty (like Adam he is made of dust) and guilty, feeling that he doesn't belong at the (heavenly) banquet. But as he draws away, Love (1 John 4:8) draws ever nearer, claiming him by virtue of creation ("Who made the eyes but I?") and redemption ("And know you not. . .who bore the blame?"). The traveler says, in effect, fine then, but I will serve you, thinking in terms of salvation by good works. But no, he needs to be served. The imagery of a waiter at a meal turns into eucharistic imagery. All the traveller has to do is accept what Love has done for him. So he does.
The poem, for all of its artistry, conveys the Word of the Gospel, and that Word does not return void (Isaiah 55:11). Intensely meditation on these lines, Weil realized what they meant. "Christ himself came down and took possession of me."
She said of the experience in Waiting for God, "In my arguments about the insolubility of the problem of God I had never foreseen the possibility of that, of a real contact, person to person, here below, between a human being and God." Weil the philosopher had thought of God in purely abstract terms, considering not just God but "the problem of God." Indeed, she found that problem "insoluble." But the gospel and the sense of Christ coming down to her was "a real contact, person to person, here below, between a human being and God."
This story is well-known for those acquainted with Weil, though perhaps it is new to you. But her story continues, and I found out something that is not generally known, even among Weil's fans. I'll tell about that tomorrow.
(For more on Weil and her theological reflections, see my post from last year Simone Weil on Vocation.)
Photo of Simone Weil by Unknown author, Public domain, via Wikimedia Commons