This is the Lion of Al-Lat: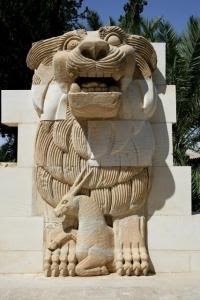 It stood at the entrance the Temple of Bel in Palmyra, Syria, and dated to the First or Second Century. It was a product of the great Palmyran civilization, which had a brief but prosperous glory while the Roman Empire was beginning its decline. It was built in honor of  Al-Lat, a pre-Islamic goddess.
It no longer exists.
ISIS has taken over Palmyra, which has a rich cultural heritage, and begun a systematic destruction of all "idols." Eyewitnesses have described the destruction of the lion with construction equipment, as well as the smashing of cultural treasures in the museum.
The ISIS forces have promised locals that they will not destroy mere ruins, only "idols." No one believes them.