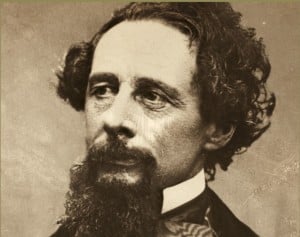 This is the kind of discovery literary scholars dream of but never hope to find: a cache of notations in the handwriting of Charles Dickens that reveals lost works by major authors.
Bookseller Jeremy Parrott ordered a bound collection of All the Year Round, a publication edited by Charles Dickens, from an online book dealer. The listing didn't mention any annotations, but when Parrott began looking at the volumes he realized that not only was he holding the set that belonged to Dickens himself, but that Dickens had made copious notes throughout.
Like many Victorian periodicals, pieces in All the Year Round often were published anonymously or pseudonymously. The only name that mattered, after all, was already at the top of each page: Charles Dickens. In his personal edition, however, Dickens wrote in each author's name alongside their contribution. The discovery essentially rewrites the history of Victorian literature.
Among the discoveries are new works by Wilkie Collins, Elizabeth Gaskell, Lewis Carroll, and Dickens himself, along with many others. Here's a summary of the key findings so far:
Elizabeth Gaskell: two new works have been discovered by the North and South author. The pair of articles on French song and poetry had been attributed to Henry Chorley.

Sydney and Frank Dickens: Charles commissioned his sons to write aged 16 and 17 despite their obvious lack of talent. The three articles on Lord Nelson, preachers and servants are 'schoolboy essays' according to Dr Parrott. 'They've taken a book and plagiarised it heavily … there's not much in the way of original thought or style.'

Wilkie Collins: the collection reveals eight pieces by author of The Moonstone which nobody has previously suggested were written by him. One is an article called 'The Crusoe of the Snowy Desert', telling the gripping true story of an explorer in the American Midwest who is stranded for a year in a barren snowy landscape and is eventually saved by a tribe of 'savages'. In another, called 'Hear The Postman,' Collins argues postmen should be paid more because of their use to society.

Lewis Carroll: A possible new poem has been discovered by the Alice in Wonderland author, though its provenance is still under debate.

Eliza Linton: the first salaried woman journalist in Britain, is revealed to be far more prolific than first thought. Previously just a handful of pieces had been listed under her name for All The Year Round but Dickens' notes show she wrote more than 100 articles.

Women: despite his reputation among some academics for misogyny, the list reveals that Dickens was very supportive of female writers. Parrott estimates that around 40 per cent of the list is women writers. 'Cumulatively it's very interesting how many women authors are there,' he says. 'Dickens is not generally recognised as having female protégés but you've got Queen Victoria's favourite poet, Adelaide Proctor writing a lot and Hesba Stretton, as well as women writing on serious subjects, such as science.'

Misattributed: The list shows that scholars have wrongly assumed that pieces by his contemporaries were actually by Dickens. An article assigned in his collection to his son-in-law, Charles Collins, had previously been assumed to be by Dickens.
One funny footnote: "Academics in Australia developed computer software to help identify a writer by style, but this latest discovery suggests that many of the articles previously identified by the technology as written by Dickens were in fact by other authors."