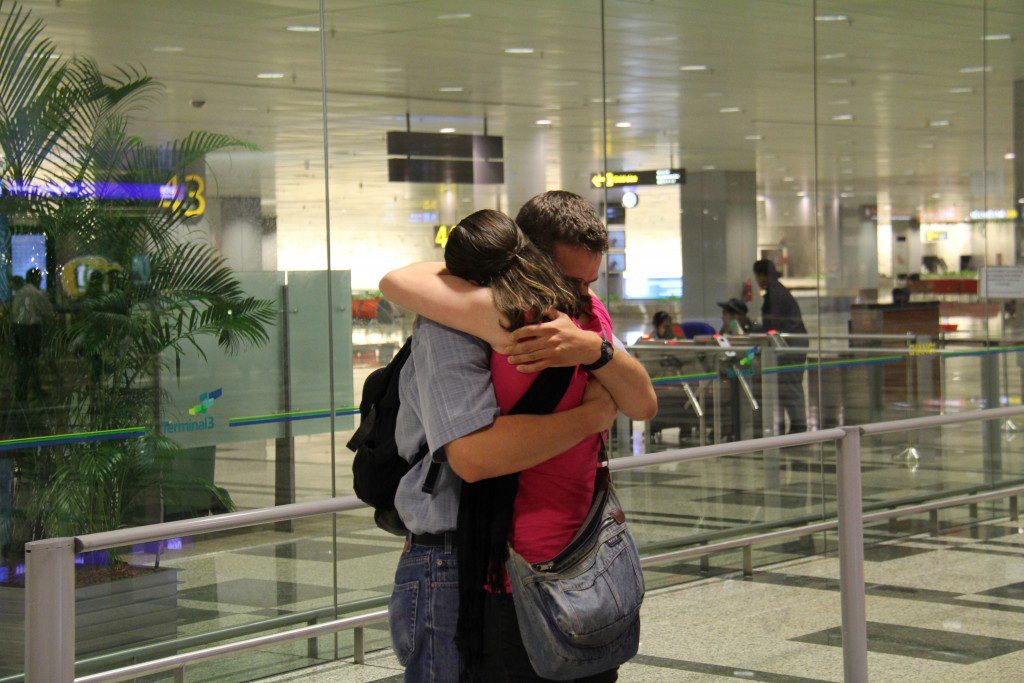 On Valentine's Day five years ago, Anne and I went out to a movie together. Well, sort of. We had met just a month and a half earlier, at a wedding in Toronto. By the new year we were on opposite sides of the world: I was back with my congregation in northwestern Canada, and she had moved to live with her parents in Singapore. Despite the distance, we kept in touch, and by February we were Skyping for hours every day. We decided that for Valentine's Day we would go to the same movie at theatres in our respective parts of the world. On the way back from the movie, Anne saw tropical plants; I saw the aurora borealis.
Anne and I wouldn't see each other again in person until August, when I stepped off a plane at the Singapore airport into her waiting arms and our first kiss. A few days later I proposed, she said yes, and we were married in Toronto in December – a year to the day after we first met. Four years and two kids later, we've hardly been apart from each other since then.
I'm eternally grateful for the technology that allowed us to talk to each other and see each other every day for months while we discerned whether we were going to spend the rest of our lives together. Some have suggested (and I concur) that the internet has made the physical world more like the spiritual world as described by Emanuel Swedenborg. In the spiritual world, thought of a person brings about instantaneous presence and communication. This is true of our physical world now in a way that has never been true before. It's an exciting time to be living here.
And yet, there are limits to the similarities. As wonderful as it was to talk and laugh and cry and see each other virtually, Anne and I both ached to hold each other, to touch each other, to be in each other's physical presence. And one of the fundamental concepts of the afterlife in Swedenborgian thought is that it is an embodied life. From Conjugial Love (AKA Married Love):
It must be known that after death a person is not a natural person, but a spiritual person, and yet he appears just the same to himself…. For he is the same in body, in facial appearance, in speech and in the sensations he feels, because he is the same in affection and thought, having the same will and intellect. He is, in fact, not actually the same, because he is spiritual and therefore an interior man. But the difference is not apparent to him, because he cannot compare his present state with his earlier, natural state, having put off the natural state and being in a spiritual state. (Conjugial Love §31)
This is the spiritual body spoken of in Paul's first letter to the Corinthians:
The body is sown in corruption, it is raised in incorruption. It is sown in dishonor, it is raised in glory. It is sown in weakness, it is raised in power. It is sown a natural body, it is raised a spiritual body. (1 Corinthians 15:42-44)
The whole Swedenborgian concept of life after death relies on this reality – that a person remains a person after death, even down to the details of the human body. (For more on this, see this post from a few years ago.)
These ideas are particularly relevant when it comes to picturing what heavenly marriage might look like. I've written before about why I believe marriages can last even after death. One of my favorite passages on this is Conjugial Love §321:
Two partners who have lived mutually in truly conjugial love are not parted by the death of one, since the spirit of the dead man or woman constantly lives with the spirit of the one who is not yet dead.
It's important to realize that this spiritual marriage is not an abstract, disembodied thing. If anything, it is more perfectly embodied in heaven than on earth. That passage continues:
This continues up to the death of the other, when they meet again and are reunited, loving each other more tenderly than before, because they are then in the spiritual world.
I've always found these teachings to be beautiful, but they've meant even more since Anne was diagnosed with neuroendocrine tumors last year. I expect her to be here for many more years and even decades, but there's a decent chance she'll leave this world before I do. It will be hard if that happens, but we'll be OK – we've done long-distance before. There is comfort in knowing that even while we're apart, our spirits will be together. And there is even greater comfort in knowing that when my time comes to rejoin her, we'll get to wrap our arms around each other and share a first kiss all over again.
Scripture taken from the New King James Version®. Copyright © 1982 by Thomas Nelson. Used by permission. All rights reserved.