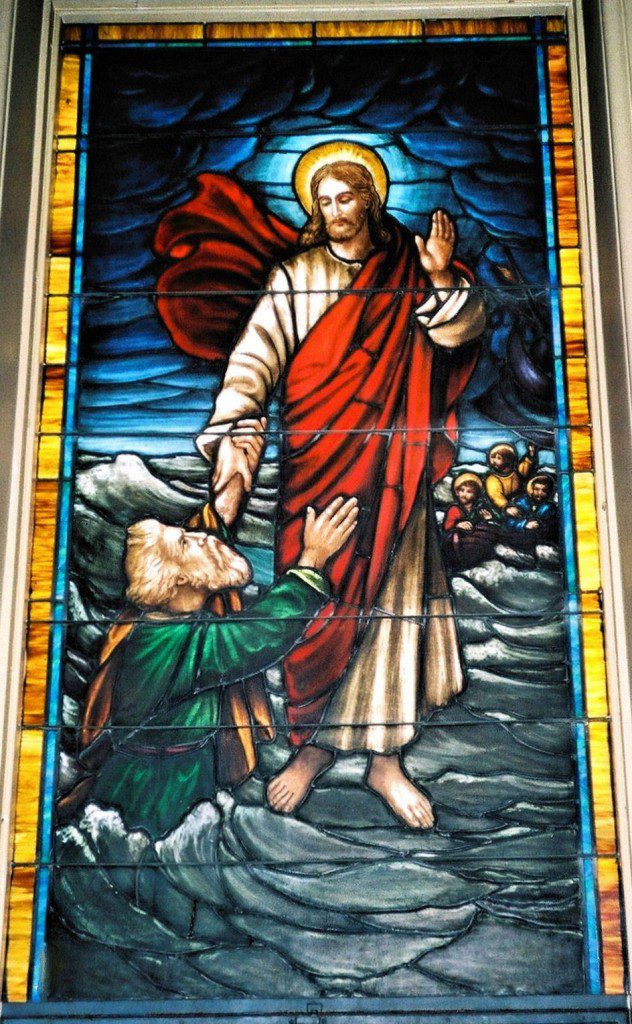 Last week I posted about the things you shouldn't say to a grieving person, or rather, what to do when a grieving person says those things to you. I linked to this list from Tom Fuerst at Ministry Matters. One of the things Tom suggests not saying: "God never gives us more than we can handle." He explains:
From everything I know about God, two things are absolutely clear:

God does not "give" tragedy to people. God does not cause evil. …. I understand that there is a more nuanced philosophical discussion that could happen here, but at the root of it, I will always insist that God never be the cause of evil.

The second thing I'm clear about when it comes to God is that God is always allowing people to find themselves in situations that are bigger than they can handle. That's the nature of learning to trust God and understand God's loving care for us – it's all bound up in the idea that when we are out of control, God is still sovereign and still working the waves and the darkness and death into something, not that we can control, but something that can be redeemed.
I agree wholeheartedly with Tom's first point – God turns evil to good, but He does not "give" us evil. Scripture is clear on this. James 1:13 says,
Let no one say when he is tempted, "I am tempted by God'; for God cannot be tempted by evil, nor does He Himself tempt anyone.
But even if we reframe the question to reflect this, we're still left with the heart of it: does God permit us to undergo more than we can handle?
In his second point above, Tom asserts that God does indeed allow us to experience more than we can handle. I'm not so sure. There are passages from Scripture that do seem to suggest that God withholds us from some things that might most overwhelm us. 1 Corinthians 10:13 says:
No temptation has overtaken you except such as is common to man; but God is faithful, who will not allow you to be tempted beyond what you are able, but with the temptation will also make the way of escape, that you may be able to bear it.
The word "temptation" there means more than just "an urge to do something bad." It means a test, a trial, a tribulation. And this passage clearly says – the Lord's followers would not be given trials beyond what they were able to bear.
How do we understand this? A lot of it comes down to what we mean by being able to "bear" temptation. Does it mean that we're always able to keep it together, that we'll never slip up in our walk of faith, that we'll never be overwhelmed? That's what I want to explore.
Jesus as Our Example
It is a fundamental principle of New Church theology that our regeneration – the process whereby we are gradually conjoined with the Lord – follows the pattern of the Lord's own glorification – the process whereby He completely united His humanity with the Divinity at His soul that He called "the Father." So it can be helpful to look at the Lord's own temptations, and see what it looked like for Him to actually bear them.
This line of thinking is reflected in the Epistle to the Hebrews:
In that He Himself has suffered, being tempted, He is able to aid those who are tempted. (Hebrews 2:17-18)
And in the Lord's temptations, we do not see a stoic, unemotional Man who can never be moved or even overwhelmed. In the garden of Gethsemane, we read:
Being in agony, He prayed more earnestly. Then His sweat became like great drops of blood falling down to the ground. (Luke 22:44)
And on the cross, He cried out in an echo of Psalm 22:
"My God, My God, why have You forsaken Me?" (Matthew 27:46)
Yes, He overcame in temptation – but that doesn't mean He was unmoved. He was broken down, weeping and in despair. He bore it, but He did not "keep it together" emotionally while doing so.
What He Did Perfectly, We Do Imperfectly
If the Lord Himself did not "keep it together" in temptations, then we cannot expect that we always will either. We can't even hope to equal what He did, let alone surpass it. From Hebrews again:
For we do not have a High Priest who cannot sympathize with our weaknesses, but was in all points tempted as we are, yet without sin. (Hebrews 4:15)
He was without sin. We are not. What He did perfectly and infinitely, we do imperfectly and finitely. We can expect that we're going to mess up sometimes. We're going to fall, we're going to fail. And the Lord understands this. From the Psalms:
As a father pities his children,
So the Lord pities those who fear Him.
For He knows our frame;
He remembers that we are dust. (Psalm 104:13, 14)
As Tom Fuerst says in his post above, God is always allowing us into situations that are bigger than we can handle. When the children of Israel found themselves trapped between an oncoming Egyptian army and an impassable sea, they cried out, "Were there no graves in Egypt, that you have taken us to die in the wilderness?" (Exodus 14:11) This passage is explicated in Arcana Coelestia:
These words, it is self-evident, are words of despair. They are also the kind that are thought by people in a state of despair, which is the final phase of a temptation. At that time they are on a slope so to speak or slipping down to hell. Yet thinking in that way at such times does no harm, and the angels take no notice of it; for each person's power is limited, and when temptation stretches him to the absolute limit of his power he cannot stand up to anything further and starts to slip. At that point however, that is, when he is on the slope and starts to slip, he is raised by the Lord and thereby delivered from despair.  (§8165)
When things fall apart, when we lose it, when we're overwhelmed – it does not mean we have had a failure of faith. This is something that God does allow. But it is also something that He brings us through.
So What Does He Withhold Us From?
On the other side of that despair, there is a sense in which God allows us to overcome. The children of Israel were given a way through the sea. God permits more than we can handle in the sense that He allows us the experience despair, disaster, and hopelessness; He lets us get to the place where we can't keep it together. He even lets our lives fall apart.
But He preserves our souls even through that. When John Piper answered the question of whether God gives us more than we can handle, he brought forward several passages that do show that God can give us the strength to come through any testing:
Philippians 1:6, "He who began a good work in you will bring it to completion at the day of Jesus Christ."

Romans 8:30, "Those whom he predestined he also called, and those whom he called he also justified, and those whom he justified he also glorified."

Luke 22:31–32, "Simon, Simon," Jesus says to Peter, "behold, Satan demanded to have you, that he might sift you like wheat."… "But I have prayed for you that your faith may not fail. And when you have turned again, strengthen your brothers."

1 Peter 1:5, "By God's power [we] are being guarded through faith for a salvation."

1 Corinthians 1:8, "[He] will sustain you to the end, guiltless in the day of our Lord Jesus Christ."
What all of those passages have in common is the eternal perspective – that even through disasters that we cannot cope with, the Lord will never allow so much that we lose our chance for salvation. By His mercy, even when we fail, we can repent and return to Him. This, I think, is what it means that He does not permit temptations more than we can bear.
That leaves a lot of room for what He does allow to happen. And to me, that's actually comforting. It means that when things spiral out of control, it is not because I have done something wrong. Life really can fall apart. But even through that, the Lord is there, working all things for good.
(Scripture taken from the New King James Version®. Copyright © 1982 by Thomas Nelson. Used by permission. All rights reserved. Image by ΙΣΧΣΝΙΚΑ-888 – Own work, CC BY-SA 3.0, Link)