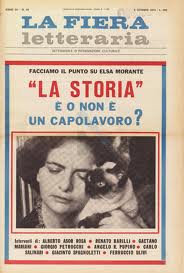 I didn't know Julia well.
The first time I saw her, she was sitting at the far end of the table around which our language class met. Although I knew the instructor, Chiara, it was my first day with this group of students who for years had gathered in Chiara's dining room to discuss classic books in Italian.
That day I was the last one to arrive, and when I entered the room the group was already engaged in friendly pre-class conversation. As I took my seat, six pairs of eyes looked up at me, six mouths chorused "Piacere" with American twangs, and six hands reached across the table to shake mine.
But the person I noticed most was Julia, a trim woman about my age with a strawberry bob and a smile like a lamp.
Since I was new to the class, Chiara asked the veterans to introduce themselves: Filippo, Becca, Davide, Laura, Carla—all genial, interesting people who loved everything Italian.
But again, it was Julia who drew me. A psychologist with a PhD, she seemed warm, spoke Italian perfectly, listened to others with attention, as if they were the center of her world. Of all the members of the group, she was the one I hoped to make my friend.
Before turning to the novel we were reading, Elsa Morante's La Storia, Chiara asked us students what we'd thought of our first assignment. Several confessed they had busy lives and for them the week's reading was too lengthy—seventy pages requiring eight to twelve hours. But Julia said she'd had no problem—she'd even read ahead—having too few diversions in her life and too much time on her hands.
Really? A woman like her?
We discussed La Storia for a couple of hours. It focuses on the life of Ida, a Roman widow who carries many crosses: epilepsy, rape, single motherhood, a half-Jewish pedigree during World War Two, hunger, poverty, homelessness, the death of two young sons. Ida's a very complex character, and Julia zealously engaged in our analysis of her. She seemed to identify with Ida, her voice becoming gentle whenever she mentioned her name.
When class ended, everyone stood up, that is, everyone but Julia, and a man I hadn't seen before entered the room. "Ciao Roy," the others said while packing their belongings. Tall, dark-haired, and slim, Roy nodded and smiled, then made a beeline to Julia. From her chair, Julia looked up at him, and from his height, Roy looked down at her. That's when I first saw it: reciprocal adoration, the fusion of two souls.
"You doing okay?" Roy said as pushed her chair from the table. "Yes," she smiled. Then he slid his arms under her thighs, and with her shoulder leaning on his chest and her head resting on his shoulder, he tenderly picked her up, carried her out of the room, through the front door, and down the porch steps.
Outside, a wheelchair had been parked and Roy settled Julia in it, making sure she was comfortable. Then he wheeled her to a waiting car and slid her into the passenger seat. After stowing the wheelchair, Roy climbed into the car and sped way.
I was shocked. How could Julia be in a wheelchair? Such a smart, sparkling person. How unjust it seemed. No wonder she identified with Ida. She too carried a cross. No wonder she welcomed distractions. She was trapped in a metal chair.
Chiara told me her story. Julia and Roy had been married more than thirty years. They had met in a dance class in their twenties and became inseparable. They'd always led an active life, doing everything together—dancing, walking, running, watching movies, traveling in Italy.
But when Julia was in her fifties, her legs began to tingle. Over time they progressively weakened, becoming paralyzed. Her doctors diagnosed a syndrome that could potentially interfere with her breathing and eventually take her life.
Her case, though, wasn't wholly hopeless. Many people with the same syndrome survive and recover completely. Since that could take weeks, months, or years, Roy and Julia were optimistic. Maybe she would be among the lucky ones.
Still, at the moment, Julia needed full-time care and Roy provided it. He bathed her, dressed her, fed her, did all the household chores. He carried her to the toilet, onto the airplane for vacations, and into Chiara's house for class. And each time I saw her in his arms, I was moved by their obvious affection, the way she nuzzled against him, the way he rested his chin on her head.
How I wished I could wave a magic wand and cure Julia's illness. How I wished I could see her stand and walk hand-in-hand with Roy.
But I didn't have a magic wand. So I resolved to say a prayer for Roy and Julia at the base of the Cruz de Ferro when I walked The Way of Saint James.
To be continued tomorrow. In the meantime, you can read Jan Vallone's last post about The Way of Saint James here.
Jan Vallone is the author of Pieces of Someday: One Woman's Search for Meaning in Lawyering, Family, Italy, Church, and a Tiny Jewish High School,which won the Reader Views Reviewers' Choice Award. Her stories have appeared in many publications. She lives and teaches writing in Seattle.