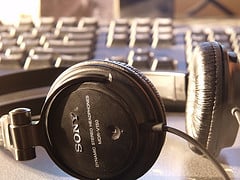 Guest post by Joel Heng Hartse
This is my seventh yearly playlist for Good Letters. I've been racking my brains to come up with a theme for this one, but to be honest, I think the theme of these playlists is almost always the same: basically, the human condition—joy and sorrow, faith and doubt, triumph and tragedy, and all that.
These songs are roughly arranged in two parts, with the first half being more sad and angry, and the latter half more hopeful and upbeat. Really, though these are just fourteen songs I heard this year felt warm, human, and true. You can listen to them on a playlist here. I hope you like them.
Half-Handed Cloud: "We Toil and Struggle"
Half-Handed Cloud is nothing if not consistent—you can count on John Ringhofer to crank out albums of tight, cute pop songs based on Bible verses that sound like they were played on toy instruments, and I know that sounds annoying, but when you take in a whole HHC album, the totality of the vision is impressive.
Sleater-Kinney: "Bury Our Friends"
From the first bombastic few seconds of this song, I realized I'd made a huge mistake in not buying Sleater-Kinney's older records. The band re-formed this year and is releasing a new album in early 2015. For those who haven't heard of this Portland band, you've probably by now heard of Carrie Brownstein from her TV show Portlandia. This song isn't funny, though—it's loud, powerful, and hopeful.
Stars:"Trap Door"
Stars is not the only band that sounds like the Smiths on this year's list. While they haven't delivered a knockout pop single since "Take Me to the Riot," this song's melody immediately grabbed me.
Nicki Minaj: "Pills and Potions"
While Nicki Minaj's big single this year, "Anaconda," is pretty vile—it makes Sir Mix-A-Lot's "Baby Got Back," which it heavily samples, seem sweet and innocent in its sexual exploitation—this is a beautiful track full of pathos and sadness. Just the chorus — "I still love / I still love / I still love / I still love"—was enough for me to include it here.
Fartbarf: "Master of the 5 Count"
This band has the worst name, but some of the best analog synthesizer music I've heard in recent years, played by two Moogs and a live drummer. They also dress in Neanderthal costumes, which is neither here nor there.
Swet Shop Boys:  "Benny Lava"
Heems used to be known as a "joke" rapper with Das Racist, but his rhymes have always had a kind of prophetic vibe (if you can dodge the constant references to weed). This song has a punishingly catchy beat, and its political edge is sad and angry—particularly when Riz MC weaves references to Michael Jackson, Afghanistan, child soldiers, drones, and video games into a brutal, tragic short story of a verse.
Nick Thoburn: "Bad Dream (the theme)"
An obsession of the year – the Serial podcast from This American Life. This theme, like the podcast it comes from, haunts my dreams.
Dry Bones: "Dark Days"
Another obsession of mine from 2014: the scandal-plagued downfall of Mars Hill Church in Seattle. Much has been written about this church and its seemingly megalomaniacal pastor, but nothing quite as brutal as this song by former punk rocker Jeff Suffering, who was a pastor at Mars Hill for almost all of the church's entire existence. From the first screamed line—"We all trusted you!"—this song does not let up.
Sinead O'Connor: "Take Me to Church"
One of two prominent pop singles called "Take Me To Church" in 2014 (to be honest, I'm not at all a fan of the other). While I agree with the Guardian's assessment that this song's chorus wastes the promise of the verses' energetic build-up, I can't help but enthusiastically endorse what's being sung, and how it's being sung, here: "I'm gonna sing / songs of loving and forgiving /songs of eating and of drinking /songs of living…"
Luxury
:
"
Don't Feel Bad if You Don't Feel Better Right Away"
I shouldn't really write anything more about this band—I've said too much already. Though it's not been widely released, Trophies is easily Luxury's best-sounding album: richer, fuller, heavier than most of their previous recordings. They probably get tired of being compared to the Smiths, but they sound more like the Smiths than the Smiths do, and especially on this song.
Sam Rocha: "In the Self's Place"
It's unfortunate that Sam Rocha's album has gotten almost all of its press coverage solely in the insular Catholic blogosphere, because this is a great record that transcends any vaguely sectarian bent it might have—and which, even though it is ostensibly inspired by Augustine's Confessions, it doesn't. The thing that grabbed me about this song was the tossed-off spoken line—"'cause there is no self"—an assertion that lands somewhere between poststructuralist philosophy and devotional mysticism.
The Rentals: "Thought of Sound"
I am still confused by this record. It was marketed as the first new Rentals album in almost fifteen years, but it's largely re-recordings of songs the Rentals released on their Songs About Time project about five years ago. The songs do sound great, though, thanks to some beefed up production, and this new song is a particular standout.
Weezer: "Anonymous"
I'm not used to being able to say "there's a new Weezer record out, and it's good," but here we are. This song was originally called "My Mystery," which to me would have been a better lyric ("I don't even know your name / no I don't know the words to say / so I call you my mystery"), and gets at something Patton Dodd explored earlier this year, which is the surprisingly spiritual turn Rivers Cuomo's songwriting has taken (albums released in 2009-2010 notwithstanding).
Frank: "I Love You All"
Frank wasn't a great movie, but I loved the way it showed the process of a (fictional) band trying to make an album, and that the music was actually played in situ rather than dubbed in after the fact. This is a lovely song, and it makes for a beautifully redemptive moment in the film.
Bonus track:
Teen Daze: "YVR"
Teen Daze is always a welcome palate cleanser. The stylishness and calm of this instrumental piece does actually remind me of its namesake, the Vancouver International Airport.
Joel Heng Hartse is the author of Sects, Love, and Rock & Roll. You can read his Good Letters playlists for 2008, 2009, 2010, 2011, 2012, and 2013 and visit his website at www.joelhenghartse.com.
Photo above by Taylor Burnes, used under a Creative Commons license.