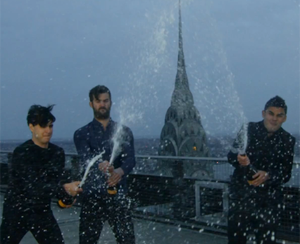 Guest Post by Joel Heng Hartse
I'm writing my dissertation right now and for once I am trying to be bold, to not worry about whether what I am arguing has been substantiated by someone with more knowledge or status than myself. This is probably what is called for.
Sometimes, though, it is nice to shut up and let the wise ones have their say. This is my sixth annual end-of-the-year playlist for Good Letters, and unlike previous years, I am not going to offer any commentary on the songs I've chosen; instead, I offer these songs paired with excerpts of books, articles, or other things I have read recently (or not-so-recently) which resonate with me and, I hope, the songs.
If you've read my previous Good Letters posts, you know what kind of music to expect below—all are songs that were on a 2013 release, most are by artists I have been writing about for a long time. The first half deals mostly with God, the second mostly with people—though thematically, those are always (and should be) hard to separate.
Oh, and I play drums on #4.
1. "Ya Hey," Vampire Weekend
I cannot say, "I know what I am: I am this and nothing else." I wouldn't say, "I am an atheist" and I wouldn't say, "I am a believer" either. I find the statement absolutely ridiculous. Who can say, "I am a believer?" Who knows that? Who can affirm and confirm that he or she is a believer? And who can say, "I am an atheist?" —Jacques Derrida
2. "Riddles," Hymnalaya
The human mind is splendid; lips powerful, and the summons so great it must open Paradise. —Czeslaw Milosz
3. "Song of Praise (from a Recovering Cynic)," Church of the Beloved
For every good deed there is someone, who is not doing a good deed, who is, for instance, gardening, questioning exactly how you're doing that good deed. For every secretary giving her uneaten half-sandwich to a haggard, unwashed homeless vet, there is someone to claim that act is only, somehow, making things worse. The inactive must justify their sloth by picking nits with those making an attempt. —Dave Eggers
4. "Act Justly," Jeff Hawker
He hath shewed thee, O man, what is good; and what doth the Lord require of thee, but to do justly, and to love mercy, and to walk humbly with thy God? —Micah 6:8 (KJV)
5. "Against a Sea of Troubles," Five Iron Frenzy
Are we carrying the fire? —Cormac McCarthy
6. "Afterlife," Arcade Fire
The purpose of death is the release of love. —Laurie Anderson
7. "Strange Interlude," betacicadae
Pardon me while I have a strange interlude. —Groucho Marx
8. "Look at the Light," Sin Fang
Some say the loving and the devouring are all the same thing. —C.S. Lewis
9. "The Horrors," Lee Bozeman
All at once it became clear to me that this woman was dearly loved. And it was as if she were like a stone that has been lying in the sun for years and years, absorbing all its radiant warmth, and now was reflecting back cheerfulness and warmth and serenity. —Helmut Theileke
10. "Residence of Rome," The Cellar Door
One of the peculiar ironies of being a human self in the Cosmos: A stranger approaching you in the street will in a second's glance see you whole, size you up, place you in a way in which you cannot and never will, even though you have spent a lifetime with yourself, live in the Century of the Self, and therefore ought to know yourself best of all. —Walker Percy
11. "Chum," Earl Sweatshirt
How do we forgive our fathers? —Sherman Alexie
12. "We Were Rock & Roll," Janelle Monae
The art critic can never be epistemologically capable of describing art by thinking at being but must think from and within being. I have thus deemed it a necessity to describe rock 'n' roll by allowing my description to be itself a parallel artistic endeavor. —Richard Meltzer
13. "So Long," Hem
Nothing is absolutely dead; every meaning will have its homecoming festival. —Mikhail Bakhtin
Joel Heng Hartse is the author of Sects, Love, and Rock & Roll. You can also read his Good Letters playlists for 2008, 2009, 2010, 2011,and 2012, and visit his website at www.joelhenghartse.com.
You can make your tax-deductible gift to the Image "Making It New" campaign here.