By Suzanne M. Wolfe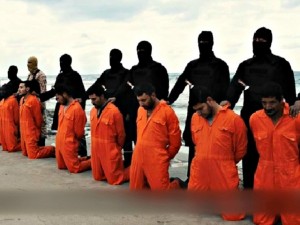 Twenty one men dressed in orange jump-suits are kneeling in a line on a beach. The ocean is at their backs like eternity waiting. Behind each one stands the angel of death. Not one of them weeps, not one begs. Some lower their heads as if in prayer; most are looking at something far away or something impossibly near, as near perhaps as the knowledge that this, of all moments, is their final one, that all their acts—some good, some bad—have led to this one last moment here on this beach with the sea at their backs and the wind in their faces.
My father was not like these men. He ran away when I was three months old, leaving my mother alone in a hotel room in a strange city in a land far from her home.
I picture him sitting in his car looking up at the lighted window of the hotel room where his wife and children are sleeping. I picture him smoking a cigarette and thinking it through. This is my moment, he thinks, just one small act and it is done. Turn the key in the ignition; get out of the car and pocket the key; use another key and enter the room; kiss my wife; kiss my children. Get up the next day and begin again.
Or: reverse out of the parking lot and drive away.
Thirty years later, I am in a hotel room in a strange city in a land far from my home. At dawn the sound of the ocean wakes me. I can hear the barking of seals in the bay. Yesterday my husband and I watched them basking on the rocks and laughed at their indolence, their massive ennui, glistening like an oil slick in the California sun.
I turn to say something to my husband and notice he is not beside me. I get up and check the bathroom, then the balcony. I notice the car keys are gone. That is when I know my husband has reversed the car out of the parking lot and driven away.
I throw a coat over my nakedness, do not even stop to put on shoes, and run out of the hotel room. What I intend to do I do not know. I am beyond reason, beyond volition. I get in the elevator and when the door opens in the lobby, my husband steps in. He has been to an early breakfast meeting, he explains. He thought he mentioned it the night before.
Needless to say, I feel foolish.
But I am also forewarned: be on your guard, I tell myself. Men are cowards. Men leave.
My husband and I recently celebrated our thirtieth wedding anniversary; our eldest daughter is even now carrying her first child, our first grandchild. "I will never leave you," my husband has told me many times over the years. Sometimes I find that reassuring; sometimes it sounds like a threat. Either way, it is the one thing this daughter-wife-mother-grandmother most needs to hear.
(Forgive me for defining myself by my relationships, dear sisters, but it's ontologically important).
I am convinced that my sense of abandonment in that hotel room twenty years ago was the mirror image of my mother's. Don't ask me how a sleeping infant can absorb such agony, such rending of the fabric of the world.
To act well is the glory of men; to act badly, their shame. I think of the mini-series Band of Brothers, where Easy Company from the 101th Airborne Division is defending the Belgian town of Bastogne. They are being besieged by the Germans and no supplies can get through. It is 1944 and the coldest winter in living memory. The men are starving and slowly freezing to death; they are being shelled by the enemy, day in, day out. When the signal is given they rise up from the earth like the dead at the Last Trump and move towards a hell of enemy fire. One man, a captain, charges straight through enemy lines to deliver a message because communication lines have been cut, then he runs back to rejoin his men the exact same route. His courage is so insane, so unexpected, the Germans stand amazed and forget to shoot him. He survives without a scratch.
When I saw that soldier running, I thought: This is what men do.
If this world were a movie I would move unseen along the beach, among the graves, and bending low, would whisper in each ear: "Have courage, brother."
I would lean across the back seat of my father's car and place my hand on his shoulder and say: "Have courage, father."
I would say to my husband: "I believe you."
To my sons I would say: "Take up your cross and be a man."
But perhaps I am wrong. Perhaps there are not re-runs but re-makes of the same story over and over again, with different leading men, different scenes, but always the same theme: John McEntee, Barney Quinn, Gregory Wolfe, Charles Wolfe, Benedict Wolfe, Father Gregory, Cistercian monk.
I thank you. I bless your names.
Twenty one men kneel on a beach outside a strange city in a distant land. Eternity waits. Not one says: "Spare me."
They say: "Jesus."
And Jesus replies: "Blessed are you Milad Makeen Zaky; Abanub Ayad Atiya; Maged Solaiman Shehata; Yusuf Shukry Yunan; Kirollos Shokry Fawzy; Bishoy Astafanus Kamel; Somaily Astafanus Kamel; Malak Ibrahim Sinweet; Tawadros Yusuf Tawadros; Girgis Milad Sinweet; Mina Fayez Aziz; Hany Abdelmesih Salib; Bishoy Adel Khalaf; Samuel Alham Wilson; worker from Awr village [name unknown at this time]; Ezat Bishri Naseef; Loqa Nagaty; Gaber Munir Adly; Esam Badir Samir; Malak Farag Abram; Sameh Salah Faruq, when men shall revile you, and persecute you, and shall say all manner of evil against you for my sake. Rejoice and be exceeding glad; for great is your reward in heaven."
Suzanne M. Wolfe grew up in Manchester, England and read English Literature at Oxford University. She is Writer in Residence at Seattle Pacific University and has taught literature and creative writing there since 2000. She is the author of the novels Unveiling (2004) and The Confessions of X, forthcoming from HarperCollins in November, 2015.
Image above credited to Andrew A. Shenouda, used under a Creative Commons license.