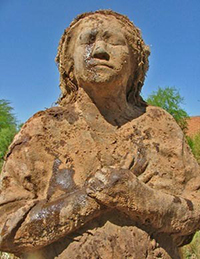 "The artist is a beggar because she is empty, waiting to be filled. But the artist is also… someone who is driven to go out to the margins of society in order to learn what the margins can teach those at the center."
When I'd read these words in Greg Wolfe's editorial in the current issue of Image (#84), I immediately thought of fiber artist Valarie James. Living in the desert of southern Arizona, James hasn't had to go far to get to society's margins. When she walks her dog near her home, she finds objects left behind by Central American migrants who have risked their lives—and often lost them—as they traverse the harsh desert mountains seeking safety and the dignity of work in the United States.
"Since I was a child," James told Fiber Arts magazine, "I've had this raw impulse to create art out of natural materials. The only thing that has changed is what I find that has been left behind in the environment."
What she found on one walk with her dog was a filled diaper bag next to a woman's clothing. Picking up these objects, these traces of life that had passed through the spot, she began wondering about the lives—and probable deaths—of this mother and child. Immediately she knew that she had to create art out of the objects left behind from their lives—and the lives of countless others who attempt this desert journey.
She began finding bits of denim jeans, hundreds of them. "The jeans are ripped and shredded and have huge holes that are caused by jumping over cholla and prickly pear and barbed wire. You see the whole journey in this fiber. This humble, broken-down pair of jeans has got a world in it. So the fiber to me is alive."
The fiber is alive even when its former wearer has died in the desert—usually of dehydration, heat stroke, or hypothermia.
At first, James simply framed the fibers and other remains of the migrants' journey. By putting them on display in an artistic setting, she hoped to jolt viewers into seeing these extremely marginalized persons in a new way, to identify with their humanity.
Then she got the inspiration for Las Madres.
Pima Community College, in the western desert of Tucson, had begun a sculpture garden. James had taught at the college. Collaborating with three fellow Arizonian artists, she created life-sized sculptures of three indigenous Central American women. What's extraordinary about these sculptures is the materials they were composed of: one created out of denim from the desert, pummeled with desert sand; the other two covered in burlap, from bags carried by migrants walking north.
Discarded objects once belonging to people who'd been discarded by society. But in these artistic creations, they are given dignity—a dignity they'd never known.
Then nature added a surprising dimension to the art. To hold their fibrous pieces together, the sculptures had been covered with a natural sealant made from resin and beeswax. As the desert sun beat down on them, the sealant began to melt—as if the mothers were weeping. "It was magical," James said to Fiber Arts. "This memorial articulated, in a very real physical way, the feelings of our entire community."
"These sculptures are echoing the reality of the pain and the loss that mothers feel when their children and their husbands are gone, crossing the desert," James told the Tucson Citizen. "It's the transcendent nature of art. This project goes beyond the politics of the issue."
I lived in Tucson for several years soon after Las Madres were installed at Pima Community College. I've walked the southern Arizona desert not far from where James lives. I've met people who leave water in the desert along migrant trails, in hopes of saving a few lives. I got to know Tucson journalist Margaret Regan, whose book The Death of Josseline recounts the stories of migrants making this journey.
I agree with Greg Wolfe that the closer we get to those marginalized by society—the closer we get to those who profoundly know their own neediness—the healthier it is for our own beings. For, as Greg writes, we are all empty at the core, hungering for meaning. "Art," he says, "helps us imagine the lives of others, including the lives of the poor, but it also helps us confess our personal forms of poverty."
And what could be more foundational to our personal poverty than our mortality? Las Madres eventually decomposed—as we all will. Valarie James knew that the sculptures, created out of natural materials, would soon dissolve back into them, especially in the harsh desert environment. She wanted the sculptures to reflect how our own fragile bodies would respond if left out in this environment through the seasons.
As indeed the bodies of an appalling number of our sisters and brothers from Central America have been left. No one knows how many. Only bodies that happen to be recovered can be counted, and they number in the thousands. Desert heat is not kind to human flesh. A dead body decomposes quickly, leaving bleached-out bones—and shreds of clothes.
Peggy Rosenthal is director of Poetry Retreats and writes widely on poetry as a spiritual resource. Her books include Praying through Poetry: Hope for Violent Times (Franciscan Media) and The Poets' Jesus (Oxford). See Amazon for full list. She also teaches an online course, "Poetry as a Spiritual Practice," through Image's Glen Online program.
Permission to use the above photo of Las Madres was granted by the artist, Valarie James.