Have you ever faced a winter emergency where the electricity in your home went out for three days and you had to wrap yourself in blankets to stay warm until the electric company restored power? Just imagine what would have happened to you if you didn't have a blanket.
Tragically, every year, millions of poor people across Asia face winter without heating, sufficient clothes or blankets to keep them warm.
Mahaj, a 46-year-old man, lives in a remote farm village in a hilly area of Asia where people struggle throughout the year because of cold weather. Mahaj worked hard but was too poor to buy himself a blanket. Sadly, his grown children did not care about their father's suffering.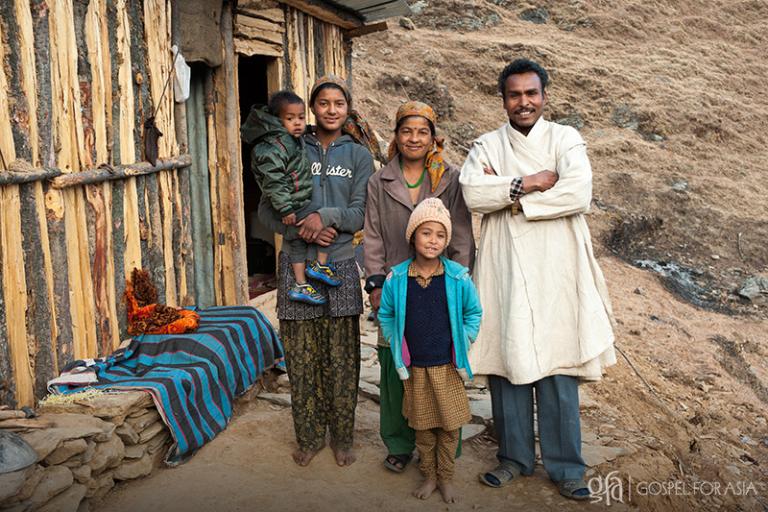 When  Gospel for Asia (GFA)-supported pastor Emet happened to visit the village, he found that people lived in shacks and mud huts and were far poorer than in other places. To help them through the bitterly cold winter months, Pastor Emet and his church—helped by Gospel for Asia friends around the world—distributed blankets to the neediest among them. One of those was Mahaj, who was overjoyed and deeply grateful when he received his blanket.
For the first time, he and the others who received blankets experienced the love of Jesus in a very tangible way. Now, each time they wrap themselves in their warm blankets they remember that God cares for them.
For tens of thousands of poor people who live in the cold climate zones of Asia, a warm blanket can literally mean the difference between life and death. You see, their houses, mud huts and makeshift shacks have no heating systems, and wood fires have to be reserved for cooking. When temperatures drop near or below freezing, poor people like Mahaj suffer immensely, and many who live on the streets and in slums get sick and die. The most vulnerable among them are the elderly and small children.
With winter approaching, Gospel for Asia-supported workers are planning to distribute warm blankets to thousands of poor people who have nothing else to keep them warm.
Throughout last year, they were able to give out more than 170,000 blankets to people and families all across Asia.
Here's another story of a man named Bijal (pictured below), who received a blanket last year at a Christmas gift distribution event hosted by Gospel for Asia-supported workers.
Bijal knew his wife and daughters needed blankets to truly stay warm in their bamboo hut, but all he could manage to provide were sacks he had stitched together as makeshift blankets. It pained him to see his family struggling in the cold, but resources never went as far as he needed them to go.

Then mid-winter, Gospel for Asia-supported pastor Nebu held out a thick, colorful blanket to Bijal. That night, instead of pulling rough sacks over their young bodies, Bijal's daughters felt the warm weight of a soft blanket—their new shield from illnesses that could threaten their lives.

 "I am very happy and grateful," Bijal says. "I could not afford to buy a blanket even for my daughters, and I was sad about it. But now, I am happy that my daughters can sleep under a soft and warm blanket."

Through the blanket, Bijal's daughters gained better sleep and safety, and he gained a new respect for those who carry a love unlike any he had experienced before.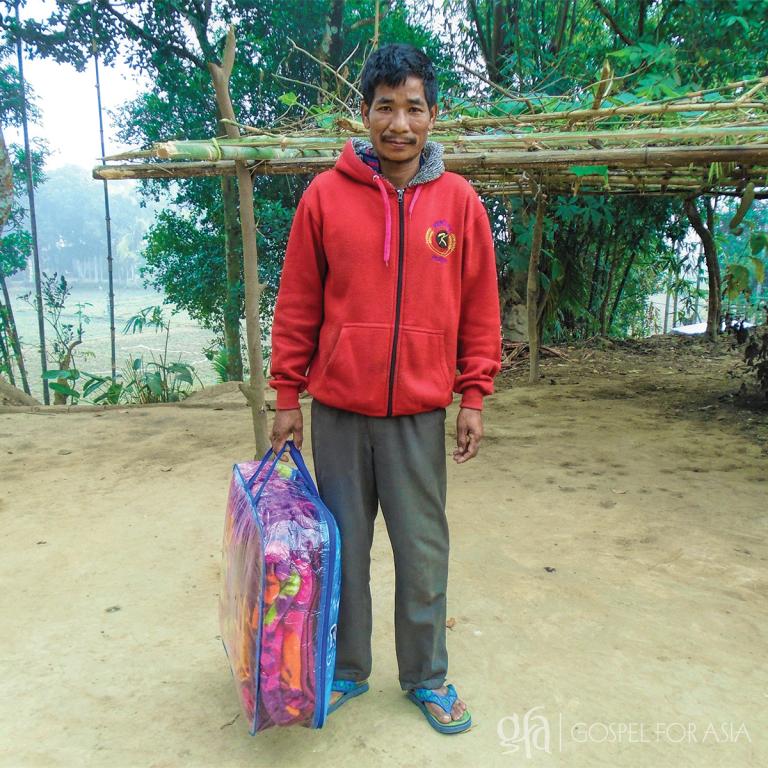 The simple act of placing one or two warm blankets in the arms of a parent or grandparent by a GFA-supported worker can powerfully impact the recipient's life. They carry home a defense against illness and death, and each time their loved ones snuggle into the warm gift, it can remind them that, although they are poor and overlooked by many people, others extend genuine love to them.
That is our hope—that the downtrodden, the outcast and the poorest of the poor may know they are not forgotten and they are loved. There are times when people ask us why we do what we do, and we always tell them "It is because of the love of Christ." That is the motivation of our hearts.
Our Heavenly Father asks us to take care of the poor among us. He says, "If there is among you a poor man of your brethren, within any of the gates in your land which the Lord your God is giving you, you shall not harden your heart nor shut your hand from your poor brother, but you shall open your hand wide to him and willingly lend him sufficient for his need, whatever he needs" (Deuteronomy 15:7–8).
GFA-supported workers see the needs of those around them and willingly give so their brethren are not in want. They remember the words of their Savior who says,
"If you want to be perfect, go, sell what you have and give to the poor, and you will have treasure in heaven; and come follow Me" (Matthew 19:21).
As winter approaches, there will be many poor across Asia in need of blankets. We've seen men and women sleeping on cold pavement, holes in their clothing and with nothing to cover them. Our hearts ache for them.
We're thankful the Lord has given us tremendous opportunities to provide many of those sleeping on the cold streets—and thousands more—with warm blankets over the years. Mahaj's and Bijal's testimonies help us to know that our labor is not in vain and that every gift makes a difference.
=====
Click here, to read more blogs on Patheos from Gospel for Asia.
Go here to know more about Gospel for Asia: GFA.net | GFA Wiki | GFA Flickr