It was George Washington who issued the first presidential pardon way back in 1795. His action freed two rebels, who had led what history calls the Whiskey Rebellion, from the death sentence that the courts had handed down against them.
Following our Civil War, Abraham Lincoln pardoned all but the very top Southern leaders, including thousands upon thousands of Confederate troops.
In 1971 Richard Nixon used his pardon powers to grant clemency to the Teamsters' president Jimmy Hoffa, who was serving a 15-year sentence for fraud and jury tampering.
Study American history and you will find any number of pardons being granted by our chief executives. The total of 213 during the eight years in office by Barack Obama was one of the lowest sums on record.
To be considered for a pardon, an offender needs to make a formal request to the Office of the Pardon Attorney, who serves under the U.S. Justice Department. That petition is then evaluated and possibly passed along.
It must be a great relief to be granted a presidential pardon. It's like the past charge has been totally erased. Never again can the offender be tried for that given wrong.
In Scripture, God is presented as the great judge before whom all must someday stand and give an account of how they lived. Unfortunately for us, this all-knowing God has the complete facts about our lives at His disposal. Nothing has escaped His attention. So the prospect of being judged by Him is frightening. All of us know only too well our many shortcomings.
In that regard, how good it is to remember verses like these from the Old Testament:
If you, O Lord, kept a record of sins,

O Lord, who could stand?

But with you there is forgiveness;

therefore you are feared.

—Psalm 130:3-4

Let the wicked forsake his way

and the evil man his thoughts.

Let him turn to the Lord, and he will have mercy on him,

and to our God, for he will freely pardon.

—Isaiah 55:7

Who is a God like you,

who pardons sin and forgives the transgression

of the remnant of his inheritance?
You do not stay angry forever

but delight to show mercy.

—Micah 7:18
The fullness of that forgiveness and mercy and pardon is found in the New Testament. There we see Jesus, God's Son, taking upon Himself the death sentence we deserved.
The Apostle Peter wrote these words in his first of two New Testament letters:
"He (Jesus) committed no sin." —1 Peter 2:22
Then Peter continues, "He himself bore our sins in his body on the tree (or the cross), so that we might die to sins and live for righteousness; by his wounds you have been healed. For you were like sheep going astray, but now you have returned to the Shepherd and Overseer of your souls." 1 Peter 2:24-25.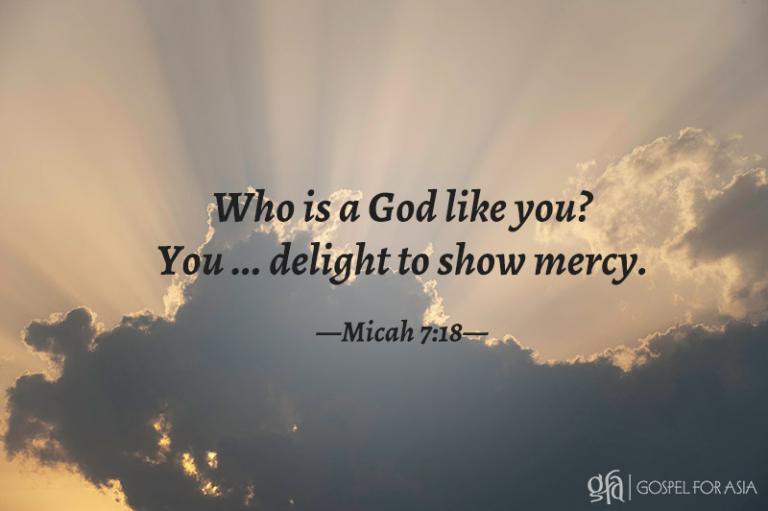 This is the Apostle Paul writing in 2 Corinthians 5:21:
God made him who had no sin [that's Jesus] to be sin for us, so that in him we might become the righteousness of God."
This marvelous message of pardon is what motivates Gospel for Asia (GFA) in all our many activities. More specifically, it is this good news about an unexpected pardon for offenses, a pardon from a being infinitely greater than that of any U.S. president.
All this is from the Lord Himself, who has made it possible for people like us to stand before Him forgiven of any and all offenses, strictly because of the amazing love and sacrifice of Jesus, God's one and only Son.
This divine personal pardon is key to what impels us to be involved in the many acts of Christ-like love our people perform in ever so many places around the world. It is also a foundational truth preached repeatedly in the thousands of churches we have had a part in beginning.
Excuse us if we seem to be overly excited about this personal pardon God offers. But it's not just granted to a select few with connections of some kind to a national leader. God's invitation of pardon is extended to everyone—the rich, yes, but also to the poor. It's offered to the supposedly important people to the supposedly unimportant as well. The old can take the Lord up on it, the young can too. The educated and uneducated. All races can ask for it … no one is excluded.
On top of that, the pardon is not restricted to just one given crime. This divine pardon is for every last sin ever committed. Imagine the joy that comes when someone is made aware that he or she is cleansed of every transgression—even the ones no longer remembered!
"Is there a catch to this offer?" you ask. "I mean, there must be a reason more people don't take advantage of this opportunity for divine forgiveness."
Well, for God's pardon to be put into effect, the person making the request must admit that he or she has sinned. Basically, the offender has trespassed the two great commands of loving God and loving others. But once an individual understands the gravity of these actions and states a sincere intent to change with God's help, and to live from now on in obedience to these two great spiritual commands, they are ready to say, "Forgive me, Jesus, I am truly guilty. The pain found in my world has to some degree been because of my own actions. I confess this. I am not innocent. Would You please pardon me, and by Your Spirit enter me and grant me a new start toward living in Your way of love?"
Such an attitude is what opens the door to freedom and joy and peace with God and others… not because you are deserving, but because God is marked by mercy more than He is by judgment. And this is wonderful news!
=====
Click here, to read more blogs on Patheos from Gospel for Asia.
Go here to know more about Gospel for Asia: GFA.net | GFA Wiki | GFA Flickr